How Simone Biles Returned To Gymnastics With A New Focus On Mental Health
"You kind of have to take that mental break."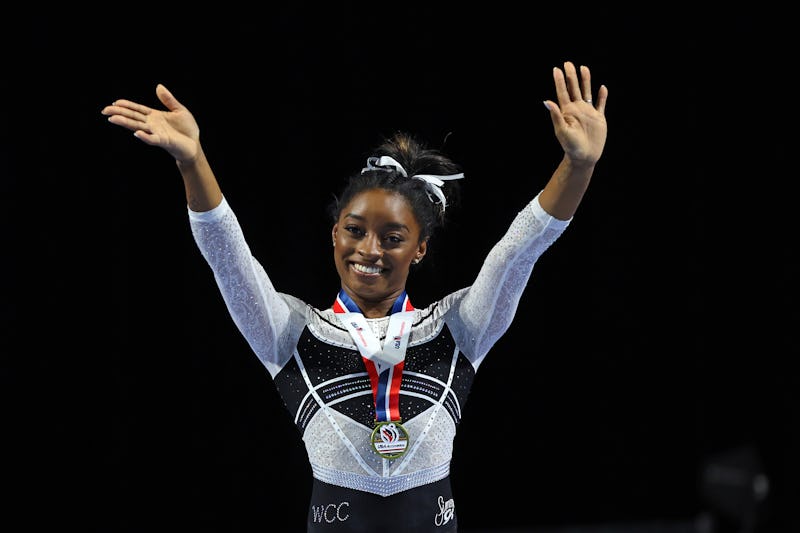 Stacy Revere/Getty Images Sport/Getty Images
One of the biggest stories leading into the Tokyo Olympics in 2021 was Simone Biles and her seemingly inevitable victories. Pundits suggested the greatest gymnast of all time could win up to six Olympic medals to go with the five she won in Rio de Janeiro in 2016. Instead, the then-24-year-old had to pull out of five finals and much of the world learned about "the twisties" for the first time.
Now, two years later, Biles is back. The celebrated gymnast returned to competition at the 2023 Core Hydration Classic, a qualifier event for the U.S. Championships that will be held in August. Not only did she prove that she's still got it by handily winning the all-around competition (and having the top score on three out of the four apparatuses), she spoke out afterward about the work she's been doing to care for her mental health.
"I feel really good about where I am right now, mentally and physically," Biles told reporters once she was done with her final event. She noted that she was "really nervous to compete," before sharing how she has been working on her mental game in her time away from the sport. "You kind of have to take that mental break, because if not obviously your body will decide for you, and that's kind of what mine did in Tokyo."
At the Tokyo Olympics, Biles found herself getting lost in the air, without the mind-body connection a gymnast needs to be able to safely perform the sport's dangerous skills. It was "the worst timing," she said at her recent competition, but she's "very happy with what happened." "I got to go and really focus on myself," Biles explained. "And I'm still continuing to work on myself and go to therapy and make sure everything is all in line so that in the gym we can just focus on gym."
Her comeback was many months in the making. Biles told reporters that she started "playing around" in the gym and "trying to get fit again" in September, and then took it relatively easy between October and the end of the 2022 because of speaking engagements and the holidays. She got more into training again in January but had to balance it with planning her two weddings to now-husband Jonathan Owens. After May, she and her coaches "buckled down," and she said they had an "unspoken" understanding that she was hoping to return to competition.
Biles is next due to compete at the U.S. Championships at the end of August, and she shared she's trying not to look beyond that to the 2024 Paris Olympics. "Right now, I think I should just embrace what happened today, be happy," she said. She wants to focus more on "living in the moment, trusting myself, trusting my coaches, trusting my training." She added, "I think we're just trying to take it one step at a time."
Although Biles called her comeback "for me and nobody else," she does still hope it has positive effects on other athletes. She wants younger gymnasts to know they "don't have to peak at 16," and if she does make it to Paris in 2024, she'll still be "going out there and talking about mental health."