Everything To Know About Selena Gomez & Drake's Spiral Film
The production team is filled with Euphoria and music industry creatives.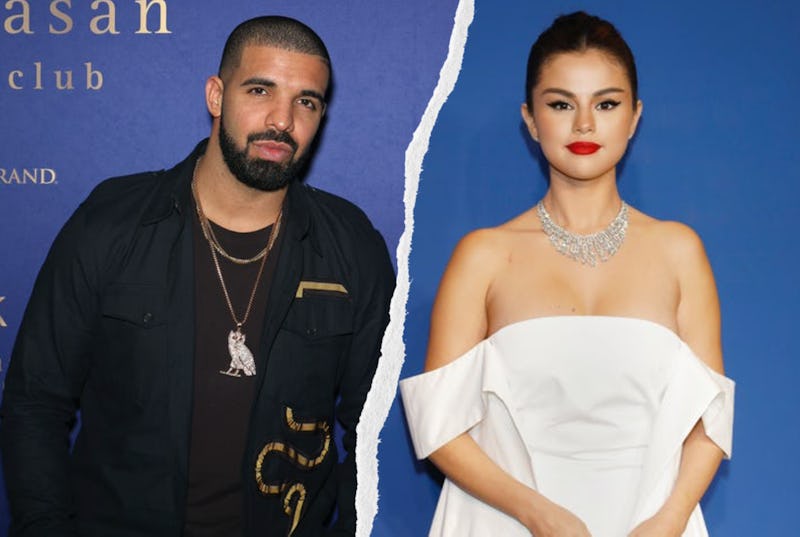 Kurt Krieger - Corbis/Corbis Entertainment/Getty Images & Gabe Ginsberg/Getty Images Entertainment/Getty Images
Selena Gomez and Drake are collaborating on a project — and it's not a new song. Announced exclusively through Deadline on April 29, Gomez is set to star in a forthcoming psychological thriller titled Spiral, and the "Toosie Slide" rapper will serve as one of the film's executive producers. Still in the early stages of production, the film's sales agent Endeavor Content is reportedly pitching it to all major streaming services, and with such huge names attached, it's likely to strike a significant deal soon.
Directed by Petra Collins, Spiral centers around a retired social media influencer (played by Gomez) whose addiction to internet platforms is literally causing her body to fall apart, limb by limb. The screenplay was originally written by Collins and author Melissa Broder with a second draft penned by Phoebe Fisher, who previously co-produced the 2018 thriller Assassination Nation. Executive producers on the project include Drake, who will produce alongside Matthew Budman and Sumaiya Kaveh through Forest Hill Entertainment, as well as Future the Prince, aka Adel Nur. Spiral will mark yet another collaboration between the rapper and Nur, who've executive produced HBO's Euphoria and Netflix's Top Boy together, among other projects.
For Gomez, Spiral is her second collaboration with Collins, who directed the multi-hyphenate's "Fetish" music video in 2017. Known for the colorful, airy aesthetic of her work, Spiral marks Collins' first time directing a feature-length narrative film. In addition to her work with Gomez, Collins has directed advertisements for Adidas and Nordstrom as well as music videos for Carly Rae Jepsen's "Boy Problems" and Cardi B's "Bartier Cardi."
Casting the Revelación singer in the internet-obsessed role is fitting not only due to the over 200 million followers she boasts on Instagram but the position she's assumed more recently as an outspoken critic of leading tech figures. Following the Jan. 6 storming of the U.S. Capitol by far-right insurrectionists, Gomez mentioned several social media platforms and their owners on Twitter, calling them out for allowing such groups to mobilize.
"Today is the result of allowing people with hate in their hearts to use platforms that should be used to bring people together and allow people to build community," she wrote, directly addressing Facebook's Mark Zuckerberg, Twitter's Jack Dorsey, and other social media leaders. "You have all failed the American people today, and I hope you're going to fix things moving forward.
Speaking to Apple Music's Zane Lowe in January 2021, she recently detailed her decision to speak out against tech giants. "For me, I can't stand the fact that people have to know that there are neo-Nazi groups online and that there [are] hate groups online and misinformation from U.S. voting to… the COVID virus. They're not allowed to do that," Gomez said. "This is supposed to be a place where people share, you know, their life. Not to create hate and to hurt people."
Noting that she "get[s] pretty heated" on the subject, she continued, "I just think that it's necessary to call the people out who are responsible but, at the same time, being able to do what I can."
This post will be updated with the trailer, release date, and additional plot and cast details as more information on Sprial becomes available.