Jeremy Strong Revealed An Alternate Ending For Kendall On Succession
The actor improvised a heartbreaking moment for his character.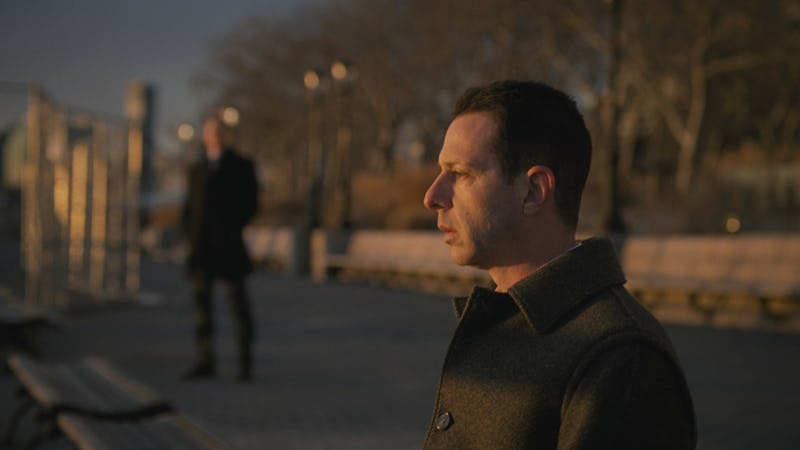 HBO
Spoilers ahead for the Succession series finale. After months of fan theories, Succession took its final bow on May 28 — and to no one's surprise, it wasn't exactly a happy ending. Though the Roy siblings were initially a united front in deciding to vote "no" against selling Waystar to GoJo, things changed when Shiv wavered and decided she didn't want Kendall to be CEO. What followed was the show's most explosive (and heartbreaking) fight, with Shiv bringing up Kendall's fatal car accident and Roman calling his brother's kids a "pair of randos."
Kendall was heartbroken after his CEO aspirations were dashed for a final time, and he ended the series all alone: sitting on a bench overlooking the water at New York's Battery Park, Colin (his dad's old bodyguard) watching from a distance.
It's a bleak final shot — and as Succession creator Jesse Armstrong put it in a post-episode featurette, "the chances of him achieving the sort of corporate status that his dad achieved are very low, and I think that will mark his whole life." But according to Jeremy Strong, the show could have had an even darker ending. In recent interviews, the Emmy-winning actor revealed that he improvised a harrowing moment for Kendall that didn't make the final cut.
"I looked at these waves and it was so windy that day and so cold and there was some piece of metal clanging and it was this terrible sound and I sort of couldn't bear it," Strong told Deadline. "I stood up and walked slowly to the barrier that was set up there and climbed over it. I didn't really know what I planned to do, and the actor playing Colin [Scott Nicholson] saw me and ran and stopped me from doing it."
Strong told Vanity Fair that he wasn't sure whether Kendall wanted to die, "I think he did — or if he wanted to be saved by essentially a proxy of his father." But ultimately, Strong said he was happy with the version that made the final cut. "I'm sure Jesse's choice is better," he told Deadline. "And in a way I think you see the intentionality in the character."
While Kendall's final moments in the world of Succession were heartbreaking, Strong ended the series on a positive note. Footage recently surfaced of the actor happily shaving his head with the help of his on-screen siblings, seemingly marking the end of production.
If you or someone you know is experiencing suicidal thoughts, call or text 988 to contact the 988 Suicide & Crisis Lifeline, which provides free 24/7 support. You can also reach out to the Trans Lifeline at 1-877-565-8860, the Trevor Lifeline at 1-866-488-7386, or to your local suicide crisis center.