This Succession Season 4 Poster Easter Egg Predicted Shiv's Fate
We should have reflected on this more.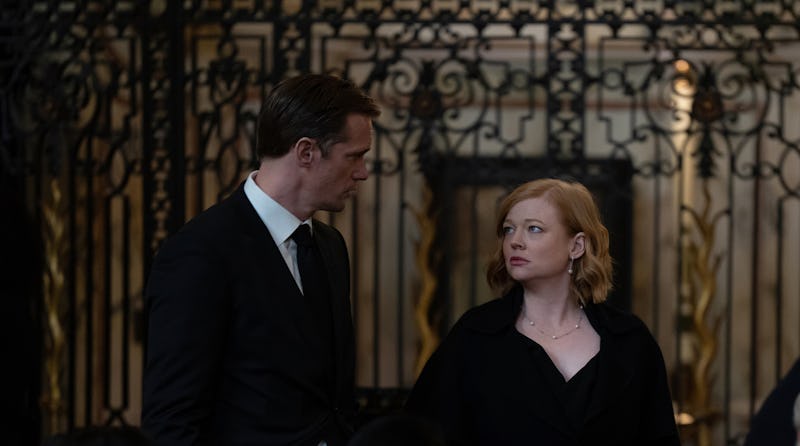 Macall Polay/HBO
Spoilers ahead for the Succession series finale. Succession came to an end on May 28, and fans are still recovering from the dramatic finale. Tom Wambsgans (Matthew Macfadyen) becomes the CEO, thanks to Shiv (Sarah Snook) voting to move forward with the GoJo deal instead of backing her brother Kendall (Jeremy Strong) to take over as the sole CEO. But her decision to back Tom after learning he was tapped to take over the company — and ultimately betraying Kendall and Roman (Kieran Culkin) — was hiding in plain sight all along.
In the Succession Season 4 posters released back in March, Shiv's and Tom's posters feature each other's respective reflections on the building, which foreshadows that they would still be together, even if not romantically, by the show's end. In the finale, Shiv's choice may be fueled by her thinking she "wins" by sticking to Tom's side and having better proximity to power by being the CEO's wife. In their final scene, Shiv and Tom awkwardly hold hands; it's a shaky new beginning for the formerly estranged couple.
Succession showrunner Jesse Armstrong explained why this ending for Shiv made the most sense. "Shiv is still in play, I'd say, in a rather terrifying, frozen emotionally barren place. But she has got this kind of non-victory, non-defeat," he said in a featurette. "I mean, there's gonna be some movement there."
Armstrong also elaborated on where her relationship with Tom stands. "There's still a lot of that game to play out, but that's where we leave it. And it feels like it's going to be hard to progress for them, emotionally, given the things they've said about each other."
This isn't the first time the Succession promotional posters have teased what was to come. The final season poster had an airplane in its upper right-hand corner, foreshadowing Logan Roy's demise aboard his private jet. Another theory suggested that Tom and Greg both wearing suits and ties, like Logan, hinted that they would stay loyal to the Roy patriarch and Waystar.
Snook also discussed this Easter egg during a Tonight Show Starring Jimmy Fallon appearance. "I feel like you won't know until you know," she said back in March, playing coy. "It's like the 'Da Vinci Code,' sort of putting things together. But there is a thing that once the season begins airing, it may get related back to this moment."