4 Theories About Succession Season 4 After That Chaotic Finale
Tom and Shiv may finally be over for good.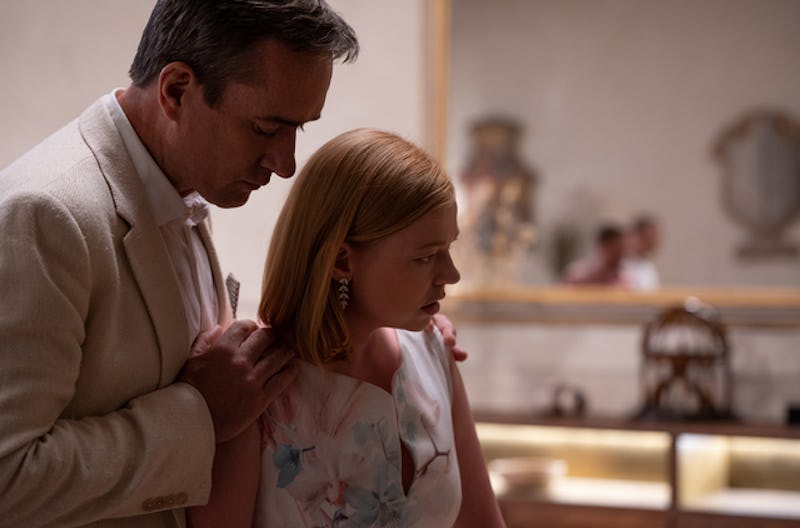 Graeme Hunter/HBO
Succession's third season finale left TV's most morally bankrupt billionaires in disrepair. Tom (Matthew Macfadyen) and Greg (Nicholas Braun) have aligned with Logan (Brian Cox), The Roy siblings may be squeezed out of the company, and there's the distinct possibility that Waystar Royco will ultimately be sold. It will be some time before the acclaimed HBO series returns for Season 4, but fans already have a few theories about what could play out when it does.
Kendall, Roman & Shiv Will Work Together
The Season 3 finale delivered perhaps the most stirring scene in the show's history: Kendall (Jeremy Strong), Roman (Kieran Culkin), and Shiv (Sarah Snook) alone in a courtyard strategizing for their lives. After learning that their father is slowly choking them out of the company, Kendall begins to unravel, admitting to having inadvertently killed a waiter at Shiv's wedding. The emotional chaos that follows reveals just how inept the siblings are when it comes to consoling one another: while Kendall is publicly sobbing, Roman can do nothing but crack jokes. However, Shiv makes it clear that unless they pull themselves together and act quickly, they likely won't have a place at Waystar for much longer. Thus, the three siblings confront their father only to discover that their plans to throw a corporate coup have already been undone. Brutal and impervious as ever, Logan has sealed their fates, setting the stage for a Season 4 where the Roy siblings will be forced to work together to survive.
Tom & Shiv Will Get Divorced
Tom's betrayal in the Season 3 finale felt as shocking as it did justified. The very reason Logan even had the wherewithal to box his children out of the company was entirely thanks to Tom. He's spent season after season trying to make things work with Shiv, only to find himself in a loveless, sexless marriage and a wife who might straight up dislike him. Tom's closeness to Logan throughout Season 3 should've been a tell that he'd aligned himself with Logan, but audiences didn't know to what degree until the finale's final moments. After the siblings failed to thwart Logan's intentions to sell the company, Tom appeared out of nowhere, getting a kind pat on the shoulder from Logan. It was obvious that Tom had tipped Logan off to Shiv's ambitions of becoming CEO, ultimately allowing Logan to stab three of his children in the back, save his own hide, and earn a couple extra billion dollars in the process. Based on the vitriol in Shiv's eyes in the final shot of the season, it's clear that she knows what Tom did, making it very hard to imagine they'll stay married for long.
The Show Will Get Political
Succession has set foot into the political realm before — lord knows Connor (Alan Ruck) has been gunning for the oval office for a while now. But Episode 6 of Season 3, "What It Takes," seemed to set the stage for Season 4 to take things further. The episode took place at a conservative political conference and featured the Roy family being courted by political hopefuls, each of whom were hoping to become president of the United States. As media magnates, the Roys have immense influence on the future of the presidency, and having chosen a candidate to endorse, it certainly feels like Season 4 could explore just how much sway they have over the White House. We know Shiv (Sarah Snook) used to be a political consultant, and a foray into politics could see the return of Gil Eavis (Eric Bogosian) and Nate Sofrelli (Ashley Zukerman).
Logan Will Finally Pick A New CEO
Though Gerri Kellman (J. Smith-Cameron) has done an admirable job as acting CEO, Succession will eventually have to live up to its title and pick a successor to Logan. Showrunner Jesse Armstrong and star Brian Cox have both mentioned that they don't see the show going beyond four or five seasons, meaning that the end is in sight. It's unclear if Season 4 will be the one to finally usher in a successor, but Gerri likely won't be CEO forever. Given that Logan has effectively iced his children out of the company, it's hard to envision Shiv, Kendall, or Roman being awarded the title of CEO. In fact, the Season 3 finale heavily implies that Logan is on the verge of selling his media empire to Swedish billionaire Lukas Matsson (Alexander Skarsgård), meaning that his successor may not even be a Roy at all.
This article was originally published on