Sydney Sweeney Says Her Dad & Grandpa Walked Out Watching Her In Euphoria
Sweeney said she never prepared her father for her character's raunchier scenes.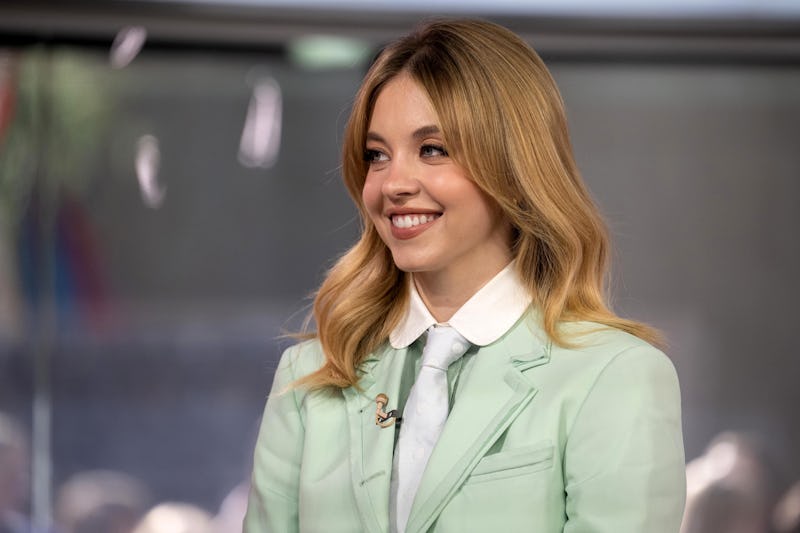 NBC/NBCUniversal/Getty Images
Sydney Sweeney's family are her biggest fans — even if some of them can't watch her on Euphoria. In a preview clip for her interview on Sunday Today With Willie Geist, posted on June 2, the actor revealed her family's reactions to watching her play Cassie on Euphoria, particularly regarding her character's nude scenes, and not all of them could stomach it.
Speaking to Geist, whose full interview will air on June 4, Sweeney admitted that the she made the mistake of preparing only one of her parents for what was to come on Euphoria. "My mom visited me on set at the time, so she knew the story and I talked to her a lot about it — my dad didn't. Yeah, I didn't prepare my dad. At all," she explained, laughing. "How do you bring up a conversation? And also when I talk to my dad it's usually not about work. We talk, like, father-daughter conversations."
Before she could warn her father, Sweeney said he decided to watch without telling her — and with his parents in tow. "My dad and my grandpa turned it off and walked out" she revealed. However, her other grandparent stood by her. "My grandma is a big supporter of mine," she said. "She's a big fan of mine. Actually I bring her, usually, all over the world to my different sets and I make her an extra."
Sweeney has previously spoken about taking her family to the Euphoria Season 2 premiere in early 2022, even including extended family like uncles and grandparents, completely forgetting about the show's explicit content. "I wasn't thinking. I was so excited," she said on The Ellen DeGeneres Show. "I was like, 'it's the Hollywood premiere! You gotta come!' We were all sitting next to each other and – giant screen, like ginormous screen. I was on the floor." However, when her nude scenes came on, at least some of her grandparents gave her a glowing compliment. "They said I had the best tits in Hollywood," she quipped.
Sweeney is set to return for Euphoria Season 3, but production has yet to begin, and even she isn't sure yet what's next for Cassie. But she does have some hopes for her character's future. "I know that the fans need her to somehow figure out how to get her sh*t together," she told E! in May. "But I really hope for a while that I can enjoy crazy Cassie."