Tammy From BiP Revealed The Moment She Chose Thomas Over Aaron
Their messy love triangle reached its conclusion in the Aug. 31 episode.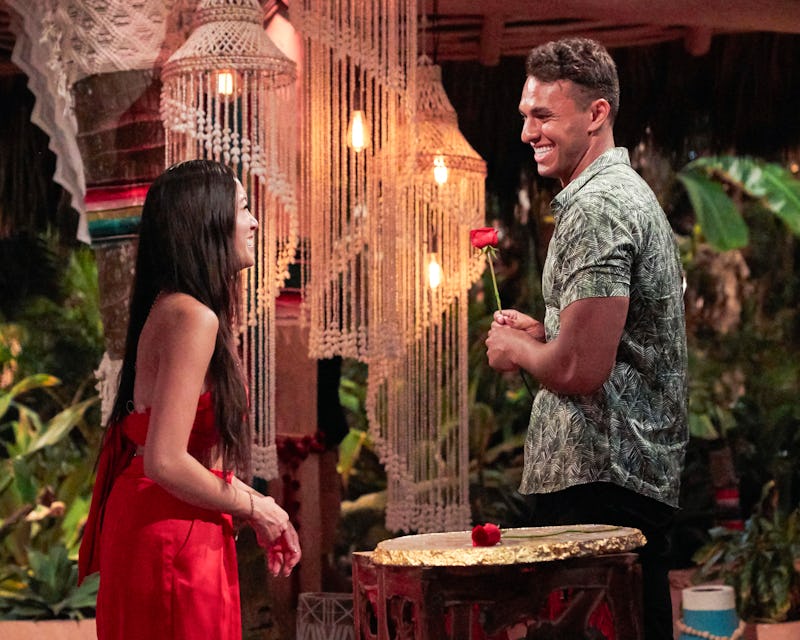 ABC
Yet another love triangle has imploded on Bachelor in Paradise. This time, it was the one between Tammy Ly and archrivals Aaron Clancy and Thomas Jacobs.
After cozying up to Tammy during the first few days of Paradise, Aaron gave her his rose at the first rose ceremony. They built a connection from there...at least until Thomas arrived on the beach. Aaron was distraught, telling all of his fellow contestants about how shady Thomas is. Things escalated even further in the Aug. 30 episode, when Tammy made out with Thomas on a daybed.
At the beginning of the Aug. 31 episode, Aaron took Thomas aside to confront him about the "disrespect" of kissing Tammy in front of him. A concerned Tammy then pulled Aaron aside to clear the air. That's when Aaron got upset. He said he felt betrayed, seemingly forgetting that he also made out with Serena Chew a couple of episodes prior. "You completely sacrificed everything we had built and you will regret it like no other, I promise you," he said angrily. A crying Tammy then unloaded her feelings on Thomas and the two made out again.
During the rose ceremony, Tammy gave hers to Thomas while Aaron stayed in the competition thanks to newcomer Becca's rose. As the episode aired, she revealed that her mind wasn't made up until her conversation with Aaron. "Aaron's rose wasn't off the table for me at that point in time. But after getting scolded at, my mind was made up," she tweeted.
She also shared some context about her kiss with Thomas, reposting a video interview with Access Hollywood in which she explained they had "a two-hour conversation at breakfast when it was just me and him before anybody woke up." According to the 26-year-old, she and Thomas are "very much alike" and "related on being misunderstood villains of our season." She added that she wanted to form her "own opinion" about Thomas despite the other guys expressing their distaste for him.
"Aaron needs to take notes from [Conor B and Ivan] on how to deal [with] the uncomfortable situations that we signed up for coming on this beach," Tammy tweeted. She also retweeted multiple posts about how she didn't owe Aaron a rose.
Another issue that didn't sit well with Tammy was the slut-shaming she received from other BiP contestants after the night's events. Tre Cooper called her actions "human trash bag behavior," while an unrecognizable voice called her "a dog." "It's 2021 and we're still slut shaming women?" she tweeted in response, adding "By 'dog' they actually meant I'm getting yelled at like a dog."
Ultimately, though, she had a good sense of humor about the whole thing. "Adding 'trash bag human' and 'dog' to my 6+ jobs," she joked, finally concluding with, "Me being the only person that likes Thomas on this beach." At least she's aware.