Twitter Has Jokes About Taylor Swift Diving & "Swimming" Under The Eras Tour Stage
"She's preparing for the swimming Olympics 2024!! Such a good diver taylor swift for the gold!!"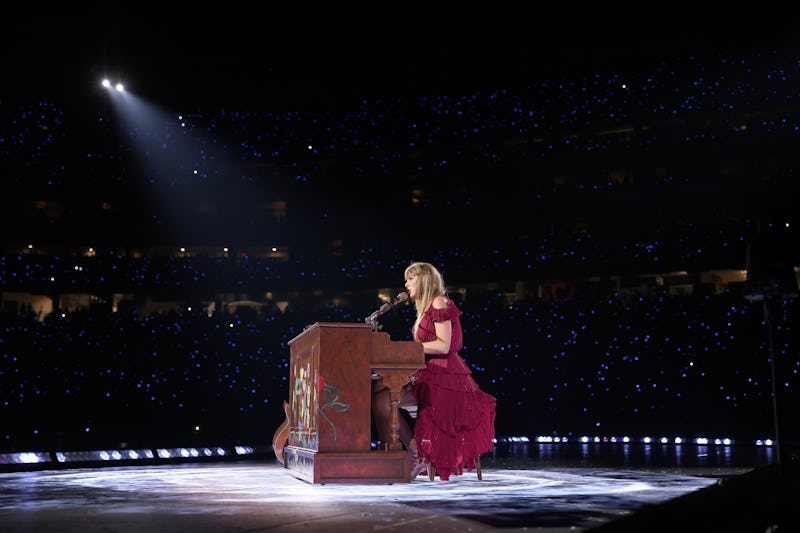 John Shearer/Getty Images Entertainment/Getty Images
Taylor Swift is a record-breaking artist across genres, a 12-time Grammy winner, and now, a world-class ... diver. Twitter is going nuts over Swift diving and "swimming" under the stage during the Eras Tour, which kicked off at Arizona's State Farm Stadium on March 17 and 18. Before the final act of her 3-hour, 44-song show, Swift gets up from her piano and dives under the stage, before appearing to literally swim underneath the catwalk back to her main stage. Naturally, Swifties were utterly enchanted by the singer's stunt, which can be chalked up to clever trickery.
As pointed out by Twitter fan account @thetstimes, Swift walks in front of a panel that opens up on the stage floor. She waits for a signal light to turn green before taking a swan-dive under the stage, before a projection of Swift swimming in the ocean is projected onto the catwalk. After the water clears, Swift emerges on the main screen and climbs up into lavender clouds, leading to the first song of the Midnights act: "Lavender Haze."
While this has not been confirmed, some fans speculated that Swift actually uses the "rocket sled" or something similar to it from her Reputation Stadium Tour to make it back to the main stage and change costumes for the next song.
Swifties expressed their shock of Swift's theatrical transition in these tweets:
Swifties weren't afraid to flat-out laugh at the stunt, lovingly poking fun at Swift's theatrics and even joking that she's going for the Olympic gold.
Swifties also had many memes ready to go, one of which used her ex-boyfriend Joe Jonas.
Twitter also reported that some of their friends and fellow Swifties thought that Swift was genuinely swimming under the stage, which just speaks to the singer's power.
Stan an artist who can do it all.