Taylor Swift Speaks Out Against Anti-LGBTQ+ Bills During Pride Month Speech
"I wish that every place was safe and beautiful for people of the LGBTQ+ community."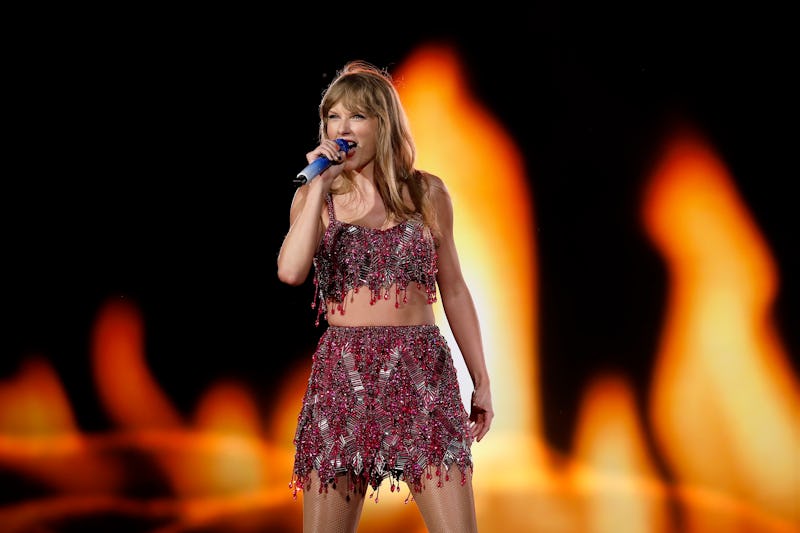 Natasha Moustache/TAS23/Getty Images Entertainment/Getty Images
Taylor Swift is continuing to prove her allyship during Pride Month. On June 2, Swift gave an impassioned speech about supporting LGBTQ+ communities during her Eras Tour stop at Soldier Field in Chicago, Ill. Sitting at her piano before singing "champagne problems," the singer took a moment to wish the crowd a happy Pride Month and acknowledge fans "who are loving who they want to love" and "identifying how they identify," noting that her concerts are a "safe space" for them.
"It's the most beautiful experience for me to look out into the crowds on this tour," she said. "I'm looking out and seeing so many incredible individuals who are living authentically and beautifully. This is a safe space for you. This is a celebratory space for you. And one of the things that makes me feel so prideful is getting to be with you, and watching you interact with each other, and being so loving, and so thoughtful, and so caring."
Swift stated how proud she was that her audience were screaming her 2019 Grammy-nominated hit "You Need to Calm Down" early in the show, which contains pro-LGBTQ lyrics like "Can you just not step on his gown?" and "Shade never made anybody less gay." "Such solidarity, such support of one another and such encouraging, beautiful acceptance, and peace, and safety," she said. "And I wish that every place was safe and beautiful for people of the LGBTQ+ community. I really wish that."
Swift went on to speak out against the onslaught of anti-LGBTQ+ bills being proposed and passed across the U.S., many of which directly target transgender individuals. "Because we can't talk about Pride without talking about pain," she continued. "Right now and recently there have been so many harmful pieces of legislation that have put people in the LGBTQ+ and queer community at risk. It's painful for everyone. Every ally. Every loved one. Every person in these communities."
The 12-time Grammy winner pushed her allyship forward with the release of "You Need to Calm Down," casting many LGBTQ+ celebrities and activists in her music video and encouraging fans to sign a petition for the Senate to pass the Equality Act, which would protect LGBTQ+ communities from discrimination in areas of public domain. After incorporating GLAAD into the song's lyrics, the LGBTQ+ advocacy group received a flood of $13 donations in Swift's honor. Swift was later honored with GLAAD's Vanguard Award in early 2020, and has continued to show her support especially during election seasons.
Swift concluded her speech by emphasizing the importance of voting in elections, and challenging allies in the crowd to do their research on political candidates' stances on LGBTQ+ issues. "That's why I'm always posting, 'This is when the midterms are. This is when these important key primaries are,'" she said. "We can support as much as we want during Pride Month, but if we're not doing our research on these elected officials, are they advocates? Are they allies? Are they protectors of equality?"