Everything To Know About Taylor Swift's Speak Now (Taylor's Version)
"Just in time for July 9th, iykyk."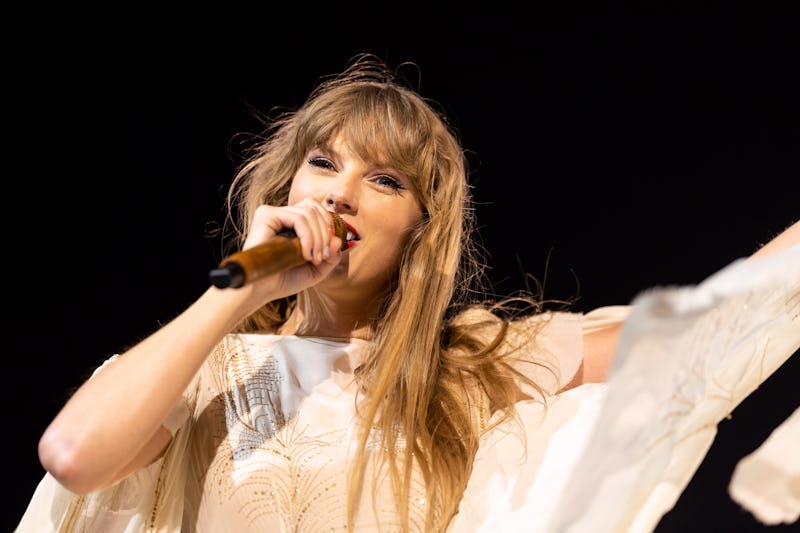 Terence Rushin/TAS23/Getty Images Entertainment/Getty Images
True to form, diligent fans picked up on the clues Taylor Swift dropped for them. Speak Now (Taylor's Version) is officially on the way, just as Swifties began predicting in the year-plus since Red (Taylor's Version) debuted in November 2021. The 12-time Grammy winner announced her upcoming re-release at her Nashville Eras Tour show on May 5, then teased afterward on social media that it would arrive soon, "just in time" for a significant day in Swift lore.
The now-33-year-old singer reflected on the original 2010 album in her written announcement. "I first made Speak Now, completely self-written, between the ages of 18 and 20," she wrote. "The songs that came from this time in my life were marked by their brutal honesty, unfiltered diaristic confessions and wild wistfulness. I love this album because it tells a tale of growing up, flailing, flying and crashing … and living to speak about it."
Announcing the re-recording, she wrote to fans, "I always looked at this album as my album, and the lump in my throat expands to a quivering voice as I say this. Thanks to you, dear reader, it finally will be."
The singer added, "I consider this music, along with your faith in me, the best thing that's ever been mine," and signed off, "Yours, Taylor."
When is the album coming and what else do you need to know? Below are all the details about Speak Now (Taylor's Version) so far.
When Is The Speak Now (Taylor's Version) Release Date?
Swift's announcement revealed that Speak Now (Taylor's Version) is just two months away: Her updated album is due out on July 7, more than 12 years after the original released on Oct. 25, 2010. "It fills me with such pride and joy to announce that my version of Speak Now will be out July 7," Swift wrote, adding a cheeky "just in time for July 9th, iykyk," alongside the grinning squinting face emoji.
What Is The July 9 Reference In The Speak Now (Taylor's Version) Announcement?
Though not her actual release date, July 9 got a shoutout from Swift. It fittingly comes from Speak Now lyrics: In the poignant track "Last Kiss," she sings, "I do recall now the smell of the rain / Fresh on the pavement, I ran off the plane / That July 9th, the beat of your heart / It jumps through your shirt / I can still feel your arms."
How Many New Tracks Will There Be On Speak Now (Taylor's Version)?
Each "Taylor's Version" album has come with several "From the Vault" tracks, aka songs that Swift wrote when she made the albums but later chose to leave off. The standard edition of Speak Now came with 14 tracks, and the deluxe edition had an additional six, plus two videos. Now Swift's 2023 version will have "six extra songs … sprung loose from the vault," as she put it in her announcement.
Will There Be Any New Collabs?
As Swift said, Speak Now was all hers — none of the tracks featured other artists. It seems safe to say then that her re-recorded versions won't either, but never discount the possibility of Swift pulling out a surprise for fans. We'll find out soon.