These Clues Point To Which "Taylor's Version" Album Taylor Swift Will Release Next
Swift's next re-recordings may be delayed by legal issues, but it seems like she's ready to release Speak Now (Taylor's Version).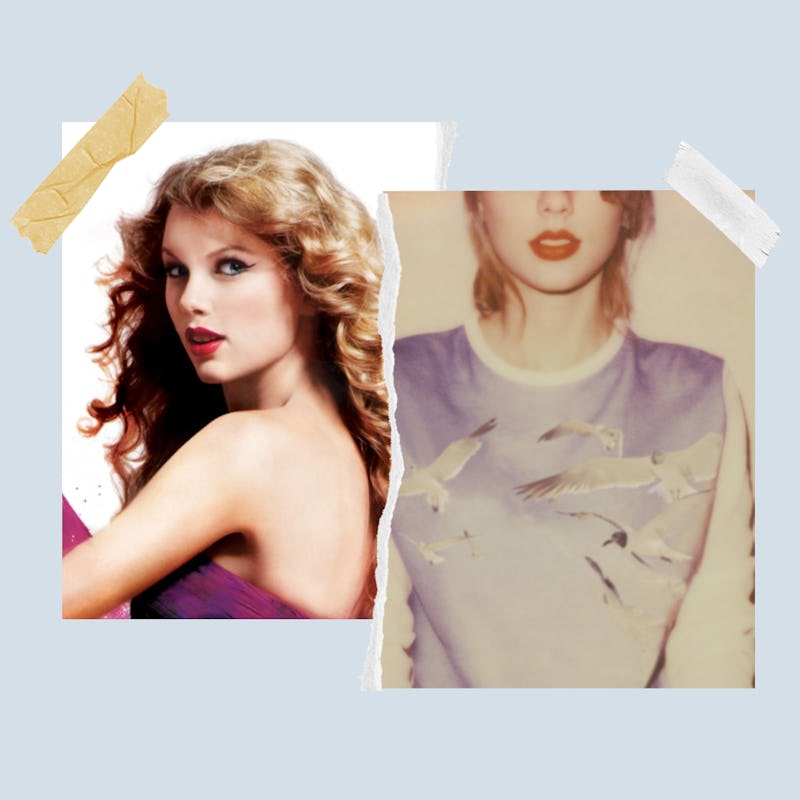 Speak Now/1989/Taylor Swift
Taylor Swift, who now has 10 No. 1 albums as of October 2022, is taking fans on a journey through her immense repertoire of music. She started with Fearless (Taylor's Version) in April 2021, the re-recording of her Grammy Album of the Year-winning sophomore album from 2008. Months later in November, fans felt all the feels with the release of Red (Taylor's Version), the reimagined take on her fourth album from 2012 that is widely considered her ultimate breakup album thanks to her critically acclaimed "All Too Well" and other hit songs.
Swift is set to re-record her first six studio albums with bonus material from her vault of unreleased music, and fans are already trying to figure out which "Taylor's Version" album will arrive next. While Swift has hinted at re-recordings of both her 2010 album Speak Now and 2014 Grammy-winning record 1989, Swifties got their likely answer on Oct. 25 in her new "Bejeweled" music video, where she gave multiple clues that Speak Now (Taylor's Version) will be her next album.
For starters, an orchestral version of Speak Now deep cut "Enchanted" plays over the intro of the video, while an instrumental of "Long Live" plays as the video concludes with dragons flying over Swift's new castle, nodding to the lyric, "I've had the time of my life fighting dragons with you." In the video, Swift enters a magical elevator where the floor numbers appear to match the primary color of each of her albums. She first presses the purple "3" button, which signifies her third album Speak Now, and the 13th floor is another shade of deep purple. Given how Midnights is her 12th release when counting the two "Taylor's Version" albums she's already recorded, she seems to be confirming that her next album will be Speak Now (Taylor's Version).
Despite Swift's generous Easter eggs, both Speak Now and 1989 might still be faced with delays due to separate ongoing legal issues. Read on for everything we know about the next "Taylor's Version" album.
Clues For Speak Now (Taylor's Version)
When Swift's store put up signed copies of Red (Taylor's Version) on Nov. 9, fans noticed that they cost $20.10 each, which happens to look like the year that Speak Now was released (2010). The price was listed in purple font, matching the primary color used during the Speak Now era.
Also, when Swift commemorated the release of Red (Taylor's Version) on Instagram on Nov. 12, she may have hinted at Speak Now again: "Red is about to be mine again, but it has always been ours," she wrote, invoking the titles of Speak Now lead single "Mine" and bonus track "Ours."
However, on Oct. 25, 2022, which just happened to be the 12th anniversary of Speak Now, fans got their strongest indication that the arrival of Speak Now (Taylor's Version) is imminent. In addition to the clues seen in the "Bejeweled" video, Swift seems to use certain props from the Speak Now World Tour and recreate the image shown on the original Speak Now CD. The singer also sports "S" and "N" hairpins, shows off a red and purple earring to represent Red and Speak Now, and sits on the 3:00 angle of a large clock, once again hinting at her third album.
Clues For 1989 (Taylor's Version)
While the "Bejeweled" video makes it pretty clear that Speak Now season is upon us, there are also a few hints that point to 1989 (Taylor's Version) being released as the next re-recording. A fan on TikTok pointed out that the car seen in Swift's short film "All Too Well (10-Minute Version)" is a 1989 Mercedes-Benz S-Class.
Swift followed through on that promise. During her appearance on The Tonight Show Starring Jimmy Fallon on Nov. 11, Swift casually used the phrase "go down a rabbit hole," possibly nodding to the lyrics of 1989 bonus track "Wonderland."
Swift inserted even more 1989 references in her "I Bet You Think About Me" video, which premiered on Nov. 15. Fans spotted seagulls at the bottom of her wedding cake, a common motif of the era, and Swift holding a photo of an apple, a potential nod to the "Blank Space" music video.
Why The Next Taylor's Version May Be Delayed
Despite those Easter Eggs hinting that "Taylor's Versions" of Speak Now and 1989 are imminent, neither album has yet to arrive nearly a year later. Instead, Swift has been focusing on the release of her 10th studio album Midnights, putting the timeline of her re-recordings into question, and there may be some strong reasons for the delays.
Swifties have speculated that 1989 (Taylor's Version) is being delayed due to an ongoing lawsuit regarding "Shake It Off." Songwriters Sean Hall and Nathan Butler are suing Swift, alleging that she stole the lyrics "'Cause the players gonna play, play, play, play, play / And the haters gonna hate, hate, hate, hate, hate" from a 2001 song they wrote for 3LW, "Playas 'Gon Play." The lawsuit was originally filed and dismissed in 2017 before Hall and Butler appealed the ruling and judges determined the case should be revived.
Swift is fighting the claims in court, writing in a sworn declaration that "Shake It Off" was "written entirely by me" and she had never heard "Playas Gon' Play" or known about 3LW until the lawsuit was filed. Despite her attempts to get the lawsuit thrown out again, judge Michael W. Fitzgerald has declared the case will move forward. The trial is currently scheduled to begin on Jan. 17, 2023, meaning it's possible that 1989 (Taylor's Version) won't be released until after a verdict is reached.
As for Speak Now (Taylor's Version), it's likely that copyright issues are preventing its release. Swift's trademark for her 2010 album was set to expire in December 2021, so her team filed to renew it six months prior, with "Taylor's Version" attached to the end. However, the request was unexpectedly denied thanks to OnePlus Electronics, who also filed for the "Speak Now" trademark to promote a line of voice-activated electronics. As uncovered by a Swiftie on Reddit, the Speak Now merch drop in May 2022 was actually submitted to the U.S. Patent and Trademark Office as proof that Swift was still actively using the trademark. The status of this copyright battle is unknown, meaning Swift herself may not know when Speak Now (Taylor's Version) will actually come out.
Why The Next One Won't Be Reputation Or Her Self-Titled Debut Album
Naturally, Swift's self-titled 2006 debut album and 2017 album Reputation are also in the conversation. But don't expect either of those two "Taylor's Version" albums to be released next. For one, Swift has given no hints or Easter eggs that indicate the arrival of either album (unless her plan is to throw us off again). As per her contract with former label Big Machine Records, Swift will not even be able to start re-recording Reputation until Nov. 11, 2022, exactly five years after its 2017 release, likely making it the final "Taylor's Version" album to come out. She could also decide to save her debut album for last to make it a full-circle moment.
This article was originally published on