Taylor Swift Has Revealed Which "Taylor's Version" Album Is Coming After Speak Now
However, some fans think another album could actually be surprise-released first.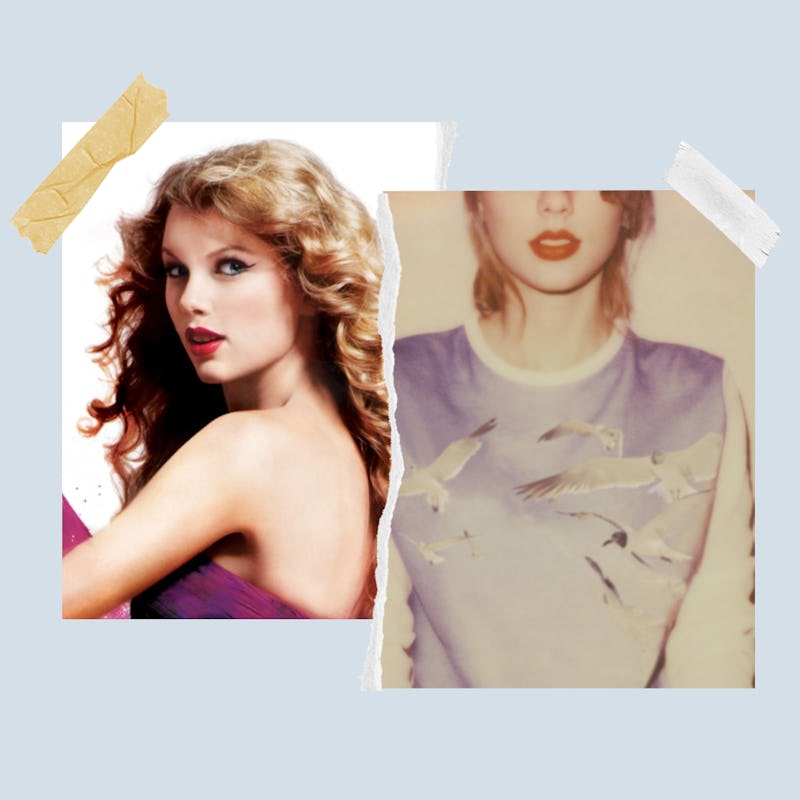 Speak Now/1989/Taylor Swift
Taylor Swift, who now has 10 No. 1 albums as of October 2022, is taking fans on a journey through her immense repertoire of music, re-recording her first six studio albums with bonus material from her vault of unreleased songs. She started with Fearless (Taylor's Version) in April 2021, the re-recording of her Grammy Album of the Year-winning sophomore album from 2008. That November, fans felt all the feels with Red (Taylor's Version), the reimagined take on her fourth album from 2012 including the ten-minute version of "All Too Well." Swifties are now reliving their youth with Speak Now (Taylor's Version), released on July 7, but they've already successfully figured out which re-recording is next.
As many Swifties predicted, the singer announced 1989 (Taylor's Version) on Aug. 9, a.k.a. 8/9, while performing her final U.S. Eras Tour show of 2023 in Los Angeles. In typical Swiftian fashion, she laid easter eggs leading up to the big reveal by donning new blue costumes for her Speak Now, Folklore, and 1989 acts, matching the era's color, before dropping the bomb in the secret songs segment. "There's something that I've been planning for a really, really, really ridiculously, embarrassingly long time, and instead of telling you about it, I think I'll just sort of show you," she said, before the screen flashed the new cover art and release date, as Swift launched into 1989 fan favorite single "New Romantics."
Taking to social media after the show, Swift confirmed that the re-recording of her 2014 Grammy Album of the Year winner will come out on Oct. 27, exactly nine years after the original album was released. "The 1989 album changed my life in countless ways, and it fills me with such excitement to announce that my version of it will be out October 27th," she wrote. "To be perfectly honest, this is my most FAVORITE re-record I've ever done because the 5 From The Vault tracks are so insane. I can't believe they were ever left behind. But not for long!"
In fact, it was the music video for Swift's Speak Now "From the Vault" track, "I Can See You," that pointed to the re-recording of 1989 coming out next. Swift is now nearly two-thirds through her re-recording process, which means there's still just a little sleuthing to be done on what's coming next. Read on for all the clues that Swifties deciphered about 1989 (Taylor's Version) — and which "Taylor's Version" some fans think could arrive before then.
Clues For 1989 (Taylor's Version)
Swift started hinting at her next re-recording the same day her newest "Taylor's Version" album was released, most significantly in her new music video for "I Can See You (From the Vault)." At the end of the video, Swift and her crew drive onto a bridge with coordinates that spell out "1989 TV," a pretty clear indicator that 1989 (Taylor's Version) will be released next. Fans also compared the scene of star Joey King dodging lasers on her heist to a promo video that Swift filmed during the 1989 era which shows her doing nearly the same thing. In Swift's world, that may not be a coincidence.
In addition, many Swifties thought that her belated Fourth of July Instagram post, which included photos of her with close friends Selena Gomez and HAIM at her Rhode Island house over the holiday weekend, gave off "1989 vibes" thanks to her reuniting with members of that era's "squad."
Even before the release of Speak Now (Taylor's Version), she planted a few hints that pointed to 1989 (Taylor's Version) being released imminently. A fan on TikTok pointed out that the car seen in Swift's short film "All Too Well (10-Minute Version)" is a 1989 Mercedes-Benz S-Class.
During her appearance on The Tonight Show Starring Jimmy Fallon on Nov. 11, Swift casually used the phrase "go down a rabbit hole," possibly nodding to the lyrics of 1989 bonus track "Wonderland." Swift inserted even more 1989 references in her "I Bet You Think About Me" video, which premiered on Nov. 15. Fans spotted seagulls at the bottom of her wedding cake, a common motif of the era, and Swift holding a photo of an apple, a potential nod to the "Blank Space" music video.
Most notably, Swift gave many hints about 1989 back when Fearless (Taylor's Version) was released in April 2021. During an appearance on The Late Show With Stephen Colbert, Swift held up a mood board that was jokingly meant to convince the host that "Hey Stephen" wasn't about him, but actually contained 1989 Easter Eggs. However, Red (Taylor's Version) was announced as her next release just two months later, meaning not all of Swift's clues can be trusted.
Clues For Reputation (Taylor's Version)
Now, Swift has only her self-titled 2006 debut album and 2017 album Reputation to re-record. She has yet to give any direct hints or Easter eggs that indicate the arrival of either album, but some fans think that Reputation (Taylor's Version) could actually drop before 1989 does.
TikTok user simpofthesapphics argued in a now-viral video that Swift may surprise-release the re-recording of her 2017 album after announcing 1989 (Taylor's Version) but before it drops, citing "the clock" as evidence. This fan theory argues that the "Taylor's Version" albums will be released in order of how her album titles are arranged in a circle in "The Man" video, which puts Reputation before 1989. "That way we would be in the Reputation era on the way to the 1989 era, which we know is coming," she argued, adding that "because Reputation wasn't part of the original plan and was unexpected, it would make sense for her to mirror that with her re-release."
However, as per her contract with her former label Big Machine Records, Swift was not able to start re-recording Reputation until Nov. 11, 2022, exactly five years after its 2017 release, meaning she may not be quite done with it yet. If that's the case, this would indicate a 2024 release at the earliest.
This article was originally published on