Twitter Is Emo Over Taylor Swift Adding Paramore & Fall Out Boy To Speak Now (TV)
"I decided to go to the artists who I feel influenced me most powerfully as a lyricist at that time."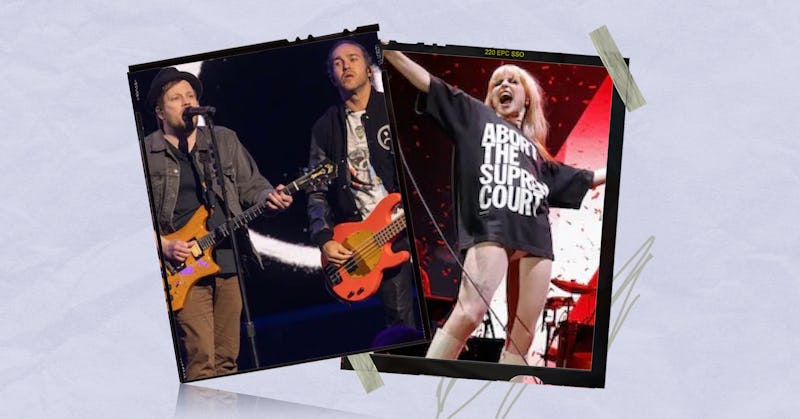 Taylor Hill/Barry Brecheisen/Getty Images Entertainment
Taylor Swift is going punk. On June 5, the 12-time Grammy winner unveiled the tracklist for Speak Now (Taylor's Version), which will feature special collaborations with Fall Out Boy and Paramore's Hayley Williams on two of her previously unreleased "From the Vault" tracks. Fall Out Boy will feature on the first "From the Vault" track, "Electric Touch," while Williams will appear on "Castles Crumbling." The other four Vault songs include "When Emma Falls In Love," "I Can See You," "Foolish One," and "Timeless," which will join 16 newly re-recorded Speak Now tracks.
In her announcement post, Swift explained that the two pop-punk bands hugely inspired her lyricism when writing Speak Now, which was released in 2010, as a teenager growing into a young adult. "Since Speak Now was all about my songwriting, I decided to go to the artists who I feel influenced me most powerfully as a lyricist at that time and ask them to sing on the album," she said. "They're so cool and generous for agreeing to support my version of Speak Now."
Swift ended her note with a nod to "Innocent," a Speak Now track she hasn't performed live since 2010. "I recorded this album when I was 32 (and still growing up, now) and can't wait to unveil it all to you on July 7th," she wrote.
Williams previously teased something Swift-related when a fan gave her a Speak Now-themed friendship bracelet at a New York City meet-and-greet on June 2. "Let me just tell you, this is coming at a very interesting time that you're giving me this to wear, and that's all I'll say," she said, as seen in a viral TikTok video. She has been friends with Swift for years, with Paramore opening for the first two shows of the Eras Tour in March. Swift also has a history with Fall Out Boy, performing their hit "My Songs Know What You Did in the Dark" with the band at the 2013 Victoria's Secret Fashion Show.
Swifties went berzerk on Twitter upon hearing the news that they would receive new songs with Paramore and Fall Out Boy.
Some stans also pointed out how Swift's choice of collaborators upheld Speak Now's lyrical and spiritual punk-pop nature, despite the album not sounding punk at all.
Fans will likely have to wait to hear Swift's new collaborations until July 7, when Speak Now (Taylor's Version) is released.