Taylor Swift's Eras Tour T-Shirts Might Be Slowly Spelling Her Next Album Title
When re-arranged, the red letters are starting to spell out Speak Now (Taylor's Version).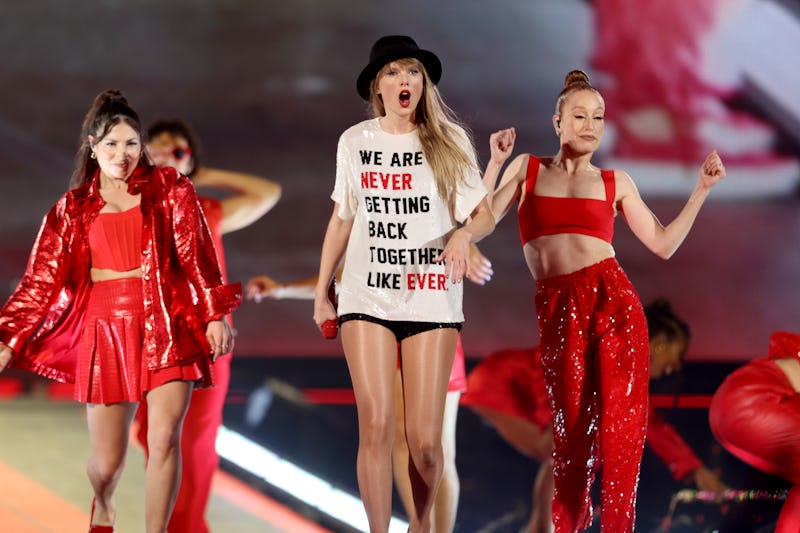 Omar Vega/TAS23/Getty Images Entertainment
You didn't think Taylor Swift would let the Eras Tour pass by without laying a few easter eggs along the way, did you? Swifties already think the 12-time Grammy winner hints at her next studio album during the Eras Tour finale, but she also may be giving clues about something that's likely to come much sooner: Speak Now (Taylor's Version).
During her performance of "22," Swift has been wearing looks inspired by the iconic "Not a lot going on at the moment" tee in the song's 2013 music video. On opening night on March 17, she wore a shirt that stated "A lot going on at the moment," spinning the phrase on its head. The following night, she donned a T-shirt that used the "22" lyric, "Ew, who's Taylor Swift anyway?" Eagle-eyed fans noticed that "a lot" and "ew" were written in red, while the rest of the quote was in black, making fans question what that could possibly mean.
Given how Swift has indicated that Speak Now (Taylor's Version) is her next re-recording via easter eggs in her "Bejeweled" music video, and her penchant for giving jumbled clues that fans have to literally spell out, Swifties immediately guessed that the red letters would eventually spell out "Speak Now (Taylor's Version)." Low and behold, all of the letters fit. It's also appropriate that this easter egg would be dropped during the Red act of the Eras Tour, considering it's the most recent "Taylor's Version" album she released.
Ethan Miller/TAS23/Getty Images Entertainment/Getty Images
John Shearer/Getty Images Entertainment/Getty Images
This theory gained steam at the March 31 show in Arlington, Texas, where Swift debuted a third "22" shirt that read, "We are never getting back together. Like ever." The "never" and "ever" were highlighted in red letters, continuing to fill out the phrase "Speak Now (Taylor's Version)."
However, there is an extra "v" that doesn't fit into the album title, leading some to speculate that she could also be hinting at the re-recording's release date. "I saw someone say it's spelling 'Speak Now Taylor's Version November 17,'" one fan commented on a TikTok video.
There's still a few letters to be filled in, meaning Swifties will have to wait and see if she sports a new shirt during "22" at a future show. The Eras Tour will continue in Tampa, Fla., on April 13 after a brief respite, which is likely welcome for Swift considering how the show comes with a mammoth 44-song setlist that lasts over three hours.