This The Last Of Us Filming Error Reminds Fans Of Game Of Thrones Mistakes
HBO is having Starbucks cup déjà vu.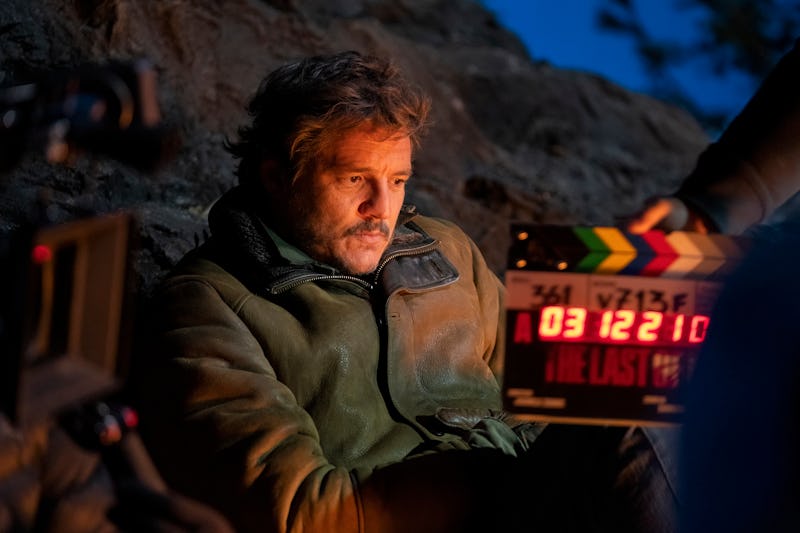 Liane Hentscher/HBO
The Last of Us Episode 6 opened with Joel (Pedro Pascal) and Ellie (Bella Ramsey) finally arriving in snowy Wyoming. Before they can reach Joel's brother Tommy (Gabriel Luna) in Jackson, they must cross a deadly river. As the duo makes their way to a bridge, the HBO series shows stunning aerial shots of the expansive wilderness. The sweeping landscapes didn't totally hold some fans' attention, though, with at least one eagle-eyed viewer noticing a Last of Us filming error.
In a blink-and-you'll-miss-it moment about 15 minutes into the episode, several members of the film crew are visible in the frame of an overhead shot. After co-creator Neil Druckmann tweeted about a trending topic about a possible Dina cameo on Feb. 19, one fan pointed out the mistake. "Brilliant episode," the Twitter user began, adding, "Something you might want to fix and reupload though. You can see the film crew in this shot."
Though Druckmann has yet to respond, the fan's screenshot might be some viewers' only chance to catch the error. The reason? This isn't the first editing mistake HBO has made in recent years, and the streamer has historically uploaded corrected versions of the episodes.
One infamous example that came to mind was an accidentally visible Starbucks cup sitting on a table in front of Daenerys Targaryen (Emilia Clarke) during Game of Thrones Season 8. Several GoT episodes later, discerning viewers spotted plastic water bottles in the frame during the polarizing 2019 series finale.
Before HBO's GoT spinoff — House of the Dragon — premiered in August 2022, co-showrunner Ryan Condal vowed not to let history repeat itself, telling The Hollywood Reporter in July that they maintained "a very heavily policed set" and that there "was lots of Starbucks-hunting going on." Added Condal, "We always joked around about it, that we were going to make Starbucks goblets so at least they fit in the scene." He added that these gaffes often happen in TV and film, but the fact people noticed this one underscored the HBO show's popularity. (The Last of Us has similarly boasted record ratings.)
Even though HotD successfully avoided the Starbucks mistake, the prequel's creative team still made a major VFX error. Though two of actor Paddy Considine's fingers were digitally removed as his character, King Viserys, battled a flesh-eating disease, an Episode 3 scene showed his digits with green coverings that the editors forgot to remove in post-production.
However, all three shows have enjoyed great critical success, so perhaps it's just an HBO rite of passage.