Here's What Happens To Ellie In The Last Of Us Video Games
Joel's stabbing leaves her to face a cult leader alone.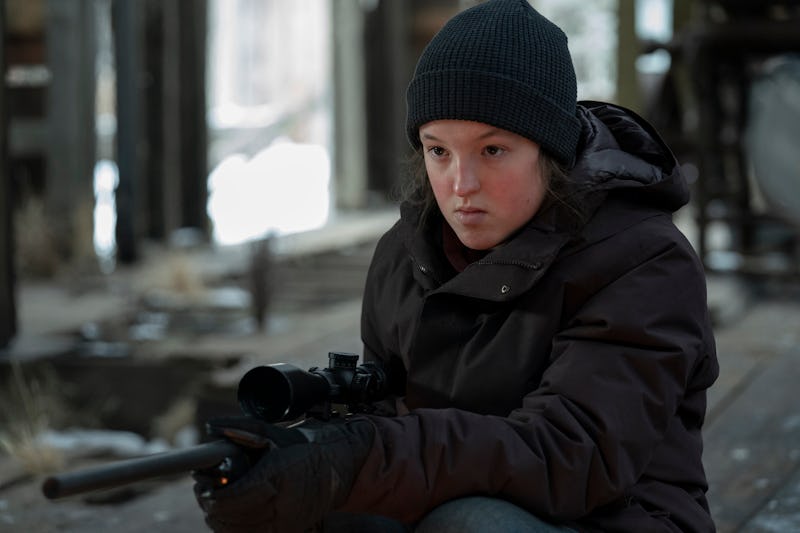 Liane Hentscher/HBO
Major spoilers ahead for The Last of Us video games. After surviving several scrapes with death on her westward journey, Ellie is arguably in more danger than ever in The Last of Us's eighth episode. HBO's promo for the episode, which premieres on March 5, shows cannibalistic cult leader David (Scott Shepherd) capturing Ellie (Bella Ramsey), while Joel (Pedro Pascal) remains largely unconscious, fighting an infected stab wound. It's anyone's guess what will happen next in the show — but viewers can get a good idea by looking at the plot of Neil Druckmann's 2013 PlayStation game, on which HBO's The Last of Us is based. Here's what happens to Ellie in the video games.
During her encounter with David, the Cordyceps-immune teen is badly beaten, but ultimately kills him and survives. Afterwards, she and Joel finally arrive at the Salt Lake City hospital where the Fireflies are working on a cure for the fungal infection that destroyed modern society. When Firefly leader Marlene tells Joel that Ellie must undergo a brain surgery that will kill her in order for the Fireflies to harvest a sample from her, he fatally shoots Marlene, along with all the others he encounters in the building. Joel arrives in the operating room just in time to stop the extraction and save Ellie's life, also killing the doctor who knows how to make the cure in the process.
When her anesthesia wears off, Ellie wakes up outside of the hospital with Joel, already en route to rejoin Tommy in Jackson, Wyoming. Because Ellie was unconscious for the events of the surgery, Joel lies and tells her that the Fireflies found others with immunity like hers, but were unsuccessful in manufacturing a vaccine or cure. Racked with survivor's guilt, Ellie ends the first video game robbed of her chance to save humanity and grappling with the realization that all the life-threatening risks — and deaths — suffered on their journey had been for nothing.
The sequel video game, The Last of Us Part II, picks up four years later. Ellie and Joel are living normal lives in Wyoming — until Joel confesses to Ellie that he doomed humanity to save her life. The revelation leads to a falling out, but the grudge doesn't have much time to play out: Joel dies early in the game. Ellie shows up just in time to see a stranger named Abby — who's later revealed to be the daughter of the surgeon Joel killed in Salt Lake City — beat him to death with a golf club.
From there, the second game follows Ellie's quest to avenge Joel's death by killing Abby. The two have a cat-and-mouse chase across multiple West Coast states, until Ellie eventually tracks down Abby in California. The women battle, and just as Ellie gets the upper hand and is about to drown her nemesis, a memory of Joel inspires her to show mercy. After allowing Abby to escape by boat, Ellie returns to her life in Wyoming.
The game's final scene shows Ellie arriving at the farm where she lived with her partner, Dina, and their son, JJ. But she finds that Dina, who didn't want Ellie to continue her hunt for Abby, had vacated the home, presumably returning to the Jackson community. As Ellie sits in their empty home, she recalls the memory she'd recalled during her fight with Abby: The night before Joel's murder, Ellie had gone to his house, and they'd had their final conversation. Though Ellie told Joel she still didn't think she could ever forgive him for what he did in Salt Lake City, she said she'd "like to try."
Abby may have robbed her of that opportunity, but Ellie and Joel were at least able to find some peace before his death. The final shot shows her leaving the farm, likely to make amends with Dina and JJ in Jackson and begin a new chapter.
Don't expect all of the second game's action to take place in The Last of Us Season 2, though. As series co-creator Craig Mazin revealed to Collider in January, "Probably the amount of remaining story would take us more than a season to tell."