The Rig Shares A Filming Location With This Marvel Blockbuster
Eagle-eyed fans may well recognise the industrial setting.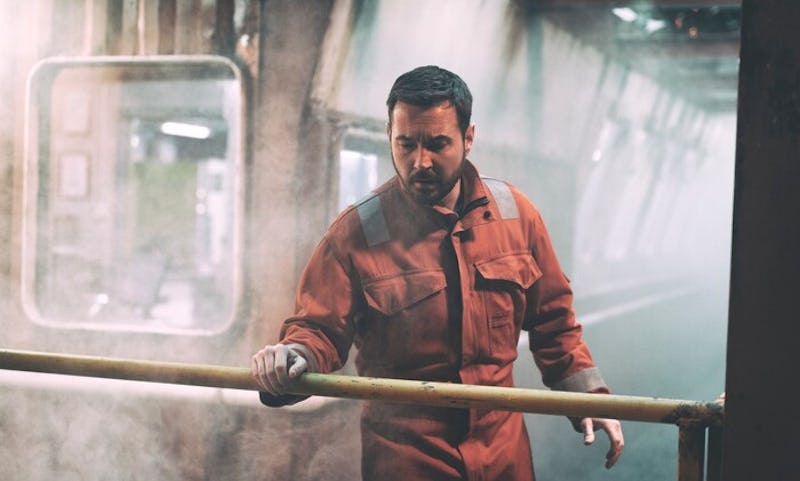 Amazon Originals
As far as settings for a gritty, supernatural thriller go, you can't really get much more claustrophobic than a remote oil rig somewhere in the North Sea. Following an isolated off-shore crew who come under attack from terrifyingly spooky forces while drilling for fossil fuels, The Rig tells a chilling tale of being completely cut off from civilisation, and stars Line Of Duty''s Mark Bonnar, Rochenda Sandall, and Martin Compston, alongside Emily Hampshire (Schitt's Creek) and Iain Glen (Game Of Thrones). The question is, where was the gripping psychological drama filmed?
The first Prime Video original to be shot exclusively in Scotland, the crew of the fictional rig Kinloch Bravo are stationed in dangerous North Sea waters off the coast of Aberdeen, but majority of filming actually took place at an indoor studio in Edinburgh. According to Amazon, additional filming also took place at an oil rig in an undisclosed location in Scotland.
FirstStage Studios opened in 2021 at a converted wave power plant in Leith, and is headed up by TV and film producer Bob Last and actor/director Jason Connery. The latter's dad is none other than one of Scotland's biggest acting exports, the late Sean Connery, while his mum is the late actor Diane Cilento. "Being able to film my first show here in Edinburgh is a dream come true," said The Rig's writer David Macpherson of the shiny new studio.
Though the former plant only opened its doors as a dedicated studio fairly recently, it happens to be a popular location already, and the building was previously used as a filming location for Avengers: Infinity War. As well as utilising its industrial backdrop, the Avengers sequel also filmed around Edinburgh's old town and the Royal Mile, as well as the city's Waverley Station. Irvine Welsh's Scottish cult classic Trainspotting was also set and partly shot in Leith, right around the corner from the docks.