Becca Kufrin Apologizes To Boyfriend Thomas Jacobs For Breaking His Heart On BiP
The couple is back on after calling it quits on the finale.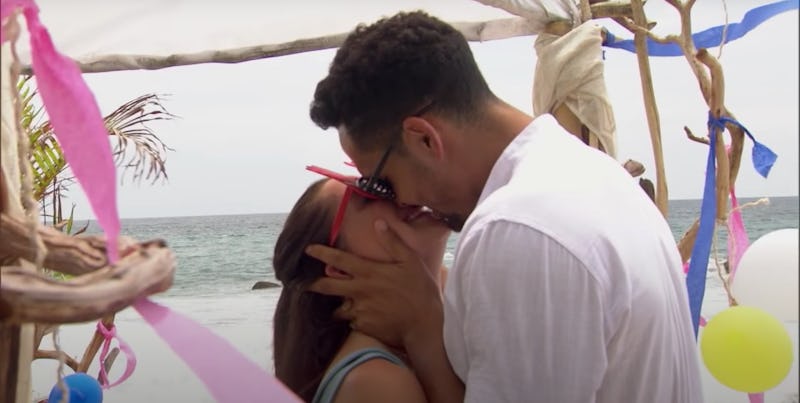 Photo courtesy of ABC
After splitting fiancé Garrett Yrigoyen in late 2020, Becca Kufrin hit the beach for Bachelor in Paradise Season 7 and quickly coupled up with Thomas Jacobs. Jacobs, you'll remember, stirred up a ton of controversy on Katie Thurston's season of The Bachelorette when he admitted that he came on the show hoping to be cast as the next Bachelor. That didn't happen. However, he may have just found the love he's been looking for.
Thomas arrived in Mexico before Becca, initially sending the men from his season — and most of Twitter — into a tizzy. But the women on the show weren't as concerned about his intentions. Much to the dismay of Joe Amabile, Thomas took Serena Pitt on a date. However, after hearing his side of what happened on Katie's season, Serena decided she wasn't up for all of the drama and returned to the beach to be with Joe, leaving Thomas without a romantic prospect just in time for Becca to slide in.
Though Becca also briefly explored a connection with Thomas' archrival Aaron Clancy, she and Thomas were smitten ever since they went on a one-on-one date. "Every time I see you, I get so excited," Thomas told her, to which Becca responded, "I can't stop smiling." Becca then told Thomas about her previous experiences on the franchise, and he informed her that he knew almost nothing about her past. Both of them admitted to having apprehensions about coming to Paradise, but Thomas told Becca that his favorite moments on the show were with her and they kissed. In a one-on-one interview, Becca told the cameras that she's glad she decided to come and that what she feels with Thomas is "what Paradise should be."
Things appeared to go downhill during the finale, which aired on Oct. 5. In the episode, Becca told Thomas that he seemed too good to be true and that she would rather cut their relationship short than go into the fantasy suites. Thomas seemed caught off guard to the point where he broke down in tears, and the two left the beach in separate cars. But was their relationship really over? Apparently not.
Even though Becca still doesn't follow Thomas on Instagram, they've each posted about each other on the platform and have shared flirty comments under each other's pictures as the season was airing. When Becca shared a snapshot of Thomas playing with her feet captioned, "this little piggy went to the beach," Thomas wrote, "Little do people know, you're actually smiling at the floor to ceiling stack of Doritos behind me." A fan also commented, "This guy has 'red flags' written all over him," to which Becca responded, "Red is my favorite color."
Over on his page, Thomas shared a picture of him and Becca cuddling on a daybed with the caption, "Hey." Under it, Becca commented, "Come here often?" and Thomas commented back, "No, not really. It was a crazy thing I did one summer. Would love to tell you the story some day." Becca officially confirmed that they were dating after the finale episode aired when she shared a romantic video on Instagram of the couple kissing, walking their dogs, working out, and simply doing life together.
"You know what they say... third time's a charm," the former Bachelorette captioned the video. "I'm sorry for breaking up with you on national television, but I'll take every day to make it up to you Tommy. Thanks for making my heart smile far more than it ever has. Now time to start this real life." On Thomas' Instagram Stories, he shared a clip of them kissing, and ahead of the finale, he got candid about his feelings for Becca on his feed. "I feel safe with you," he wrote. "As if nothing could ever go terribly wrong ... Thank you for being someone who I can put my trust in, someone who would never hurt me, someone who would never push "us" away."
This article was originally published on