The Ticketmaster Senate Hearing & Taylor Swift Tickets Debacle, Explained
"Ticketmaster needs to look in the mirror and say, 'I'm the problem, it's me.'"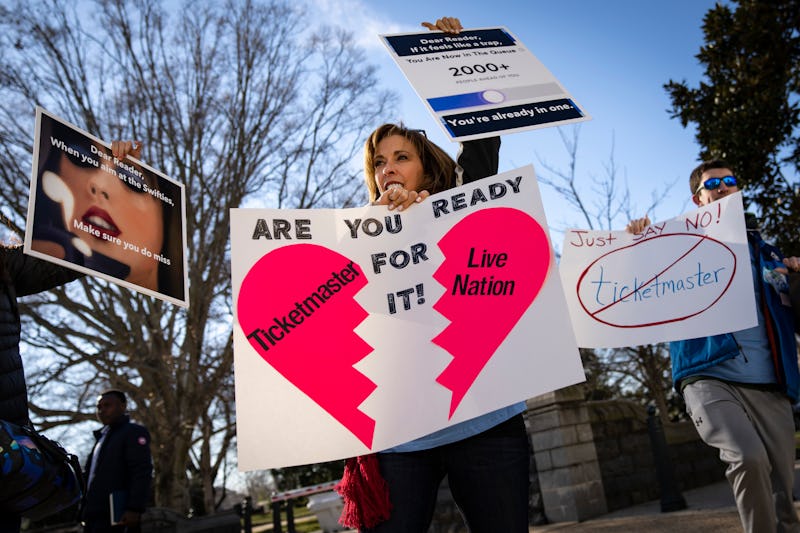 Drew Angerer/Getty Images News/Getty Images
Hell hath no fury like a Swiftie inconvenienced. Ticketmaster has been feeling the wrath of Taylor Swift fans after the Eras Tour ticket debacle in November 2021, and it's now gone all the way to the U.S. Senate. On Jan. 24, Sens. Richard Durbin and Amy Klobuchar lead a Senate Judiciary Committee hearing against Ticketmaster and its parent company Live Nation, in part motivated by the Eras Tour fiasco. While Swift wasn't in attendance, her fans were perched outside the U.S. Capitol with protest signs — and three different Senators used Swift's lyrics to make their points.
Previously, a group of 26 Swifties across 13 states (Swift's favorite number is 13) sued Ticketmaster on Dec. 2, accusing the site of violating California's Cartwright Act and Unfair Competition Law. The group filed a second lawsuit later that month alleging that Ticketmaster violated antitrust laws, arguing that Swift was essentially forced to use the site to sell Eras Tour tickets because she had to perform at the biggest stadiums in the U.S. to meet demand, most of which have exclusivity deals with Ticketmaster.
"You can't have too much consolidation, something that unfortunately for this country, as an ode to Taylor Swift, I will say that we know all too well."
However, the fight against Ticketmaster even predates Swift, as the Justice Department started looking into the company in 2018 due to allegations of them violating their merger agreement. But the Eras Tour debacle reportedly motivated them to launch a more formal investigation into the merger. Now, the Senate is leading the charge against Live Nation, demanding the company's alleged monopoly to be undone in order to prevent another Eras Tour scenario. "This is all the definition of monopoly," Klobuchar said. "You can't have too much consolidation, something that unfortunately for this country, as an ode to Taylor Swift, I will say that we know all too well."
Here's everything you need to know about the Ticketmaster hearing and ticket debacle.
What Happened With Taylor Swift's Tour?
On Nov. 15, Ticketmaster's Verified Fan presales for Swift's Eras Tour commenced and quickly turned into a disaster. Fans who received presale codes were faced with hours-long virtual queues just to access the ticket-buying page. At several points, Ticketmaster had to pause ticket sales due to the influx of traffic, leading them to postpone the planned CapitalOne cardholders' presale to the next day. Those who attempted to participate in the CapitalOne presale didn't fare much better, also facing exorbitant lines and intense competition for tickets. This lead Ticketmaster to cancel the general public sale on Nov. 18, citing insufficient supply for the demand they expected.
Swift was furious about what happened, writing a letter to fans on the same day that general ticket sales were meant to be held. Without directly naming Ticketmaster, she explained that it was "really difficult for me to trust an outside entity" to serve her fans and "excruciating for me to just watch mistakes happen" without any solution.
"There are a multitude of reasons why people had such a hard time trying to get tickets," Swift wrote. "I'm not going to make excuses for anyone because we asked them, multiple times, if they could handle this kind of demand and we were assured they could. It's truly amazing that 2.4 million people got tickets, but it really pisses me off that a lot of them feel like they went through several bear attacks to get them."
What Caused The Taylor Swift Ticket Fiasco?
During the Senate hearing, Live Nation president Joe Berchtold pinned the ticket fiasco on bots and scalpers who crashed the Verified Fan presales, saying that Ticketmaster faced three times the amount of bot traffic than they ever faced during the presale. This lines up with Ticketmaster's blog post about the debacle, which said "the staggering number of bot attacks as well as fans who didn't have codes drove unprecedented traffic on our site," leading to four times their usual number of total system requests.
However, Jerry Mickelson, chief executive of Jam Productions and a witness in the hearing, wasn't buying it. "For the leading ticket company not to be able to handle bots is, for me, an unbelievable statement," he said. "You can't blame bots for what happened to Taylor Swift. There's more to that story that you're not hearing."
Despite this setback, the company insists that bots did not completely overtake their servers and all 2 million tickets available in the Verified Fan presale "were sold to fans who had received Verified Fan codes," with less than five percent on tickets being posted on the resale market. Ticketmaster issued a public apology after canceling the general sales, saying that Swift would've needed to play 900 stadium shows to fill the demand.
Berchtold apologized once again for their part in the debacle during the hearing. "We apologize to the fans. We apologize to Ms. Swift," he said. "We need to do better. We will do better. In hindsight, there are several things we could have done better."
This still wasn't good enough for Sen. Richard Blumenthal, who criticized the company for their response using the famous mantra from "Anti-Hero." "Ticketmaster had the temerity to imply that the debacle involved in pre-ticket sales was Taylor Swift's fault because she was failing to do too many concerts," he said. "May I suggest respectfully that Ticketmaster ought to look in the mirror and say, 'I'm the problem. It's me.'"
Is Ticketmaster A Monopoly?
Many Senators have argued Ticketmaster and Live Nation have formed a monopoly. When the two companies merged in 2010, Congress only approved it on the basis they would abide by a consent decree that forbade them from restricting music venues to use Ticketmaster or retaliating against them for not using Ticketmaster or holding Live Nation-promoted concerts. However, Durbin began the hearing by arguing that the consent decree "does not appear to have been effective," with Sen. Mike Lee asking if that was the correct method to begin with.
Jack Groetzinger, the chief executive of SeatGeek and a witness in the hearing, claimed that the number of Live Nation-promoted shows being booked at Brooklyn's Barclays Center drastically decreased after the venue started using SeatGeek for ticketing, leading them to revert back to Ticketmaster just a year after switching. Berchtold attributed the decreased number of bookings to a new arena opening in the New York area, and also fought back against reports that Live Nation holds 80 percent of the concert market, claiming they have between 50 and 60 percent of the market share.
"Karma's a relaxing thought, aren't you envious that for you, it's not?"
Live Nation has denied accusations of becoming a monopoly, attributing their significant share of the primary ticket market to the "the large gap that exists between the quality of the Ticketmaster system and the next best primary ticketing system." They also cite platforms like StubHub, SeatGeek, and Vivid Seats as major competitors in the resale ticket market. "The Department of Justice itself recognized the competitive nature of the concert promotion business at the time of the Live Nation-Ticketmaster merger," they argued in a November 2022 statement. "That dynamic has not changed."
What Will The Senate Hearing Do?
The Senate hearing alone will not take down Live Nation and Ticketmaster, but it's sure to be a major catalyst for an investigation into the company. The merger is one of very few issues that managed to transcend party lines, with both Democratic and Republican senators arguing that "unwinding the merger" completely should be an option. Lee clearly set his sights on the company using a lyric from Swift's Midnights track "Karma," inspired by his daughter. "Karma's a relaxing thought, aren't you envious that for you, it's not?" he asked. "That's all I've got to say."