What Is Tom Cruise's Net Worth? Here Are His Salaries For Each Of His Movies
For Top Gun: Maverick, he could earn $200 million, even though his base salary for it is $13 million.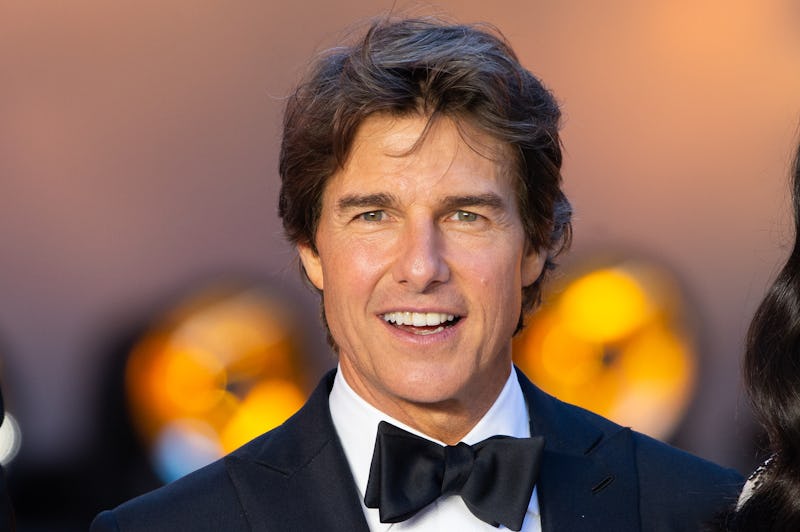 Joseph Okpako/WireImage/Getty Images
Tom Cruise is not just an actor, he's a bona fide movie star. At 59 years old, the Mission Impossible and Risky Business star is still delivering commercially successful films four decades into his career. Though he has faced scandals and difficult times, he remains a beloved figure in the entertainment world. Now in 2022, Cruise is back on the big screen in Top Gun: Maverick, the long-awaited sequel to the generation-defining Top Gun that came out in 1986.
After less than a week in theaters, Top Gun: Maverick has already brought in more than $320 million in ticket grosses globally at the box office, and the summer blockbuster is just getting started. It made history by appearing on more than 4,700 theaters in North America alone, making it the widest release ever, according to Variety. It quickly became Cruise's most impressive opening weekend, more than doubling his previous best showing and landing the largest debut ever for Memorial Day weekend, Deadline reported.
With Top Gun: Maverick soaring at the box office, it's a good time to look at Cruise's net worth and reflect on where his hundreds of millions of dollars came from.
3 Ways Tom Cruise Makes His Millions
1. Film & TV
For more than 40 years now, Cruise has been one of the most popular and highest-earning actors in the world. Not only does he regularly collect $10 million or $20 million for acting in a film, he also usually earns huge sums from box office ticket grosses, DVD sales, and more, and he claims some of the largest paychecks ever for one film or for portraying a single character.
Here's a look at what Cruise has earned for some of his most high-profile movies, according to Celebrity Net Worth, StyleCaster, and other sources.
1980s
1990s
Days of Thunder: $9 million
Far and Away: $13 million
A Few Good Men: $12 million
The Firm: $12 million
Interview with the Vampire: $15 million
Mission: Impossible: $70 million
2000s
Mission: Impossible 2: $75 million
War of the Worlds: $100 million
Mission: Impossible III: $75 million
2010s
Mission: Impossible – Ghost Protocol: $12 million upfront salary, $70 million total
Mission: Impossible - Rogue Nation: $25 million upfront, plus unpublished back end
Mission: Impossible – Fallout: $28 million upfront, plus unpublished back end
2020s
Top Gun: Maverick: $13 million base salary, plus 10-20% of grosses (after theaters take an estimated 40%), so the total could end up being somewhere between $100 million and $200 million when all is said and done.
2. Producing
In 1992, Cruise formed a joint production company called Cruise/Wagner Productions with Paula Wagner, his longtime agent. Between when it was founded and when it became dormant in 2008, the firm was behind some of the biggest successes of Cruise's career, including the first three Mission: Impossibles, Minority Report, The Last Samurai, War of the Worlds, and a handful of titles he didn't appear in, such as Narc, The Others, Elizabethtown, and The Eye. Films that emerged from C/W racked up nearly $3 billion in ticket grosses.
Months after its formation, Cruise/Wagner Productions signed a deal with Paramount that would run into 2006, reported CNN, when the two split due to a variety of reasons. Within a week, new funding had been secured by Washington Redskins founder Dan Snyder and hedge funds. What Cruise and Wagner earned specifically as owners of the company isn't clear, though it was estimated that Paramount may have paid $10 million a year on everything from salaries to office space and more, according to Today.
In 2006, Cruise and Wagner moved to United Artists, where they took over the studio, which at the time needed to be "resurrected." Just two years later, Wagner left the company amid accusations she was not doing a good job, according to Variety. She walked away, but The Los Angeles Times reported that she and Cruise still own a combined 30% of the firm, though what that's worth, or earns either of them each year, isn't entirely clear.
3. Real Estate
As one of the richest actors in Hollywood today, it's not surprising that Cruise owns a portfolio of properties around the world. He has also apparently made millions selling off his homes in large transactions throughout the years. In 2016, Cruise sold his Beverly Hills mansion for $38 million after purchasing it for $30.5 million in 2007, according to Dirt. While it looks like the actor may have earned $7.5 million in the deal, there are also rumors he spent as much as $15 million renovating the home, so what he made in terms of profit isn't clear. That same year, Cruise sold a house in West Sussex, England for $6.2 million after buying it a decade prior for $3.8 million, per South China Morning Post. He may have earned $2.4 million in that trade.
What Is Tom Cruise's Net Worth?
As of June 2022, Celebrity Net Worth estimates that Tom Cruise is worth $600 million, though that sum could very easily climb in the coming months and years as he makes millions more from Top Gun: Maverick, in addition to other upcoming projects. Forbes last listed him on its ranking of the Celebrity 100 Earnings in 2017, when the magazine reported he took home $43 million in a year.