Twitter Can't Get Over Taylor Swift Singing "Midnight Rain" Amid A Rainstorm
"Taylor Alison Swift — god of thunder and lightning."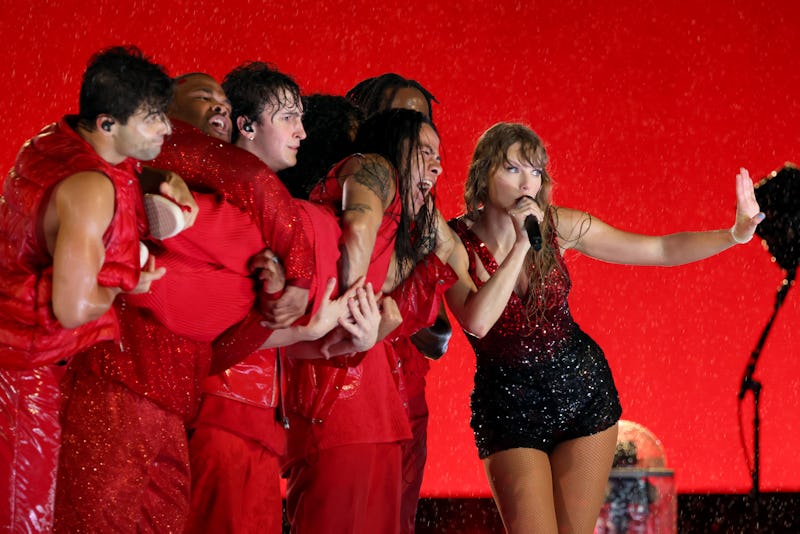 John Shearer/TAS23/Getty Images Entertainment
Taylor Swift claims that she can't control the weather, but this Eras Tour performance may prove otherwise. At her May 7 show in Nashville, the 12-time Grammy winner sang Midnights fan-favorite track "Midnight Rain" in the literal pouring rain long past the 12 a.m. hour, and Twitter has a lot of emotions about the destined moment.
Swift was forced to delay her show for four hours after lightning was seen in the vicinity of Nissan Stadium, leading the venue to issue a shelter-in-place order before the planned 6:30 p.m. start and make attendees wait in the hallways or their vehicles until the storm passed. As a result, planned opening acts Phoebe Bridgers and Gracie Abrams were not able to perform, but Swift was determined not to cancel the show. "PS I know there's talk of a rainy weather vibe tonight but I'm ready to play, see you sooon!!" she tweeted as fans were still waiting to be let into the stadium.
Swift finally hit the stage just past 10 p.m. once the lightning passed. She performed her 3-hour-plus spectacle without removing anything from the 44-song setlist. However, rain still lingered throughout the concert, and since the Midnights act is the show's final part, this meant that Swift performed "Midnight Rain" after midnight — past 1 a.m. to be exact — while it was raining.
At the beginning of the show, Swift noted that the one factor of a stadium tour that she couldn't plan in advance was the weather. "The fact that we had chaotic weather and you decided to stay here and count on the fact that we would be able to play this show for you means the world to me and everyone on this tour," she told the crowd.
Twitter couldn't get over Swift being able to live out the song's title on tour completely unplanned  — but of course, there were some jokes about Swift having more power than Mother Nature.
Swift is a noted fan of rain shows, which have happened on 2018's Reputation Stadium Tour and 2011's Speak Now Tour. But none of those were on the level of this Nashville stop, as she acknowledged during the show. "This is something we're all doing together," she said during the Red segment. "It's like such a bonding experience. We're all gonna leave here tonight looking like we just went through five car washes… People will be like, 'Where were you? Several wars?' And you're like, 'No, I just went to the Eras Tour. It's fine.'"