Anya Taylor-Joy Has Reportedly Married Her Musician Beau
This comes after The Queen's Gambit actor was pictured wearing a ring on *that* finger.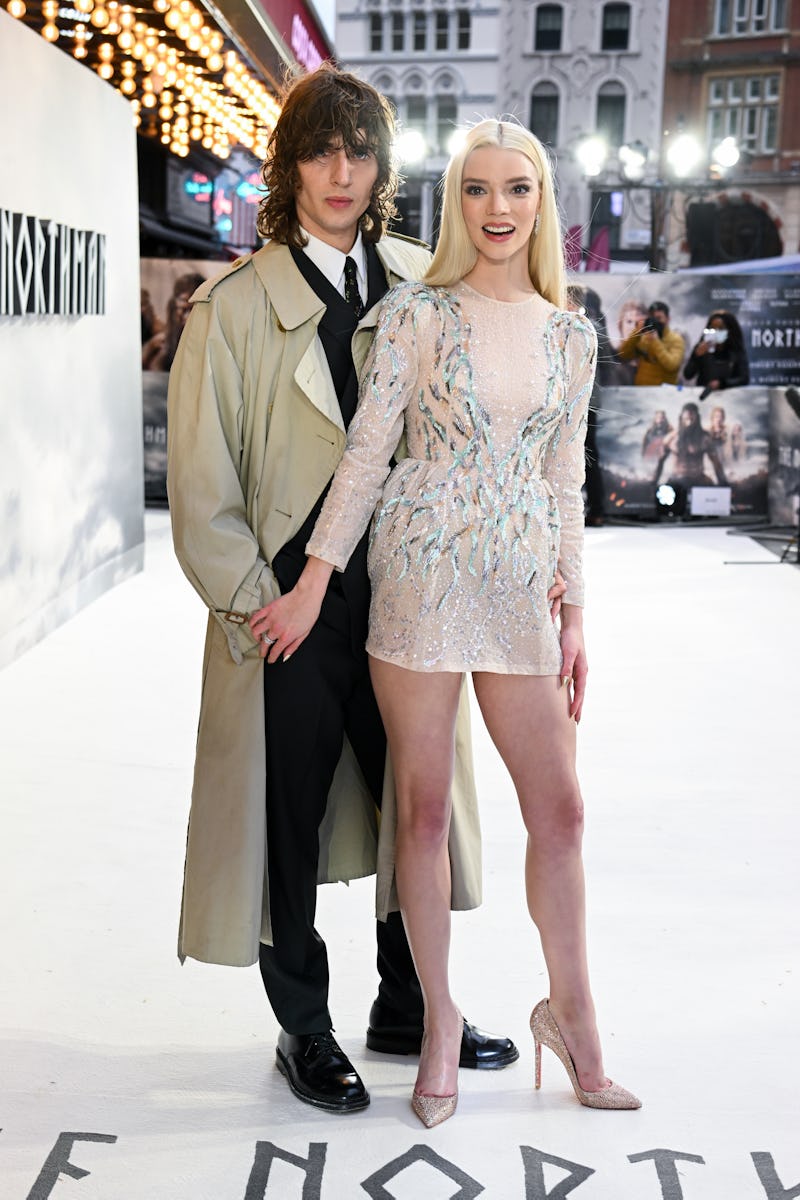 Getty Images
British actor Anya Taylor-Joy prefers to keep a low profile on the celebrity front. But over the past few years, she's become increasingly talked about, largely thanks to her roles in Emma and Netflix's The Queen's Gambit, which garnered the actor wins at both the 2021 Golden Globes and Screen Actors Guild Awards. As Taylor-Joy's star power continues to rise, so does the public's interest in her. But what do we know of the actor's life away from the cameras? Well, if the latest reports are accurate, Taylor-Joy just got married to her musician beau, Malcolm McRae.
According to Page Six, the pair wed in an "intimate courthouse wedding" in the U.S. It's claimed the actor tied the knot before flying to Australia to pick up filming on Furiosa, the hotly-anticipated prequel to Mad Max: Fury Road. Bustle has contacted a representative of Taylor-Joy's for comment.
The actor first mentioned her beau in an April 2021 chat with Elle. Explaining why she was in her bathroom for the interview, she told the publication: "My partner's just come back from work, and he's moving around all of his equipment, so this was the safe spot." A few weeks later, Page Six spotted Taylor-Joy holding hands and kissing actor and musician Malcolm McRae in New York City ahead of her May 22 hosting gig on Saturday Night Live.
Though Elle reported that the pair had followed each other on Instagram, their first acknowledgement of one another on the platform didn't come until summer 2021. On July 1, McRae posted a photo of Taylor-Joy alongside the caption, "I'm besotted." On Sept. 5, the Daily Mail spotted the rumoured couple kissing once again on a hotel balcony in Venice, Italy, during the 78th Venice International Film Festival, where Taylor-Joy's film Last Night in Soho reportedly received a five-minute standing ovation.
In October 2021, McRae shared their first photo together, posing for a reflected selfie whilst holding hands, with the caption "Oof, supremely happy." There was radio silence for a while, until the couple made their relationship red carpet official in March 2022 at the CAA Pre-Oscar party and the Vanity Fair afterparty. A month later, they kissed on The Northman red carpet in London's Leicester Square.
In a sweet interview with British Vogue, Taylor-Joy called McRae her "hobby." She quipped: "I've finally found someone who will happily sit in silence with me reading. We're basically 80 years old and 7 at the same time, and it works really well."
More recently, Taylor-Joy sparked engagement rumours, after being photographed wearing a ring on her left finger after arriving in Australia on June 25, per the The Daily Mail. Taylor-Joy is yet to specify her current relationship status, and based on her past, it wouldn't be surprising if she opted not to share further details. At the time, Bustle received no response upon reaching out to Taylor-Joy's team for comment.
Speaking to the Guardian in 2018, Taylor-Joy detailed her conscious choice to not publicly share very much about her personal life, including who she's dating. "There's a beauty in being anonymous. There's a reason why we're actors," she told writer Benjamin Lee. "We're playing other people, so I think the idea of someone being interested in me... I'm quite a private person. It's a bit daunting, but I try not to think about it."
Of course, many have still speculated about the potential significant others who have been in the actor's life. Previously, outlets reported that her longest known relationship was with Irish actor Eoin Macken, whom she starred alongside in the 2018 short film Crossmaglen. In November 2016, Macken posted a photo of the pair from the film's set to his Instagram page with the caption: "Every now and again you work with people that transcend how you see things. Anya Taylor-Joy is one of those people — this girl's got skills."
All but confirming their relationship, Taylor-Joy posted a photo of her and Macken embracing each other to her own Instagram grid in July 2017. "Boy + Girl- NYC," she wrote in the caption alongside apple emojis. The same year, the actor attended the 61st BFI London Film Festival Awards wearing a large ring on her left hand, sparking engagement rumours. In December 2017, the pair were spotted out together for a romantic meal, complete with public kisses and the same ring on Taylor-Joy's finger.
The actor continued sporting the ring until the 2018 Met Gala, which she attended bare-handed. She hasn't been spotted with it on since. Other than working together on the film Here Are the Young Men, released in 2020 but filmed in 2018, the duo appear to have gone their separate ways.
In May 2020, The Daily Mail linked Taylor-Joy to photographer Ben Seed, who goes by the name Pip, publishing photos of the pair out for a casual walk in London. Neither Taylor-Joy nor Seed publicly confirmed the relationship themselves.
Admittedly, it may be a while before Taylor-Joy shares an update on her current relationship. In the meantime, we can enjoy Taylor-Joy's many on-screen romances, instead.
This article was originally published on