Emily In Paris Star Lucas Bravo Would Date A Fan, But Not A Co-Star
The actor prefers to keep his personal life private but said that "anything's possible."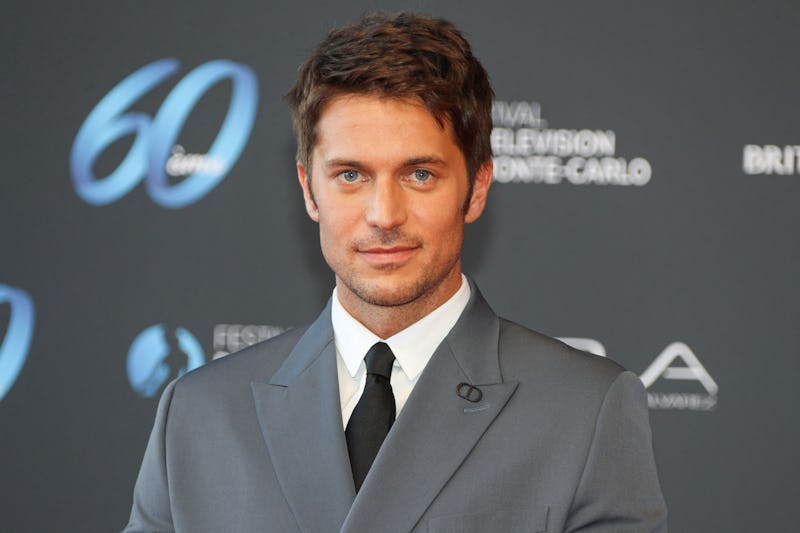 VALERY HACHE/AFP/Getty Images
It's been over a year since Emily in Paris premiered on Netflix and it remains one of the most polarizing shows on the streaming platform. From Emily's genuinely upsetting French and constant scoffing at the country's culture to her overbearing boss and her love triangle with Gabriel and Camille, the Golden Globe-nominated series remains a hot topic. Since the series first started, Lucas Bravo has been the name on everyone's lips. The actor, who plays Emily's neighbor Gabriel, was instantly labeled a heartthrob, and ahead of the show's second season, inquiring minds want to know about his relationship status.
Although Gabriel's love life gets more complicated as the show goes on, Bravo's personal life is much less dramatic. In October 2020, Bravo confirmed that he was single and made it clear that, ideally, he wouldn't date a costar to keep the personal and professional separate. "Once you step on set, it's a workplace, and I want to keep it professional," he told Glamour. I mean, you never know what can happen, but I really try as much as possible to focus on the story we have to tell and the performance and the character."
Dating fans is another story, though, as he's not ruling that out quite yet. Humbly, he said he doesn't have any admirers and couldn't fairly assess the hypothetical situation. "I don't really have fans, so I don't know," he laughed. (Surely, some of his 1.3 million Instagram followers would beg to differ.) "That is a question I will maybe answer some other time," he continued. He also noted that when it comes to relationships, his favorite thing is open communication and when his partner greets him for the day with a "cuddly, tender … just a sweet wake-up."
We know what you're thinking: What is Bravo's type? Well, fans can breathe a sigh of relief because he doesn't have one. "I like that 'instant connection,'" he told ELLE Australia in October of last year. "Sometimes, you just run into someone, you look at this person in the eyes, and in an instant, in a second, so much is said... Just feeling safe and feeling like there's an old soul in front of me, and we've always known each other [like] in a past life or something… it's something you cannot see, and that's mostly what I'm looking for."
While Bravo keeps his personal life private, he did give some insight into how his compares to Gabriel's. Speaking about the love triangle between Emily, Gabriel, and Camille, Bravo revealed if he's ever had a threesome. "I've never experienced one, but I guess it's a reality and it's not even in France," he told SiriusXM's The Michelle Collins Show. "I think it's everywhere. It depends on connections and the situation, you know, anything can happen sometimes. You know, your life can do a 180 in just one second, one hour and anything's possible."
As for what's in store for his Netflix character, Bravo hinted there could be a threesome with Emily and Camille in Gabriel's future. During an October 2020 Cosmopolitan interview, he said, "We planted a few seeds about different characters. Like Camille, when she kisses Emily on the mouth, and she's like, 'I'm not sorry.' And then when they're in bed, and I'm liking the picture, it's all little seeds." He added, "Anything could happen between the three of them. I think Darren [Star] wants this second season to be really open-minded."
Season 2 of Emily In Paris premieres on Netflix on Wednesday, Dec. 22.
Additional reporting by Jordyn Tilchen
This article was originally published on