Paul Rudd Says His Wife Julie Yaeger Is His "Most Attractive Feature"
The couple met before he broke out with Clueless in 1995 and have been together since.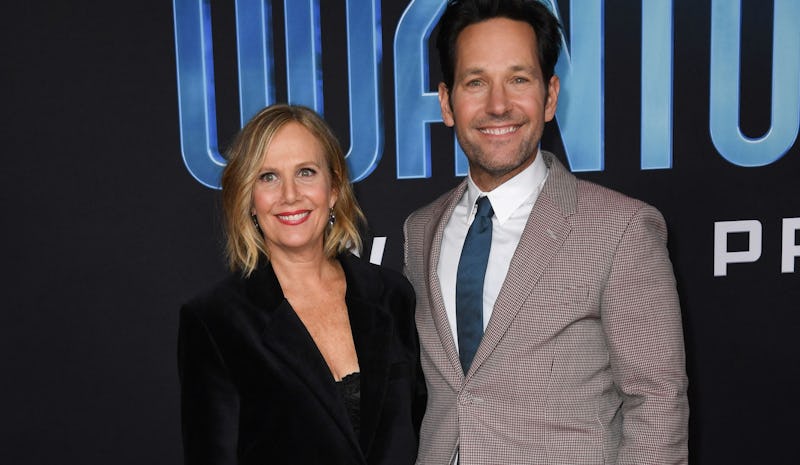 Photo by VALERIE MACON/AFP via Getty Images
Paul Rudd is the face of eternal youth — and apparently, eternal marriage. The Ant-Man and The Wasp: Quantumania star has been married to Julie Yaeger for nearly 20 years, which is basically a lifetime in Hollywood. The two first met after Rudd rose to fame from his 1995 breakout film Clueless and have stayed together ever since. The couple got married in 2003 after almost eight years of dating and went on to welcome two children together, 17-year-old son Jack Sullivan in 2006 and 13-year-old daughter Darby in 2010.
It seems that Rudd partially attributes Yaeger as one of the reasons why he's seemingly ageless. When ELLE UK asked what his most attractive feature was, he responded, "I'd say my wife." Part of the reason why their bond has stayed so strong through the years is that they are pros at keeping their marriage to themselves. Aside from her walking the occasional red carpet to support Rudd, their family life is relatively quiet and normal by celeb standards. Even the 53-year-old actor doesn't think his personal life is all that juicy. "I don't think I'm going to sell a lot of tabloids," he joked to Elle in 2011. "My wife and I have been together for 16 years."
Over a decade later, this statement remains true, making Rudd and Yaeger the picture-perfect image of lovebirds who can navigate the industry unscathed.
How Did Paul Rudd Meet His Wife?
It turns out that Rudd met his wife in the most Hollywood way: through his publicist. He had just moved to New York before Clueless came out and was meeting his new publicist when Yaeger walked through the office. "I worked at a PR firm that he hired," she said on the Friday Night In With the Morgans podcast. "And he got more than PR."
In July 2018, Rudd told Marie Claire UK that Yaeger was "the first person" he met in New York and explained why she made such a strong first impression on him. "There was a maturity with her," he said. "She had experienced some tragedy in her life, I had too, and the impression I got was, 'Wow, this is a woman. This isn't a girl.' I was really taken with who she was and how she had overcome and was in the process of overcoming adversities in her life. There was a perspective that she had and still has on the world that you don't come to easily — it's earned and most people don't have it at such a young age."
What Is Paul Rudd's Wife's Job?
Yaeger also works in the entertainment business, but just behind the scenes. After working as a publicist in the '90s, she became a screenwriter and producer, which has occasionally crossed paths with her husband's career. The two collaborated on the 2017 comedy Fun Mom Dinner, which was written by Yaeger and executive produced by Rudd, who also made a cameo appearance.
Yaeger and Rudd are also business partners in other respects. They co-own a candy store in Upstate New York, Samuel's Sweet Shop, alongside One Tree Hill alum Hilarie Burton and her husband Jeffery Dean Morgan, which Rudd was inspired to purchase after the previous owner passed away.
Paul Rudd & His Wife Inspired This Is 40
Rudd and Yaeger may be quiet and normal by Hollywood standards, but their marriage still provided enough content and relatability to inspire scenes in his 2007 film Knocked Up and its sequel This Is 40, both of which were written by his longtime collaborator Judd Apatow. "Judd had said, 'Let's make a movie about marriage and the things that we fight about — kind of a real, warts and all view of it,'" he told the Jewish Journal. "When Judd was writing that movie, my wife once said, 'I'm so sick of looking at your back,' because I was just on the computer all day, checking my fantasy football scores." Even their little fights are perfect movie fodder.