Who Is Sebastian Stan Dating? His Girlfriend Is Famous In Spain
"Out of a lot of darkness...you became the light," the Pam & Tommy star said about Alejandra Onieva.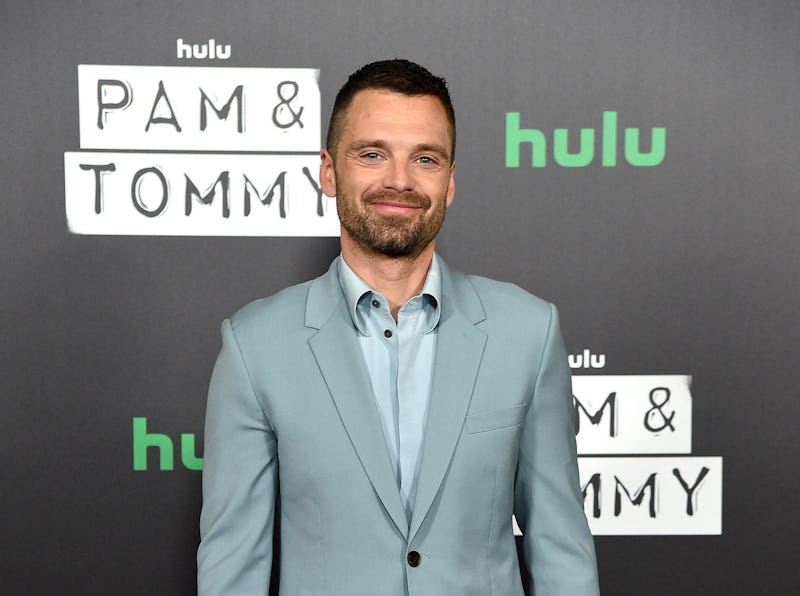 Frank Micelotta/Hulu
Sebastian Stan is known to Marvel fans as Bucky Barnes and Gossip Girl fans as Carter Baizen, but his next role hits a little closer to home — or at least reality. The 39-year-old actor stars as Mötley Cruë drummer Tommy Lee opposite Lily James as Pamela Anderson in the upcoming Hulu limited series Pam & Tommy, which captures the former couple's rollercoaster romance and the unauthorized release of their private honeymoon video that kickstarted an entire business for viral celebrity sextapes. But Stan's love story in real life is not nearly as chaotic as Anderson and Lee's.
Stan has been dating Spanish star Alejandra Onieva for more than a year. Though it's not known when they first met, one of her Instagram captions about him playfully says they met "many, many ... years ago." According to The Daily Mail, Stan and Onieva were spotted holding hands on the beach in Ibiza, Spain, in July 2020. As the year progressed, so did their relationship. Paparazzi photos of the two engaging in PDA continued to trickle out, including some from their romantic trip to Tulum, Mexico in November 2020.
It was rumored that Stan had broken up from Onieva in early 2021 and moved on with Normal People star Daisy Edgar-Jones after they were seen spending a weekend together in Vancouver, where they were filming the upcoming thriller Fresh. However, Stan shut down those rumors by finally confirming his relationship with Onieva nearly a year after they were first linked.
For her birthday on June 1, 2021, Stan shared a video of him going on date nights and spending time with Onieva — except she appears just as a picture on his phone. "Over a year ago, out of a lot of darkness...you became the light. I'm so grateful," he captioned the post, complete with the hashtags #loveinthetimeofcovid and #quarantinenights. Onieva responded in the comments section, writing, "The love you give me is the most beautiful gift this life has given me, te quiero!"
The Falcon and the Winter Soldier star isn't usually public about his relationships, but he's been linked to a few Hollywood stars over the past decade, including Glee's Dianna Agron and Revenge star Margarita Levieva. Some fans were quick to believe that he was courting Edgar-Jones, considering he's dated some of his onscreen love interests in the past, like Gossip Girl castmate Leighton Meester and Once Upon a Time co-star Jennifer Morrison. "I'm a really lucky guy," he told PEOPLE about Meester in 2009. "She's the most interesting, sophisticated, talented, and an extremely funny person that I know. She's really hilarious."
Now, Stan seems happier than ever with Onieva, considering it's one of the rare times where he's been open about their romance. On Aug. 13, Onieva posted a video filled with memories of their relationship on Instagram to celebrate Stan's birthday. "Today, many, many… years ago, my favorite soul came to life," she wrote. "Every word I could say about you wouldn't be enough. HAPPY BIRTHDAY TO YOUUU BEBELUS @imsebastianstan. Thank you for showing me how to live life from the heart. Life is a gift, and experiencing it with you is the true beauty of it!!" Stan was stunned by the gesture, commenting "I'm dead" with knife and heart emojis on her post.
This article was originally published on