Watch These Movies & TV Shows If You're Craving More Sebastian Stan After The Falcon & The Winter Soldier
Mickey might be your new favorite character.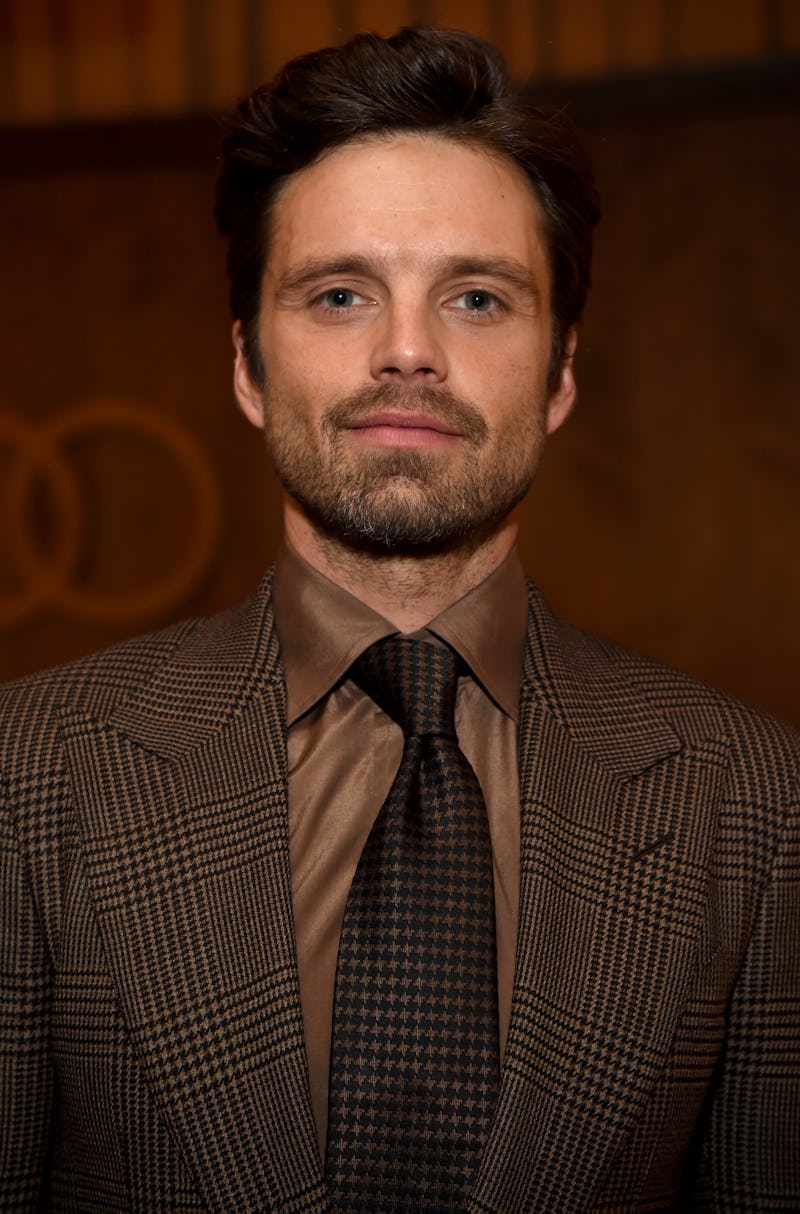 Michael Kovac/Getty Images Entertainment/Getty Images
Over the past six weeks, fans of Sebastian Stan's Bucky Barnes (once nicknamed "Winter's Children" by him) have come to crave and rely on new content every Friday morning. We've laughed and cried while watching him deal with his inner demons, approach online dating as a "normal" 106-year-old person, and combat dangerous super-soldiers — including a very evil Captain America, aka John Walker — in partnership with eventual bestie Sam Wilson. Then, of course, there was the walk down memory lane of all those Bucky manes... from his Winter Soldier lob and the casual, swept-up style in Wakanda to his new modern look.
The Falcon and the Winter Soldier may be over — with no new Marvel lore to occupy our Fridays until Loki begins in June — but if you're already missing the unforgettable on-screen duo, there are plenty of movies and TV shows to start catching up on. From the many MCU moments worth a re-watch to hidden gem roles you might have missed along the way, Stan's carved out an endlessly entertaining oeuvre of memorable men: sometimes chaotic, sometimes super charming, very often both. Here are some of the best shows and movies to watch Stan in next, including a look at some of his latest projects.
The Covenant
One of Stan's earliest roles is that of a sinister, power-obsessed warlock in The Covenant, a movie that walked so Twilight could run just a few years later. Stan's Chase Collins transfers to Spenser Academy to get some more power from his fellow male witches, delivering a dangerous but charismatic performance that would become a familiar refrain in later roles.
Gossip Girl
Depicted as a high-society "rogue" who rejected his parents' trust fund, Stan's recurring role as Carter Baizen on Gossip Girl often saw him antagonize Chuck and Nate. The pretty-boy vibe is a world away from the dark, tortured hero Stan would embody years later with Bucky Barnes and the Winter Soldier, which makes revisiting this era that much more fun. In a 2020 interview with Variety, Stan said he was told "you're never wearing a belt again from a fashion standpoint" for his role as Carter, a testament to the confusing sartorial choices of the mid-aughts.
Captain America: The Winter Soldier
Aw... Sam and Bucky have come so far that it's easy to forget the first time they met: with Bucky (as the Winter Soldier) pulling Sam's steering wheel from on top of the car, trying to kill him and his new friends. Though The Winter Soldier wasn't Stan's first appearance in the MCU, it introduced a new era of Bucky Barnes as a brainwashed assassin who would eventually become one of the Avengers' greatest fighters and friends. Even with a limited amount of lines, Stan brought emotion to this role — and his inner conflict when Steve tells him, "I'm with you 'til the end of the line" is one of many heartbreaking moments in the film.
The Bronze
This offbeat satire sees Melissa Rauch and Sebastian Stan compete as Olympic gymnast adversaries (and sometimes lovers), coaching their respective mentees to greatness. Go in knowing that very few of the characters you'll meet are particularly good people, and you'll realize that this irreverent story is also a lot of fun.
I, Tonya
One of the first things Stan's Jeff Gillooly does in I, Tonya is apologize for his ridiculous mustache — but it's far from the worst thing Jeff does over the course of the movie. Despite playing such a bad guy, though, Stan brings warmth to Jeff's relationship with Tonya (when it was good, anyway), infusing humor into his depiction of a truly incompetent criminal.
Black Panther
Even though Bucky only appears in a brief Black Panther post-credits scene, it's a pivotal one. Sure, he might have even fewer lines here than he did in Winter Soldier, but Stan effortlessly communicates the peace and restoration Bucky's felt since being in Wakanda, an important part of his arc. Plus, it's the first time Bucky is referred to as White Wolf.
Endings, Beginnings
The most important relationship Shailene Woodley's Daphne cultivates in this film is with herself — but she also spends time trying on different suitors, including best friends Jack and Frank (Jamie Dornan and Sebastian Stan, respectively). They both make a pretty compelling case, and Stan's turn as a dreamy, adventurous, yet totally unreliable charmer is a joy to watch.
Monday
The sun-soaked, spontaneous world of Monday is filled with parties and surprise romances in Greece — the kind of life you dream about having post-vax. But the movie, starring Sebastian Stan and Denise Gough as a pair of carefree lovers, is here to remind you that it's just that: a dream. The story follows the new couple from the metaphorical freedom of Friday to the reality of a relationship on Monday. Stan's latest role as Mickey is one of his most compelling and intriguing to watch so far, a vacation of a movie even if you're not hopping on a plane to Athens anytime soon.
Fortunately for Stan stans, the ever-changing actor is only getting started. In addition to appearing in Marvel's animated What If...? series later this summer, he will star alongside Jessica Chastain, Lupita Nyong'o, and Diane Kruger in spy thriller The 355 in early 2022. Another fascinating project filming now is Fresh, described by Deadline as a "social thriller" starring Stan and Normal People fave Daisy Edgar-Jones. Maybe get the tissues ready now...