Katie Has Picked Her Final Rose Winner On The Bachelorette
She eliminated her runner-up in an emotional breakup.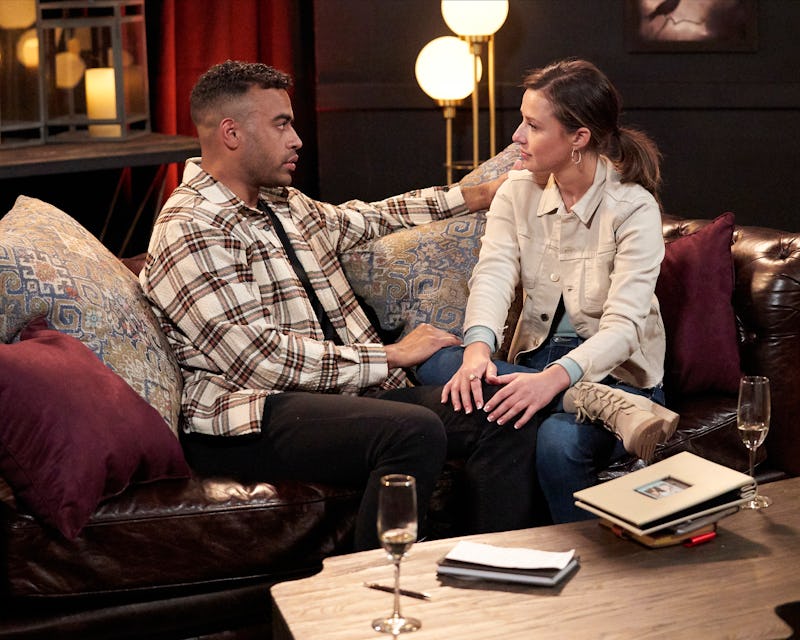 ABC/Craig Sjodin
Katie's season of The Bachelorette has had its fair share of crushing eliminations — both from Katie and her contestants alike. Not one, but two men self-eliminated in the weeks leading up to her finale, leaving Katie with only two options: Justin or Blake. In the end, her heart led her to Blake, and she sent Justin home in the Aug. 9 finale.
At the start of the episode, both Blake and Justin were obviously shocked to learn that Greg had gone home. His departure loomed over Katie's one-on-one date with Blake, as Katie explained that she'd nearly quit the show after he left. Blake was taken aback, but nonetheless, he and Katie both said, "I love you" during the night portion of their date — a surprising development, given that Katie made clear to Greg that she only wanted to say that to the man she knew she'd choose in the end.
This spelled the end for Justin, who showed up hopeful to his own overnight with Katie. "I'm not sure what to expect, but whatever it is I'm sure I'll have a blast," he said, adding that he loved Katie and was ready to take the next step with her. Unfortunately, the date didn't last long. Upon reuniting, the two embraced before Katie immediately and somberly asked Justin to talk. She explained the whole situation, revealing that ultimately, she'd made the decision to be with Blake and didn't want to prolong their relationship when she knew where she stood.
Justin was hurt, but understanding. "I think the world of you. I think everything that I've said to you is 100% true. I just hope you know how special you are, and what you bring to the table, and what he has in you, and he doesn't take you for granted."
Once in his car home, Justin tearfully revealed that he'd been "picturing how great today was going to be and picturing a life" with Katie. "You don't want it to end, it's hard. It hurts, man, I gave this everything," he said. Meanwhile, Katie told the cameras that Justin "is an amazing man" and that she "never want[ed] to hurt him," but knew that she'd "definitely caused him pain."
Justin then joined co-hosts Tayshia Adams and Kaitlyn Bristowe on After The Final Rose. He said the breakup "hurts just as much now as it did then," adding that, "Katie knows how hard it was for me to get to that place for me to open up and be vulnerable." As upset as he seemed, he understood Katie's decision. "I always told her to follow her heart," he said. "I can't tell you to make the decision that's best for you and then be upset when it's not me."
When it came time to talk to Katie, Justin expressed that he felt like he'd made it to the final two by default. He said it would have been "huge" for him to have actually been given a rose, instead of just continuing along with the process because several other men had dropped out. "No one wants to feel like they weren't good enough," he said.
Ultimately, he and Katie left things on amicable terms. Katie did her best to quell Justin's concerns about her feelings for him during the season, and Justin revealed, "My parents have seen a clear difference in who I am, and I never expected that, so, thank you."
Gone but not forgotten, Justin's tenure on this season ended with a delightful montage of his facial reactions, which, if you need some more Justin in your life, are all available right here.