Kat Reveals The Moment She Wanted To Quit The Bachelor Before Her Elimination
Her elimination in the March 6 episode follows a "very isolating experience."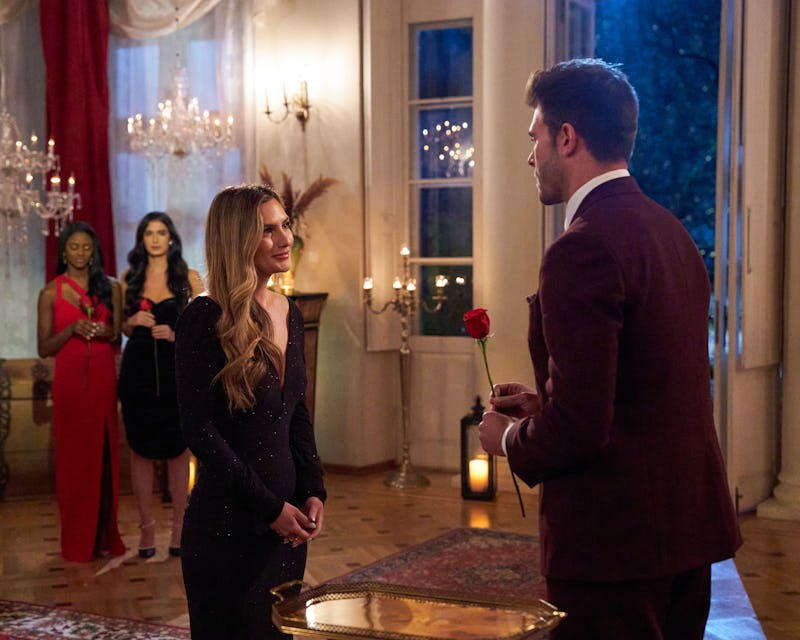 ABC/Craig Sjodin
The March 6 Bachelor episode marked the final installment before hometowns — forcing Zach Shallcross to make some difficult decisions about who he'd like to spend that pivotal week with, and who'd be going home alone. Though several of the eliminations happened over the course of the episode (with both Greer Blitzer and Brooklyn Willie exiting after conversations with Zach), it wasn't until the rose ceremony that Kat Izzo made her tearful exit. So, why did Kat leave The Bachelor?
It started during the show's trip to Budapest, when Zach and his remaining women went on a group date with a mentalist. The professional mind reader's questions unnerved the women, and Kat struggled during her moment in the hot seat. When asked whether she was ready to introduce Zach to her family, she said, "I think so." She also said that, yes, there were moments when she thought about walking away from the show altogether.
While catching up with Kat after the group date, Zach said her responses "added more confusion" to their relationship. "That does make me nervous," he said.
Kat explained that while she "would never just walk away" from Zach, she did experience that impulse. "I was being honest in the fact that like, yeah, when sh*t's hard, sometimes you want to just say 'No, I don't want to do it anymore,'" she explained. "But I decided to go through the storm."
While it seemed to be a good talk, Zach still wasn't secure enough in his relationship with Kat to give her a rose by the end of the episode, and ultimately, he walked her out. "It was incredible in The Bahamas," he said. "And over the past couple of weeks it changed. And I couldn't see a confident future in us."
Both Zach and Kat shed plenty of tears as she drove away. "In The Bahamas, I felt like at that time, if someone was to ask me, like, 'Would you be meeting her family?' I had no doubt ... I didn't expect it to be like this at all," Zach said.
Today, Kat tells Bustle about the instance when she originally thought about packing up — when her friend, Jess Girod, left the show.
"Going into Budapest, it was a very isolating experience," Kat says. "Like, I obviously was having so much emotions the week prior ... and Jess was one of my best friends. And she left, and she was my rock through this. So it was just like, I just wanted to give up, right? And then [it was hard] seeing where his relationships were progressing with the other women."
Kat ultimately decided to stick it out, of course. "I knew that was just one hard week compared to five amazing weeks," she says.