Kat & Brooklyn's Bachelor Fight Has Twitter Divided
The women clashed during the Feb. 27 episode.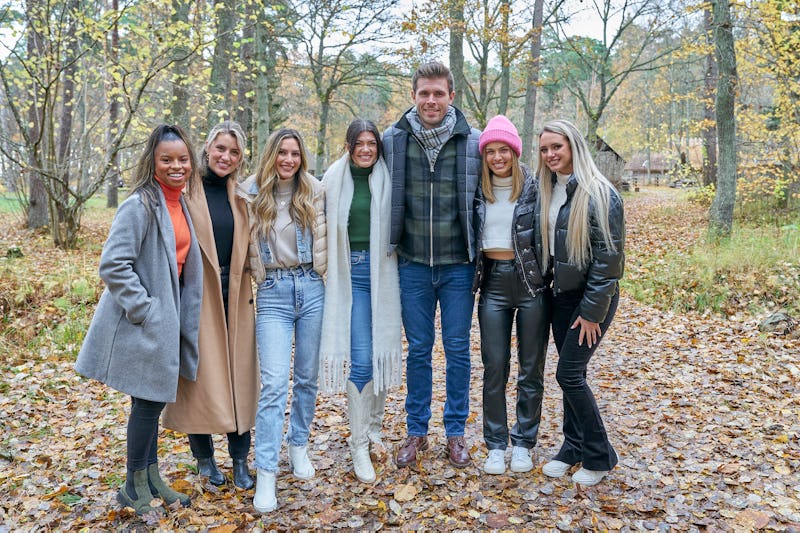 ABC/Craig Sjodin
Zach Shallcross was out of quarantine by the Feb. 27 Bachelor episode, but his bout with COVID still had lingering effects on the group dynamic. After a week without Zach, Kat Izzo opted to take him aside once he finally reunited with the women. "I just missed you ... call it needy but I don't care," she told Zach before sharing a kiss with him in the hallway.
Considering how difficult the last week was, it's an understandable reaction. For several of Kat's fellow Bachelor contestants, though, there was just one problem with the private exchange: it happened right before Zach was about to go on his one-on-one date with Charity Lawson, who was waiting inside.
Brooklyn Willie took it upon herself to call out Kat on Charity's behalf. "It's fair to miss him, but he came here for her," Brooklyn said, describing Kat's behavior as "classless." Aly Jacobs said if she were Charity, "it would have messed [her] up in the head."
Kat walked away from the encounter feeling "attacked," she told the cameras. "Like, why can't I have my moment?"
However, the drama didn't stop there. Brooklyn raised the issue before the group date the next day, and again at the rose ceremony cocktail party. Though Charity approached Kat to discuss the issue privately, to which Kat obliged, Brooklyn interrupted their chat. "Just checking in ... I just had a question," she said. "Would you have done the same thing to Jess [Girod]?"
Kat walked away, telling Charity they'd have to continue their conversation another time — a move she explained on Twitter. "Only implies that Jess was my closest friend in the house and knew I was upset that she left the night before," she said. "Sad to see it took time away from two adult woman trying to have a mature conversation."
Several viewers took to Twitter, too, to defend Kat from criticism.
Others took Brooklyn's side, praising her for defending her friend a second time — the first being when Brooklyn called out Christina Mandrell for her jealous reaction to Charity getting a group date rose.
Several also celebrated Ariel Frenkel for getting involved during a conversation with Kat, where she said the kiss "rubs people the wrong way."
Many viewers were enjoying the drama — hoping that Kat and Brooklyn's differences might be settled in a time-honored Bachelor tradition, the two-on-one date, which is often employed in conflicts like this. Remember Genevieve Parisi and Shanae Ankney's infamous two-on-one from Clayton Echard's season?