Why Was Genevie In A Cast On The Bachelor?
Fans were concerned about her unexplained injury during the Feb. 6 episode.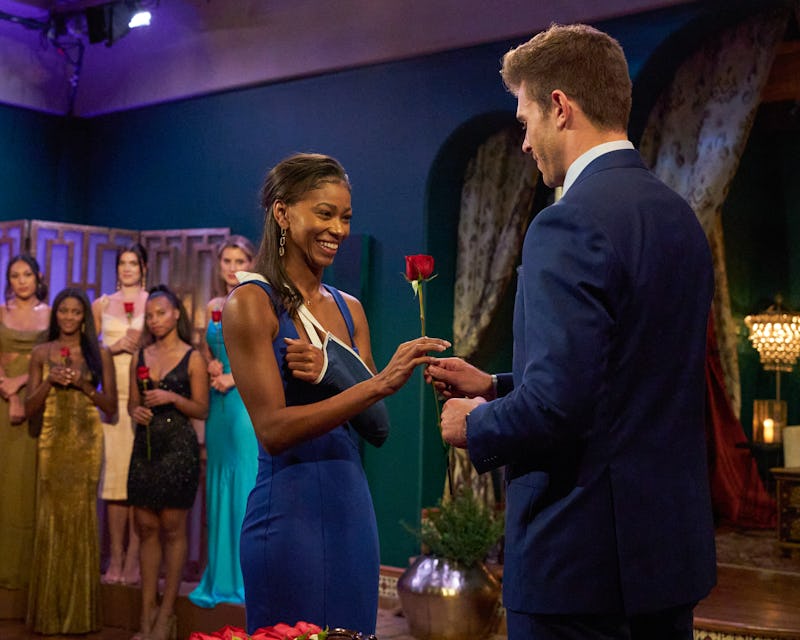 ABC/Craig Sjodin
Bachelor Nation is no stranger to the occasional medical emergency. Just last summer on Bachelor in Paradise, for example, Casey Woods injured his foot after passing out, and had to leave the beach (and the show) in an ambulance. Now, a contestant from Zach Shallcross' Bachelor season seems to have sustained her own injury during production. Fortunately, she was able to get medical care and continue the show. But the question remains: what happened to Genevie Mayo on The Bachelor?
During the Feb. 6 episode, Genevie could be seen wearing a sling around her left arm. However, the sling only appeared toward the end of the episode — specifically, during the mansion pool party and subsequent rose ceremony. Viewers didn't see her getting medical attention, and Zach didn't mention the injury when giving her a rose at the end of the evening.
The most likely culprit seems to be the football game group date from earlier in the episode. Genevie didn't appear to need immediate medical care during the date, but she did take a fall in the final play of the game in a last-ditch attempt to win for the yellow team (aka the Shall-Crushers).
It's no surprise that Genevie was willing to take risks on the field — per her Bachelor bio, she loves to play sports and "goes hard for the Baltimore Ravens." However, Genevie took to Twitter on Feb. 7 to seemingly confirm that, yes, the big game took its toll. "Football is harder than it looks!!" she wrote. "Especially being tackled by multiple girls. The shoulder definitely took a hard hit but we recovered eventually 😂😂."
Genevie continued the conversation of her Instagram story, reposting a user who said that a "sling won't stop her from catching ur man," to which Genevie replied, "that's what I'm MF saying." She also shared a clip of the episode herself with some additional commentary. "Just here to remind the world of the body (and soul) I lost on that field," she wrote.
So, why didn't The Bachelor make it clear what happened to Genevie? It could simply be a case of time, of course — there was a lot of drama during the Feb. 6 episode, including multiple women who went home before the rose ceremony. Genevie's injury isn't the only thing that fans have been wondering about during Zach's season. Last week, an entire group date with Zach's uncle, Patrick Warburton, was reportedly cut, according to Reality Steve.