One Key Player Was Missing From The Bachelorette: Men Tell All Special
Hearts broke all around Bachelor Nation on Monday night.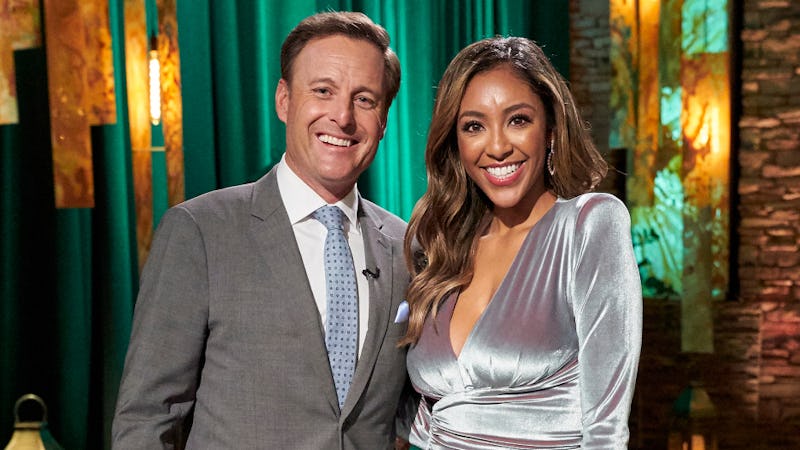 Craig Sjodin/ABC
2020 apparently isn't content to leave without one last heartbreaking blow, because Joe Park aka Dr. Joe was not at the Bachelorette Men Tell All special. Due to the ongoing coronavirus pandemic, the reunion was different: there was no audience, no stage, and not all of the men were in attendance. While it was slightly upsetting to not see Chasen and Ed go at it once more or hear why things fizzled out with Spencer, it was most heartbreaking that fan favorite Dr. Joe was nowhere to be seen.
Though he anesthesiologist didn't drop any hints about why he skipped the special on social media, he worked to treat COVID patients before and after filming the reality series, even contracting the virus himself at one point, so it's likely that he was simply too busy to attend. If Joe has returned to the front lines since filming wrapped, it's also possible that he was unable to take another two weeks off in order to quarantine before the reunion episode. Instead, he's been using his newfound fame — and influx of Instagram followers — to help educate people about the coronavirus, sharing a video on Dec. 13 all about the Covid vaccine.
Of course, all of the good he's doing isn't enough to comfort the Bachelorette fans who were hoping to see him on their screens one more time:
Even if work isn't to blame, it's not terribly surprising that Joe skipped the Men Tell All special, as he has seemed a little bit overwhelmed by the Bachelorette spotlight. "I appreciate [all of the fan praise], but it is wild to me," he told Entertainment Tonight in November. "I don't get it exactly because there's so many awesome dudes on the show. Obviously I'm appreciative and thankful, and I'm flattered by it and I'm like, I don't deserve it."
Unfortunately, that means that despite fans' best efforts, Joe likely won't become the first Asian Bachelor (after Matt James' historic season) or appear on Bachelor in Paradise this summer. "There are much better options out there," he told Entertainment Weekly about fans' #DrJoeForBachelor campaign. "In earnest, the first night, I was the third-shortest guy there! Body-wise, I was the lightest of all the guys there. It's flattering, but I hope I'm not single until then, if I'm honest with you."
More realistically, the doctor, who told EW that he is still "very single," hopes he won't still be looking for love by the time Matt's season ends. "I was like, man, I hope I'm not still single by 2022," Joe said. "I hope I'm in a committed relationship by then! I appreciate it, don't get me wrong. It's flattering. But it's like, jeez, I'm not getting any younger." As for Bachelor in Paradise? "I would say the same thing," Joe continued. "Though I didn't unfortunately find love on this show, I realized that love is possible from this show. I think it's something you have to evaluate when [the opportunity] happens. It's hard to say now."
Based on the reaction to his absence from the Men Tell All special, it seems like there are plenty of ladies out there who are hoping to help him find love on or off the show.