Kandi Burruss Revealed Why She's "Contemplating" Leaving RHOA
There could be a cast shake-up soon.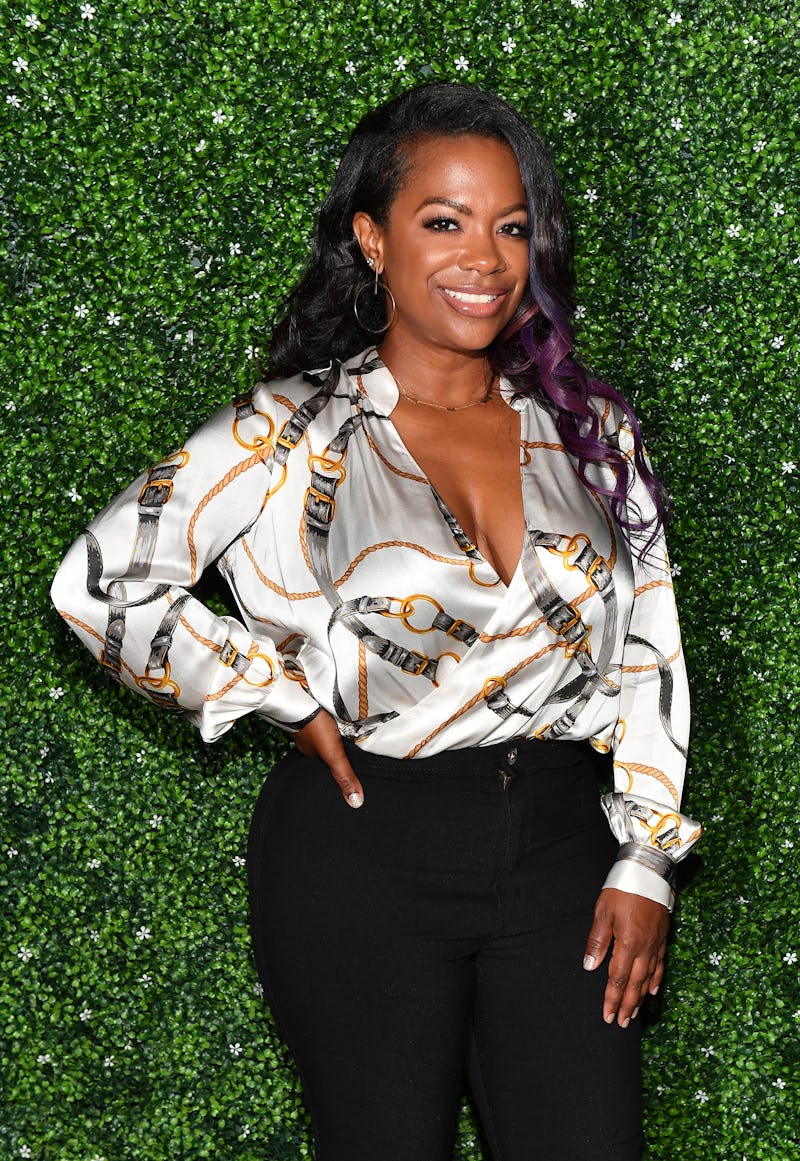 Paras Griffin/Getty Images Entertainment/Getty Images
Season 13 of Real Housewives of Atlanta came to a close in mid-April, and for what Vulture calls "one of the most befuddling seasons" of the reality show, one of the main housewives' future appears to be uncertain. Kandi Burruss has been a Real Housewives of Atlanta cast member since the reality show's second season. And even though the Xscape singer has survived a number of explosive cast reunions and dramatic storylines, she weighing the pros and cons of life without the reality series.
As she revealed on Access Hollywood's Housewives Nightcap in April, she's "contemplating" a potential departure from the in-demand series. Burruss explained to the show's hosts, Lauren Herbert and Emily Orozco, "It's a constant change of where people are in their lives. I don't know is really my answer. I'm always contemplating when is my time for me to make a move, but I don't know." She continued, "It's a mutual choice. It's the choice of the person if you want to stay, but it's also the choice of the network if they want you to stay." After the hosts stated their belief that Bravo wouldn't get rid of her, the singer mentioned her great relationship with the network and added, "It may be my time to say goodbye, and it may be my time to just be like, 'I'll stay a while longer.' You never know, I'm still kind of figuring things out."
According to Burruss' statement, her future with the franchise appears to be somewhat up in the air, but it's clear that if she did decide to leave, it would likely be on good terms with the Bravo team. That said, when it comes to a potential Phaedra Parks return, casting could get complicated.
One thing fans can likely count on would be Kandi's pink slip to the show's producers if the former cast member were to ever return for another Real Housewives of Atlanta season. During an appearance on The Breakfast Club in 2019, Kandi was asked by host Charlemagne Tha God if there was any truth to a prior claim she made about abstaining from Real Housewives of Atlanta should Parks come back. "Technically, yeah," she told him. At the end of the day, they said that I called Bravo and said that. No, I did not call Bravo and tell them that. Did I say that to anybody? Yes, I did."
The dissolving of Burruss and Parks' friendship was seen in Season 8 of the Bravo program after Parks claimed Burruss was not a true friend to her amid her divorce from Apollo Nida. In Season 9, their rivalry became red hot after it came to light that Parks accused Burruss and her husband, Todd Tucker, of an "alleged plan to drug Porsha [Williams] and have sex with her," according to US Weekly. Burruss has denied this allegation. Parks' claims led to her being fired from Real Housewives of Atlanta, and she has not been seen on the show since then.
Even with Parks' dismissal from the cast, there's now talk of the lawyer potentially coming back to the series for Season 14. A source recently told notorious tabloid The Sun about a "big cast shake-up" for the upcoming season, which allegedly entails producers "mulling over asking Phaedra Parks to return." The source continued to claim to the publication, "Many insiders believe NeNe [Leakes] would help drive ratings, but her feud with producers seems to show no signs of letting up... The hope is that having fan favorites like Phaedra come back will help the show rise back into the two million viewers-a-week arena."
Neither Parks nor Burruss has recently responded to these claims about Parks' rumored return to the Housewives of Atlanta cast. However, via People Now in 2020, Parks did tell fans to "keep hope alive." A number of Real Housewives of Atlanta spectators continue to wish for and are expecting her return to the show that made her a reality star. But as for Burruss, it remains to be seen if the Kandi Koated Cosmetics entrepreneur will stick by her word and stay away from the series if Parks makes a Housewives homecoming.