The Never Have I Ever Series Finale Leaves Room For A Future Installment
Here's why Devi's story might not be over.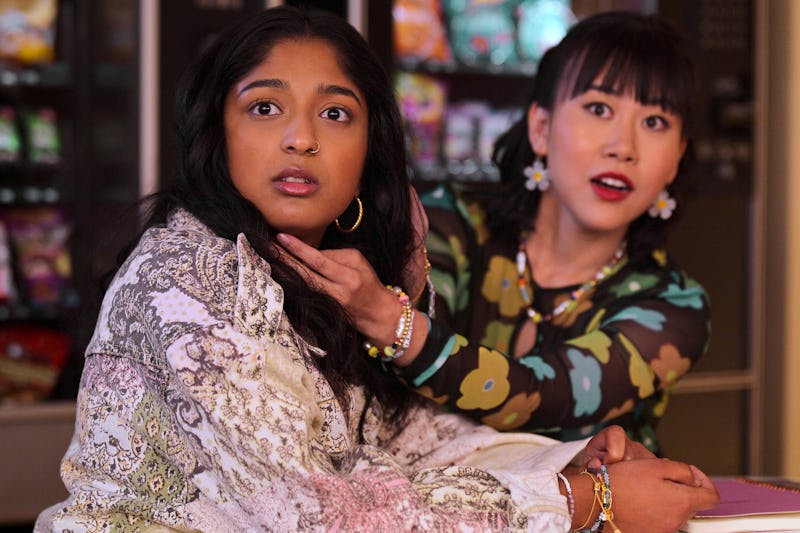 Netflix
Spoilers ahead for Never Have I Ever Season 4. After four seasons of love triangles and extracurricular rivalries, the Never Have I Ever series finale explained what happened at the end of Devi Vishwakumar's high school saga — and it's a happy conclusion. To recap: Devi and Ben both got into their respective dream schools, Princeton and Columbia. They didn't get to hang out during the summer before college because Ben was already in New York for an internship, but they parted on good terms.
Then, at Len and Nirmala's wedding (the night before Devi was due to leave for college), Ben decided to fly in and surprise Devi. "I was in New York, and all of a sudden, I got this feeling that I needed to tell you that... I like you," he said. Then, off Devi's confusion, he made a grander declaration: "Actually, I think I love you."
The pair spent the night together and ultimately decided to give their relationship a try — with the last shot of the season showing Devi and Ben hanging out in her Princeton dorm bed. Elsewhere, Paxton returned to college; Fabiola went to Howard University to study robots; Eleanor got back with Trent and started directing her own project; Nalini started dating Margot's dad; and Kamala moved to Baltimore with Manish.
So, will there be a Never Have I Ever Season 5 to follow Devi and co. into the future? As of right now, the answer is no. Co-creators Mindy Kaling and Lang Fisher announced last year that the show would end with Season 4. "We knew how we wanted to end the show when we started the show," Kaling told Today. "And four years does seem just to be like the perfect amount of time for a high school show."
However, there's definitely a reason to hold out hope that Devi's story could continue. The biggest clue comes from narrator John McEnroe, who delivers an intriguing final line for his closing monologue in Episode 10: "After four rocky years of high school, Devi finally had both the boy and the college of her dreams. There would be other dreams of course — like becoming the first Supreme Court justice who's also a hip-hop artist — but in this moment, our little hothead from the Valley was pretty happy. So this is John McEnroe live from Princeton, New Jersey, signing off... for now."
Wait, for now? What does that mean? On its surface, it could just be a sweet nod to the fact that Devi's dad, Mohan, will be with her in spirit for all her future misadventures. Remember: the whole reason McEnroe narrates Devi's life is because her dad thought she was a "firecracker" like the tennis champ, and encouraged her to stand up for herself as he famously did. McEnroe and Mohan are forever linked in Devi's mind, and the final line definitely works as a reminder of her father's influence.
Of course, it might mean something more literal. For Jaren Lewison (who plays Ben), it could be interpreted as setting up a future reunion of sorts — albeit, not anytime soon. "Maybe that leaves the door open in 10 or 15 years — if Mindy and Lang sign on and we all come back and do a film — and you can see where Devi and Ben have ended up," the actor recently told Bustle. "That's always a possibility. But obviously, no plans for that now."
Lewison also teased there may be an alternate ending out there. "The ending that was [originally] in Episode 10 was not the ending that made the cut," he said. While he couldn't reveal what happened in said ending, it does make theorizing about Devi's future much more fun.