Minari Star Youn Yuh-Jung's Oscars Speech Featured A Hilarious Brad Pitt Shoutout
"Mr. Brad Pitt, finally, nice to meet you."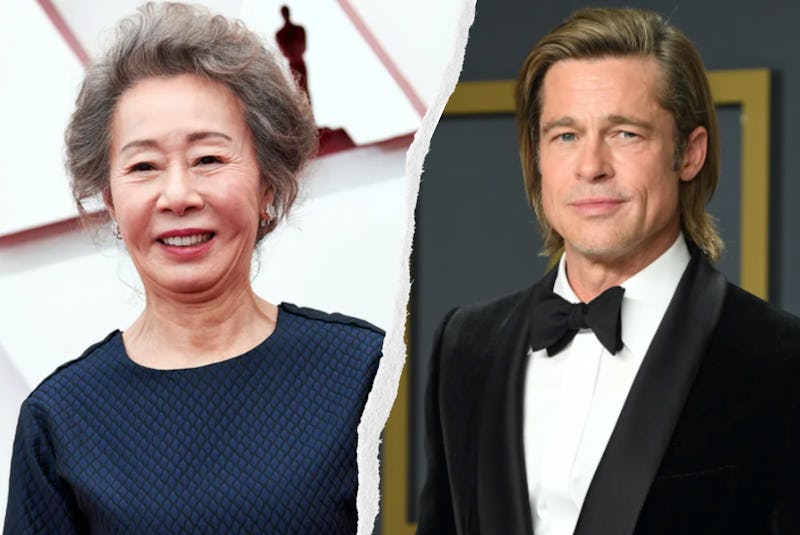 Steve Granitz/WireImage/Getty Images
Following her epic run of awards season wins for her role as grandma Soonja in Minari, Youn Yuh-jung received the honor of Best Supporting Actress at the 2021 Academy Awards.
Fans have already come to know and love Youn's charming sense of humor by now (let's not forget about the BAFTAs speech where she playfully described the British as "very snobbish people") — but no one could have predicted the adorable shoutout she gave presenter Brad Pitt during her Oscar win on April 25.
As Youn took to the stage, she seemed a little starstruck to be near Pitt. "Mr. Brad Pitt, finally, nice to meet you," she said amid surprised gasps. "Where were you while we were filming? Very honored to meet you." Pitt's production company, Plan B Entertainment, produced Minari. Pitt, who won Best Supporting Actor in 2020 for his role in Once Upon A Time... In Hollywood, later accompanied Youn offstage, and the pair chatted as they strolled off arm in arm.
Before the sweet exit, though, Youn still had a few more charming moments onstage. "Me being here by myself ... I cannot believe I'm here," she said. "OK, let me pull myself together."
She also had some fun grappling with the very idea of succeeding over her fellow nominees like Glenn Close, who has now been nominated for an Oscar eight times without a single win. "I don't believe in competition," she said. "How can I win over Glenn Close? I've been watching her so many performances ... I just have a little bit of luck, I think, maybe. I'm luckier than you. And also maybe, it's American hospitality for the Korean actor, I'm not sure."
Finally, she thanked her sons "who make me go out and work ... this is the result, because mommy worked so hard."