Does Ocean Water Dry Out Your Skin?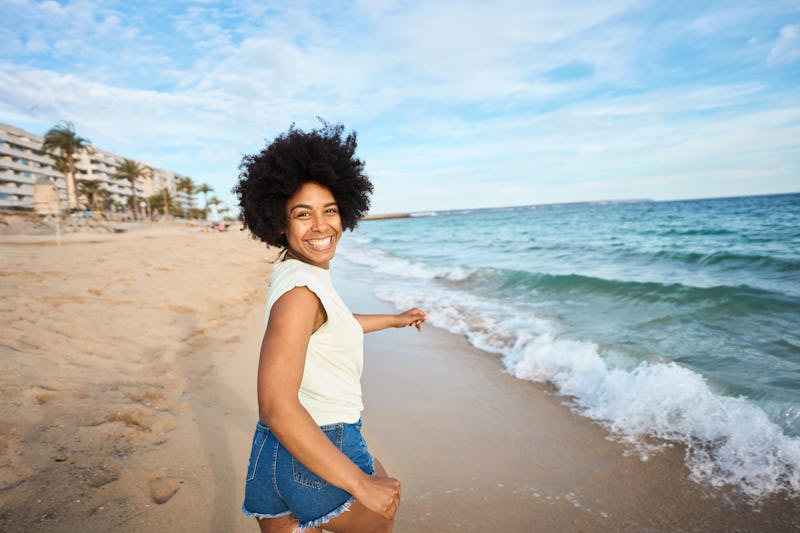 Daniel Lozano Gonzalez/Moment/Getty Images
It's that time of year again when you're either planning your vacation, or days out for your staycation this summer. Beach babes and sea sirens alike will probably be wondering: Does ocean water dry you out, particularly your skin? It's so much fun to play in the ocean, swim in the sea, or partake in water sports, but if you're always on point at keeping your skin in tip-top condition, you may want to know whether ocean water dries your skin out. After all, it would be a shame to take care of your skin all year long, for it to take a turn for the worst after a dip in the ocean, right?
You've likely heard about the healing benefits of salt water. For those who need a refresher, according to The Huffington Post salt water helps, "...to detox the skin, reduce swelling and treat wounds, among many other benefits. But overexposure to salt water can wreak havoc on your hair."
Women's Health reported that sea salt can be good for our bods, "Our bodies contain the same concentration of minerals and nutrients as sea water, so it's no wonder that sea salt is a natural ally to balance, protect, and restore the body and skin."
According to One Green Planet, sea salt water can treat acne, "Sea salt is an incredibly powerful acne medication that works by cleansing the cells and killing bacteria while also promoting healthy pH levels in the skin." This is fantastic news for folks who suffer from acne, but prefer using natural methods instead of harsh chemicals.
Livestrong reported on the many health benefits of swimming in warm sea water, including improving circulation and helping your general wellbeing. In regards to benefits to the skin, according to Livestrong, it's all about the magnesium in the water, "The magnesium in seawater may also help hydrate and improve the appearance of your skin." Aside from the fact that ocean water isn't great for your hair, you'd think that it's an across the board miracle worker, but it's much deeper than that.
The International Dermal Institute confirmed the benefits of seawater and reported, "Rich in trace elements and minerals, and with a composition not dissimilar to human blood plasma, seawater, arguably, has many unique healing properties for the skin. Many skin health benefits are specifically attributed to the Dead Sea, such as treatment for eczema, psoriasis and other extreme, dry skin conditions." However it is explained that these benefits don't come from salt directly, but from the high levels of magnesium.
In fact, The International Dermal Institute explained that salty water can really dry out the skin, "Salts in high quantities can be the skin-drying scourge of the summer flesh baring masses. Diluted salt is almost impossible to remove from the skin with lye based soap or non-foaming wash, so even after showering, traces of salt deposits may remain on the skin, absorbing essential moisture."
SheKnows also warned of the skin-drying properties of ocean water, "The salt in the ocean water dries your skin out fast, and it doesn't all wash off in the shower. It lingers on your skin, meaning its drying effects are long-lasting."
However, you shouldn't let this stop you from having fun in the ocean. The International Dermal Institute shared their "Proactive Post-Dip Tips" which include steps such as using a foaming skin wash, exfoliating, and more. Don't shy away from unleashing your inner Ariel this summer, follow The International Dermal Institute's advice and help to protect your skin from drying out.
Images: Getty Images (3)