Hacks For Avoiding A Strapless Bra
How to wear a strapless dress seamlessly.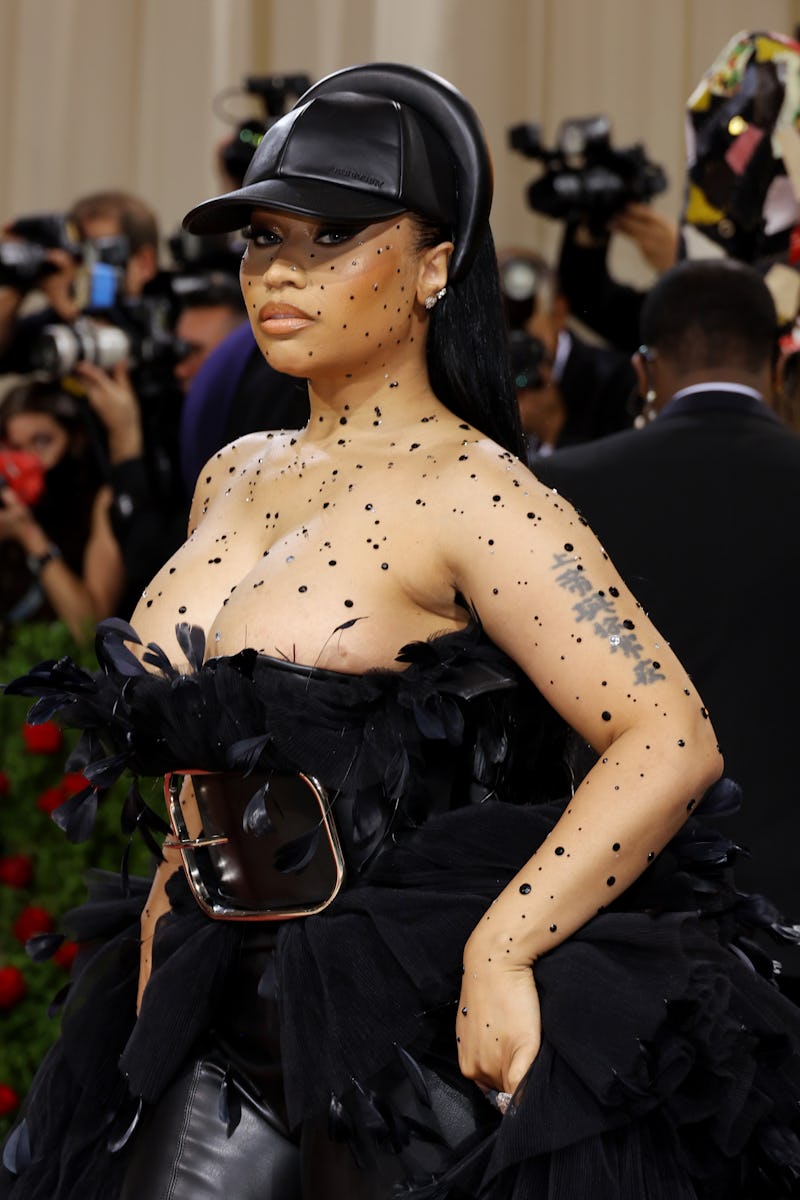 Mike Coppola/Getty Images Entertainment/Getty Images
Raise your hand if you've ever relegated a gorgeous dress to the back of your closet because you didn't want to wear a strapless bra. (I'm pretty sure everyone is raising their hand right now.) Most strapless bras are a real buzz kill. If you're not hoisting it up every six seconds, it's cutting off your circulation. If it's not causing a wardrobe malfunction, it's making your breasts look weird (Team Uniboob, over here). They're basically hell in underwire form.
Though bra hunting can be a nightmare, there are so many cute strapless dresses, tops, and jumpsuits just begging to be worn. It's worth doing a little extra leg work to figure out how to wear a strapless dress without ruining the whole vibe with an annoying strapless bra.
If you get a little creative and/or crafty, you'll actually find that there are a lot of ways to circumvent the infamously uncomfortable undergarment. A few alternatives to wear with a strapless look, include: DIYing a built-in bra, trusty boob tape, or straight-up nipple pasties. Ahead, the most helpful hacks for avoiding strapless bras — and if all else fails, just remember: There are ways to make a strapless bra more comfortable.
We at Bustle only include products that have been independently selected by our editors. We may receive a portion of sales if you purchase a product through a link in this article.
1. Go Braless
I don't know who needs to hear this, but you don't have to wear a bra. I never thought my extra (extra) large boobs could take on the world solo, but recently, I've been going braless more and more often. If you've never tried it before, I highly recommend giving the braless life a shot. You might be surprised. Plus, it's 2022. Time to #freethenipple.
2. Wear Pasties
When it comes to strapless dresses, stick-on nipple covers are a life-changer. They cover your nipples comfortably and are totally reusable. NIPPIES, in particular, come in three shades and two sizes: small (fits A-C cups) and large (fits D+ cups). If you need a bit of extra lift, shop pasties with tabs that offer major support, even for big boobs.
3. Wear A Stick-On Bra
The day I found out about stick-on bras was the day I quit wearing strapless bras for good (over a decade later and I haven't looked back). For formal and/or backless situations, they're a real lifesaver. With over 3k 5-star reviews, this $18 bra is a safe bet.
4. Sew Bra Cups Into Your Dress
This hack takes a little more effort, but it's definitely worth it in the long run. With a little DIY magic, you can add a built-in bra to pretty much anything — all you have to do is buy a budget bra or foam cups, and sew or glue them into your favorite dress. Even if you aren't a seamstress by any means, just add a few stitches and you're good to go.
5. Wear A Statement Bra
If you really can't avoid a showing bra, lean into the look. Opt for a statement bra that makes it really clear that your bra is supposed to be showing. The strappy bras are my personal fav, because they appear so intentional and often look like they are a part of the dress. What's better than a little peek-a-boo fashion moment?
6. Wear A Delicate Bralette
On the other hand, you could always go the slightly more subtle route with a delicate bralette. It'll give the same effect as a visible push-up, but feels a bit more low-key. Bralettes come with the extra perk of being super comfy and super sexy at the same time. A win/win all around.
7. Wear A Lacy Bandeau
OK, so technically a bandeau is just another type of strapless bra, but still: they're way more comfortable and so much more chic. With over 4k 5-star reviews, fans say this is the one "curvy girl friendly" bandeau that won't give you a uniboob.
8. Wear A Shirt Underneath
If you're feeling extra sassy, you can always find a fun way to layer, thus rendering a strapless bra irrelevant. Throw a T-shirt or a button down on beneath your dress, then proceed with the comfy bra of your choice.
9. Look for Styles With More Support
If you can find a corset-style strapless dress, chances are you'll be able to get away without wearing a bra, even if you need a lot of support. Designs that come with boning in the bodice act like a bustier — they lift you up and keep you in place.
10. Find One That Fits
If all else fails, and you absolutely have to wear a strapless bra, do your best to find one that really fits. Getting correctly sized will make a world of difference, both in terms of comfort and convenience. Of this bra in particular, one fan wrote: "I'm a 40E & never could I find a strapless bra that fit, or even held me up & gave me support. This bra does all of that, kept me in place, wasn't tight, so the sizing is accurate & it is very comfortable. I will definitely be buying another one."
This article was originally published on