April's New Moon Will Be Extra Powerful For These 3 Zodiac Signs
Seize this new beginning.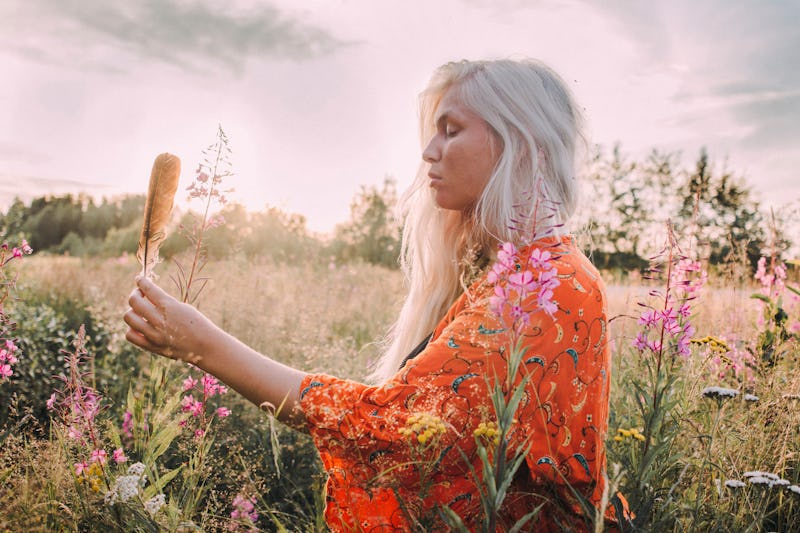 Johner Images/Johner Images Royalty-Free/Getty Images
Welcome to the first new moon of the spring season! The April 2021 new moon rises on April 11, and it's bringing a motivating sense of energy and zeal to our personal goals. Everyone will feel this burst of confidence, but if you're one of the zodiac signs the April 2021 new moon will affect most, the vibes of this new beginning will be even more potent.
Because this new moon is taking place amidst the passion-filled flames of Aries season 2021, we're being blessed with a boost of energy that'll get us pumped about conquering our goals. Aries zodiac vibes are all about being bold, impulsive, and bravely asserting ourselves, so bump your personals needs up to the top of your priority list.
During this new moon, we'll have a whopping four planets clustered together in Aries' territory, which is amplifying these cardinal fire sign's vibes. Alongside the sun and moon are romantic Venus and logical Mercury — which means in addition to our personal goals, this lunation is a great time to get bolder when it comes to love, money, and communication.
While all zodiac signs will feel more impulsive than usual, there are a few who are in for a total zinger of a new moon. Read on to find out if you're one of the zodiac signs most affected by the April 2021 new moon.
It's Aries season and this is the new moon in your sign — so it's no surprise that you'll be feeling this lunation with the heat of a thousand suns. Embrace this high-powered lunar reset as a chance to shed your old skins and become the most fabulously authentic version of yourself. You have visions and talents that have been waiting to shine through, so ditch the distractions and focus on your personal growth. It's time to speak your mind, express your creativity, and chase after the dreams that make you feel most like you.
This lunation is putting you into full-blown boss mode, Cancer. With the new moon rising in the career sector of your chart, this is an opportunity for you to get bolder with your professional talents. It's time to up your game and assert your dominance, whether that means pursuing a new gig or finally asking for that well-earned promotion. For a gentle water sign like you, being assertive and demanding attention can be challenging — but rise to the occasion so you can start shining more brightly in your career.
This lunation is offering you a powerful chance to hit the reset button within some of your closest relationships, Libra. As one of more diplomatic signs of the zodiac, you always take great care not to step on other people's toes. But are your partners in love, work, and friendship offering you the same grace and consideration? You're learning to advocate for your needs and bravely ask others for what you want. Sometimes simply telling people how to support you is the best way to get what your soul desires.