The Best Deodorants That Don't Stain Clothes, Tested & Reviewed
Keep your pits fresh and your shirts pristine.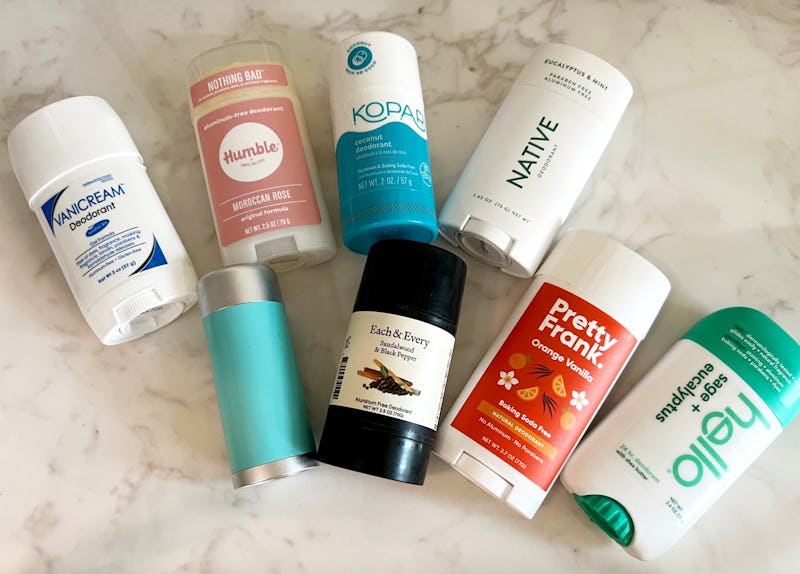 Kate Miller
We may receive a portion of sales if you purchase a product through a link in this article.
Anyone who's ever had a favorite white tee forced into early retirement because of yellow pit stains knows that it's a tough blow, especially when it keeps happening. That's why we reached out to skincare expert Pablo Prichard, MD, and professional stylist Morgan Bienvenue to learn what ingredients to look for and avoid to find the best deodorants that don't stain clothes. Using their guidance and reviews from shoppers, we narrowed down 20 of the most promising deodorants on the market and put them to the test ourselves, ultimately honing our selection to the top 11. The picks below all met our standards for being effective deodorants that smelled great, kept us fresh, and didn't compromise our wardrobe staples.
TL;DR
Both Dr. Prichard and Bienvenue were emphatic that to avoid yellow staining you need a deodorant that's aluminum-free, as that ingredient is the primary culprit behind discoloring. You may also want to opt for a clear formula to avoid white streaks and residue. After testing 20 aluminum-free deodorants, our personal favorite was the expert-recommended Kopari deodorant, but a close runner up was MAGSOL, for its smooth, simple formula; and for the budget-minded buyer, Secret Aluminum-Free is a great drugstore option.
The Experts
Dr. Pablo Prichard is a board-certified plastic surgeon and the senior partner and founder of Advanced Aesthetics Associates in Scottsdale, Arizona, where he specializes in both reconstructive and cosmetic procedures. He is the former chief of plastic surgery at HonorHealth John C. Lincoln Hospital. Prichard earned his medical degree from the University of Texas, Galveston.
Morgan Bienvenue is New York-based stylist and retail/luxury brand consultant with more than 11 years of experience in the fashion industry. She's worked with such notable brands as Under Armour, Macy's, and Swarovski, and is passionate about helping people express themselves.
What Deodorants Don't Stain Clothes?
Aluminum is enemy number one when it comes to deodorants and stains. "The yellow staining on clothing is caused by a chemical reaction between aluminum, a common ingredient in antiperspirants, and sweat. This ingredient functions to block the wearer's underarm sweat glands and reduces moisture," Dr. Prichard tells Bustle. "Despite its wet-reducing qualities, very small amounts of sweat in the armpit are inevitable, leading to yellowing."
Therefore, to maintain the color integrity of your tees, Prichard recommends seeking out aluminum-free products — which likely means switching from an antiperspirant to deodorant. "Despite the words 'antiperspirant' and 'deodorant' being used interchangeably, they are not the same," Prichard explains. "In simple terms, antiperspirant means 'anti-sweat,' which is why the sweat gland-plugging ingredient aluminum is so important in these products. Deodorants, however, keep the wearer smelling fresh and inhibit body odor without the sweat reduction."
If you're concerned that a switch to an aluminum-free deodorant won't be able to offer adequate wetness protection, know that natural deodorants have come a long way in recent years. Dr. Prichard shares, "Ingredients like baking soda and corn starch absorb moisture rather than blocking sweat glands. Witch-hazel and zinc oxide can help mitigate sweating due to its astringent properties."
What Application Style Is Best?
If you're wondering if there's a deodorant application type (e.g., stick versus spray) that's best for avoiding staining, Dr. Prichard says that there is no "bad" method, just pros and cons to each. "For precise, targeted application, stick deodorant is best. While it doesn't dry as fast as spray deodorant and may leave residue on clothing, it lasts longer," Prichard notes. "This may be important for people living in humid, hot climates."
How Do You Avoid White Streaks?
Opt For Powder-Free Formulas
Choosing the right stain-free formula is important, but keep in mind that even deodorants without aluminum can still leave white marks if they contain baking soda and other powders like arrowroot or talc. Unless your deodorant is completely free of aluminum and powders, it may leave white streaks behind. If this is a concern, consider solid, non-chalky formulas that dry quickly and won't transfer easily.
Apply The Right Way
How you apply a deodorant can also make a huge difference in whether you end up with white streaking. Bienvenue shares, "The best way to prevent deodorant [streaking] in the first place is to apply deodorant after you put your shirt on. Just be sure to go beneath the hemline versus down the neckline because you can stretch out the fabric."
If you like to apply before getting dressed, it's always smart to wait several minutes after application so that the deodorant has time to set.
Our Top Picks
In a hurry? Here are the top picks for non-staining deodorants.
Ahead, you'll find 11 deodorants ranging from a budget-friendly pick by a household name to expert-approved options from cult-fave brands, plus a few more spendy deodorants that are redefining what's possible in terms of minimalist ingredients and sustainable packaging.
1. The Overall Best Deodorant That Doesn't Stain
Also available from Kopari, $16, and Ulta, $16
What We Like
More than 4,000 five-star ratings on Amazon
Glides on effortlessly
Very clear, non-marking
Kept pits feeling dry all day
Pleasant scent
What We Don't Like
A little pricey for 2-ounce stick
Not only does this non-staining deodorant come recommended by Bienvenue, it also was our personal favorite in terms of scent and feel. Bienvenue shares, "Kopari is aluminum and baking soda free (usually natural deodorants have baking soda) so it glides on smooth and won't leave any marks. Plus it smells like the beach!" While the stick is a bit pricey for its 2-ounce size, the coconut oil and sage oil-infused formula applies like silk, almost like a roll-on but without the stickiness. There's also no chalkiness to speak of, and we especially appreciated how invisible it was on the skin. As one Amazon shopper noted, "No more white spots on your dark clothes. No more yellow stains on your white clothes." In terms of odor protection, it made it to the 12-hour mark of our testing without issue, although on extra active days a reapplication might be warranted.
Application Type: Solid stick | Available Scents: Original, Tropical, Gardenia, Charcoal, Beach, Coastal | Aluminum Free: Yes | Baking Soda Free: Yes | Also Free From: Gluten, parabens, phthalates, silicones | Vegan: Yes
2. The Runner-Up
Also available from Walmart, $18, and Vitacost, $17
What We Like
Simple formula consists of just 4 ingredients
Smooth, clear application
Nice scent that's not too overpowering
Largest stick deodorant on the list, at 3.2 Oz.
What We Don't Like
One of the most expensive options on the list
With an aluminum-free formula that's simple yet effective, the MAGSOL stick deodorant was another one of our favorites. It offered one of the most seamless applications, with an opaque formula that glides across skin, leaving no visible trail behind. The four available scents range from a floral "Rose" option to a muskier "Sandalwood," so there's something for everyone. We tried the rose version and found that it had a pleasant scent that wasn't too strong — and it didn't disappoint with odor protection, either. While this is one of the pricier picks on the list, it's also one of the most generously sized, and the brand claims that one stick will give you up to a year of use (which, if true, would make this a cost-efficient way to go).
Application Type: Solid stick | Available Scents: Bergamot Grove, Aspen Air, California Coast, Eucalyptus Spearmint, Fresh Ocean Splash | Aluminum Free: Yes | Baking Soda Free: Yes | Also Free From: Alcohol, talc, parabens, sulfates, phthalates | Vegan: No
3. Another Expert Fave For A Good Price
Also available from Walmart, $13, and Vitacost, $13
What We Like
Nearly 65,000 five-star ratings on Amazon
Lasting odor control, even on extra-active days
Keeps armpits dry
Smooth, near-clear application
Contains a probiotic (L. Acidophilus) for skin health
Available in a wide variety of scents, as well as unscented
What We Don't Like
Does contain baking soda, which is a potentially irritating ingredient for certain people
Some shoppers reported white residue
With nearly 90,000 Amazon reviews to date, this natural deodorant has earned a cult-like following for its ability to provide reliable odor protection without staining tees — and it also happens to be an expert fave. Bienvenue notes, "I use Native deodorant myself, after trying a ton of natural deodorants that irritated my skin, and I love the scents!" The solid formula contains skin-nourishing coconut oil and shea butter and it applies smoothly with a near-clear finish; plus, this is one of the few picks on the list with a probiotic for skin health. It is worth mentioning that this deodorant does use baking soda and tapioca starch to absorb moisture and neutralize odor-causing bacteria, so there's a chance that it could leave white residue behind. That said, it passed our black T-shirt test without any streaking in sight.
Application Type: Solid stick | Available Scents: 12, with other scents available here and here | Aluminum Free: Yes | Baking Soda Free: No | Also Free From: Parabens, phthalates, talc | Vegan: Yes
4. The Best Drugstore Deodorant
Also available on Walmart, $12 (single stick, different scent)
What We Like
Nearly 6,000 five-star ratings on Amazon
Provides impressive, all-day odor protection
Nice scent that isn't overly strong or sweet
Comes from a household deodorant brand
Available in a cost-efficient 3-pack
What We Don't Like
Does leave faint white marks on dark clothes
If you're partial to a tried-and-true brand that you can reliably find in drugstores, this Secret deodorant may be the way to go. With its aluminum-free formulation, this pick promises to avoid the dreaded yellow staining that happens with antiperspirants — and we found that it still managed to provide impressive odor protection (even on a particularly hot New York City day). The scent is mild but long-lasting, and the formula itself didn't leave any unpleasant feeling on skin — in fact, it almost felt moisturizing.
The one drawback? It did leave faint white marks on dark clothes at the end of the day. But if that's not a dealbreaker for you, this deodorant otherwise delivers.
Application Type: Solid stick | Available Scents: Real Coconut, Vanilla, Cherry Blossom | Aluminum Free: Yes | Baking Soda Free: Yes | Also Free From: Parabens, dyes, and talc | Vegan: Not specified
5. The Best For Sensitive Skin
Also available from Walmart, $13, and iHerb, $11
What We Like
More than 8,000 five-star ratings on Amazon
Dermatologist-tested and sensitive skin-friendly
Fragrance free, including no botanical extracts
Only 5 ingredients
One of the more affordable options on this list
What We Don't Like
Gel formula is a messier application
The perforated cap is a little bit of a hassle
Gel can feel cold and uncomfortable with initial contact with skin
Takes longer to dry so you might have to wait to put on shirt
For those who are prone to armpit irritation, this gel deodorant from Vanicream is the way to go. Not only is it free from aluminum, baking soda, talc, alcohol, and gluten, it's also dye and fragrance free for a gentle formula that reviewers rave about — just check out the 12,000 reviews amassed to date. One shopper noted, "This is the best deodorant I've ever used for my extremely sensitive skin (and I've been using it for almost a year)." Because it's a gel, it goes on clear so there's no white streaking of clothes. The application can feel a bit goopy (we didn't love the cool feeling on the skin putting it on) but if you allow enough time to dry, the formula doesn't feel wet and it doesn't mark clothes. And for less than $10 for a stick, it's a derm-approved natural deodorant that won't break the bank.
Application Type: Solid stick | Available Scents: 2 | Aluminum Free: Yes | Baking Soda Free: Yes | Also Free From: Talc, parabens, phthalates, alcohol, gluten, dyes, synthetic fragrance & botanical extracts | Vegan: Not specified
6. The Best Spray Deodorant
Also available from Macys, $15, and Thrive Market, $13
What We Like
Did not leave behind any tacky feel or residue
Remains clear upon application
Dermatologist tested
Generously sized for the price
What We Don't Like
Application is less precise than with a stick or roll-on deodorant
Scent is a bit astringent for the first couple hours
As an alternative to stick and roll-on formulas, we found that this Weleda deodorant spray delivered on odor protection without making a mess of clothes. If you're new to spray deodorant, the application may involve a bit of a learning curve, and the formula does take longer to set; but once it dries, it doesn't leave any feeling of residue on the skin. It's available in two nature-inspired scents: wild rose and sage. We tested the former, and upon initial wear, it smelled more astringent than rosy. But, after a couple hours, the floral notes began to shine through for a nice, subtle aroma without any trace of odor.
Beyond being gentle on your clothes, this pick is also gentle on the planet. It boasts certifications from NATRUE, which ensures sustainable production practices and no use of artificial ingredients, and UEBT, which means that it meets certain standards of protecting biodiversity. Weleda also offers a free recycling program for all of its products, so you can make sure that this spray's glass bottle doesn't wind up in a landfill when you're done with it.
Application Type: Non-aerosol pump spray | Available Scents: Wild Rose, Sage (also available in roll-on formulations) | Aluminum Free: Yes | Baking Soda Free: Yes | Also Free From: Synthetic preservatives, synthetic fragrances | Vegan: Not specified
7. The Most Splurge-Worthy
Also available from Each & Every, $20, Ulta, $17, and Walmart, $31
What We Like
Nearly 14,000 five-star ratings on Amazon
Very lightweight, silky feel
Invisible once on
Unique scents, as well as an unscented option
Transparency in ingredients
Plant-based packaging that can be recycled
What We Don't Like
Pricey for 2.5-ounce stick; among the most expensive on list
Some reviewers noted stained clothes; need to be careful not to over-apply
While $20 for deodorant might seem a little steep, this EWG-verified, aluminum-free deodorant has so many thoughtful touches it's easy to see why it's amassed a cult following on Amazon. We immediately appreciated the sleek, sustainable packaging — a black plant-based canister with a cute illustration on the front. The label was also the most consumer-friendly, listing out the simple name for each ingredient (eg., caprylic triglyceride = oil made from coconuts). The Sandalwood & Black Pepper scent was by far the most original we sampled, and it delivered a home-y spicy scent all day. We were excited to test out some of the other scents in the brand's lineup, like Citrus & Vetiver and Cedar & Vanilla. The solid, alcohol-free formula glides on with a silky, lip balm-like feel and was completely invisible once on, although you have to be careful not to over-apply because some reviewers did mention that staining can occur if you apply too liberally. The odor protection holds up, and a little of this deodorant goes a long way — so while it's spendy, the stick promises to last a while.
Application Type: Solid stick | Available Scents: 9 | Aluminum Free: Yes | Baking Soda Free: Yes | Also Free From: Synthetic fragrances, gluten, parabens, phthalates, alcohol | Vegan: Yes
8. The Best Small Batch
Also available from Humble, $11, Walmart, $11, and Rite Aid, $13
What We Like
Nearly 4,000 five-star ratings on Amazon
Only 4 simple ingredients + essential oils for fragrance
Clear upon application
Handmade in small batches in Taos, New Mexico
Interesting scents available, like fan-favorite Palo Santo & Frankincense
One of the more affordable options on this list
What We Don't Like
Formula sometimes requires a little working in (even the label says to "rub in any excess")
For sustainability-minded, product packaging is made from only 75% recycled plastic; the brand's plastic-free packaging costs slightly more
The name couldn't be more apt for this unassuming but overachieving pick. We didn't go in with particularly high expectations for this one, but we were thoroughly impressed at how Humble checked so many boxes. If you're looking for an alternative to Native deodorant, this one offers effective odor control with a simpler ingredient list. It's made with just four ingredients — corn starch, beeswax, baking soda, and fractionated coconut oil — plus essential oils for fragrance, so the label is easy to decipher. Made in small batches in Taos, New Mexico, this solid formula goes on easy with a near-clear finish. While it contains baking soda, it didn't tend to leave behind much white residue on clothes, and thanks to its aluminum-free formula, you don't have to worry about yellow staining. With a $11 price tag, it's an especially good deal considering it's handmade in small batches.
Application Type: Solid stick | Available Scents: 9 | Aluminum Free: Yes | Baking Soda Free: No; but brand carries a baking soda-free option | Also Free From: Dye, parabens, artificial fragrance | Vegan: No (but it is available in a vegan formula)
9. The Most Sustainable
Also available from Grove Collaborative, $13
What We Like
Entirely plastic free; the refillable "Forever Case" is made of recyclable aluminum
The refillable design cuts back on waste
Contains a probiotic (lactobacillus ferment) for skin health
Hypoallergenic
What We Don't Like
Initial basic assembly required to fit the deodorant stick into the case
Pricey for a 1.78 ounces stick and refills aren't providing much cost-saving (a refill is $12)
Of the products we tested, this aluminum-free deodorant definitely had the most unique packaging. You receive a recycled aluminum "Forever Case" and a corresponding deodorant stick that has to be dropped and screwed into place. Assembly was easy but it did add an extra step to our morning routine. The probiotic-infused formula is on the creamier side so there was some residue left on the stick. All that's to say, it's not the tidiest of applications, but it is by far the most sustainable option on this list. The packaging is entirely plastic-free and the aluminum refill case is recyclable. So, if protecting the planet is your top priority, it's worth it to try this hard-working natural deodorant. It provided decent odor protection, although we didn't experience the 48 hours of coverage that the brand promises (more like 12 to 16 hours). The formula contains arrowroot powder to sop up wetness, but that powder could result in some white streaking if you toss on your fave black tee too soon.
Application Type: Solid stick | Available Scents: 2 | Aluminum Free: Yes | Baking Soda Free: Yes | Also Free From: Talc, parabens, phthalates, synthetic fragrance | Vegan: Yes
10. The Best For A Muskier Scent
Also available from Oars + Alps, $14, Kohl's, $14, and Macy's, $14
What We Like
Nearly 3,000 five-star ratings on Amazon
Dermatologist tested
Smooth, clear application
Earthy scent is not overpowering
What We Don't Like
Leaves a slightly tacky feel on skin
Stronger scent may not be for everyone
Beyond its solid odor protection, this Oars + Alps deodorant offers a nice range of muskier scents for those who aren't into sweet or floral aromas. The gel stick provided fairly smooth application and an initial cooling sensation that was a bit of a pick-me-up. We tried the Bergamot Grove formulation, and it didn't leave any visible buildup on skin. The scent remained strong all day (but not too strong for our liking). We also found it left clothes unmarred. The only complaint was that it did leave skin feeling a little bit tacky (which seemed to be a hallmark of gel sticks). But all in all, the pros far outweighed that one con — and more than 3,500 reviewers on Amazon seemed to feel similarly fond of it.
Application Type: Gel stick | Available Scents: Bergamot Grove, Aspen Air, California Coast, Eucalyptus Spearmint, Fresh Ocean Splash | Aluminum Free: Yes | Baking Soda Free: Yes | Also Free From: Alcohol, talc, parabens, sulfates, phthalates | Vegan: Yes
11. The Most Sophisticated
Also available from Malin + Goetz, $22 (2.6 Oz.), Nordstrom, $14 (1 Oz.), Bloomingdale's, $22 (2.6 Oz.)
What We Like
Smooth, clear application
Refreshing scent
Packaging feels a bit more sophisticated than that of other picks
Available in a travel-friendly size
What We Don't Like
Remains slightly tacky even after fully drying
Scent fades quickly (but this doesn't seem to impact odor protection)
Between its clean, minimalist packaging and invigorating eucalyptus scent, this MALIN + GOETZ deodorant feels like something you'd find stocked in the bathroom of a trendy boutique hotel. It also provided the kind of consistent odor protection that we would trust while traveling, not to mention kicking it around at home. The gel stick went on fairly smoothly, and the feeling of tackiness that we noticed with some other gels was less of an issue with this pick.
Despite the scent's initial strength, it did seem to fade almost immediately — while this was initially cause for concern, we ultimately don't hold it against this one since it still managed to keep our pits smelling neutral all day.
Application Type: Gel stick | Available Scents: Botanical, Eucalyptus, Bergamot | Aluminum Free: Yes | Baking Soda Free: Yes | Also Free From: Parabens, alcohol | Vegan: Not specified
How We Tested
After testing 20 deodorants at price points ranging from $5 to $26, speaking with experts in relevant fields, and bringing in our own experiences with aluminum-free deodorants that collectively spans 13 years, we found that various factors contributed to an overall great, non-staining deodorant, including ingredients, application method, formula consistency, odor control, and value for the price.
Ingredients: According to our experts, aluminum is the main contributor to yellow staining; for that reason, we only tested 'natural deodorants' that were aluminum-free. Since powder-based formulas are more likely to leave streaks on black fabrics, we prioritized baking soda-free formulas, however, since baking soda is an ingredient that one of our experts recommended for moisture control, two of our picks do contain baking soda. Several formulas that we tested contained moisture-absorbing arrowroot powder, and a handful of those picks were nixed because of excessive white residue. We also took notes on what ingredients were notably absent from formulas, like talc, alcohol, and synthetic fragrance.
Application: We tested all available application types: sticks, sprays, roll-ons, and tubs. We followed each brand's application instructions, being careful to swipe the indicated amount (e.g., swipe 2 to 3 times) and to adhere to additional steps, like pressing the stick against the skin for a few seconds to "soften" the stick. We evaluated each deodorant on how easy it was to apply, how much residue was left behind, and how messy/clean the overall application was. We ultimately didn't include any roll-ons or tub-style deodorants we tested because they were too messy.
Formula consistency: We evaluated formulas on their overall feel and time to dry. We noted if a formula felt sticky, tacky, goopy, silky, clumpy, etc. From barely perceptible to noticeably unpleasant, we took stock of the overall wear experience.
Odor control: We also looked at effectiveness in terms of odor control, but since it can take several weeks for your body to adjust to a new deodorant — and each body is unique in how it responds to a deodorant — our findings are by no means conclusive.
Frequently Asked Questions
Why Does Deodorant Stain Clothes?
Aluminum, an active ingredient in antiperspirant, is what causes that telltale yellowing on the pit-area of your favorite shirts. When aluminum combines with sweat, the reaction causes stains that are hard to remove, especially on white clothing.
How Do You Prevent Armpit Sweat Stains?
To avoid the aluminum/sweat interaction, choose an aluminum-free deodorant so you won't have to contend with staining. That said, your shirt can still get deodorant buildup on it, especially if you're wearing a powder-based formula. To avoid unwanted white residue — especially on dark shirts — apply deodorant in a thin layer and consider clear formulas over chalkier ones.
How Do You Remove Deodorant Stains From Clothes?
For stubborn yellow stains, soak the stained area in a one-to-one ratio of distilled white vinegar and water for about an hour, rub the pit area with a toothbrush or other all-purpose brush, and then run the garment through a wash cycle. For tougher stains, you can also try an Oxyclean treatment to help beat back any persistent yellow tinting.
Does Spray Deodorant Stain Clothes?
That depends on the formula that you are using. If it's an aluminum-free formula, it shouldn't cause any yellow discoloration. However, if you're looking to avoid white residue, a spray deodorant might be a less precise application method than a stick.
More Deodorant Tips & Tricks
Trying to undo the damage done to your clothes by your old deodorant? Check out our roundups of the best stain removers for set-in stains and the best stain removers for white clothes.
About The Testers
Kate Miller
Kate Miller is a senior editor at Bustle with 15 years of experience writing and editing research-driven content and holding various creative positions in advertising. Specializing in home, health, and fashion topics, she's willing to put any product to the test to unearth the gems that improve the day to day. She earned a Bachelor's degree in journalism from the University of Wisconsin — Madison, and has been on a quest to find the perfect natural deodorant for nearly a decade.
Danielle Kraese
Danielle Kraese is a senior editor at Bustle. Since joining the team in 2018, she has written and edited product roundups and reviews across a wide range of categories, from skin care to tech. Previously, she worked as an editor for an ecommerce beauty site, where she oversaw all product testing and reviews. She has a Bachelor of Arts in Journalism from the University at Albany, as well as a lot of opinions about what makes a good deodorant.
Experts:
Dr. Pablo Prichard, board-certified plastic surgeon at Advanced Aesthetics Associates
Morgan Bienvenue, fashion stylist and brand consultant
Studies referenced:
Habeebuddin, M., Karnati, R. K., Shiroorkar, P. N., Nagaraja, S., Asdaq, S. M. B., Khalid Anwer, M., & Fattepur, S. (2022, March 3). Topical probiotics: More than a skin deep. Pharmaceutics. https://www.ncbi.nlm.nih.gov/pmc/articles/PMC8955881/
Muizzuddin N;Maher W;Sullivan M;Schnittger S;Mammone T; (n.d.). Physiological effect of a probiotic on skin. Journal of cosmetic science. https://pubmed.ncbi.nlm.nih.gov/23286870/
This article was originally published on