The 10 Best Dressers For Couples
From modern to farmhouse, these dressers will fit your style & wardrobe.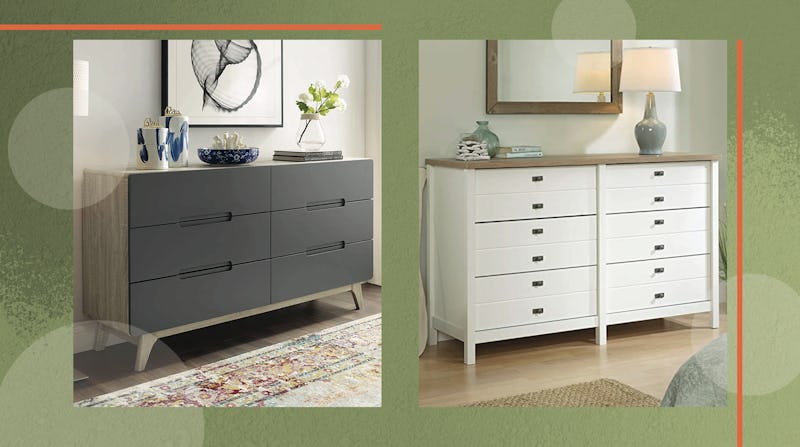 We may receive a portion of sales if you purchase a product through a link in this article.
Regardless of whether you and your partner have a closet in your bedroom, you'll likely need somewhere to stash those clothing items that often don't get hung up on a rack like T-shirts, socks, and underwear. The best dressers for couples will be roomy enough to accommodate all of the clothing that you both need to store (some couples also opt for two coordinating dressers for additional storage), but won't be so large to not fit in your bedroom. Consider different decor styles (like modern, farmhouse, or traditional), materials, and design details based on your own personal preferences — but just make sure the dresser you go with stays within your budget as they can get expensive!
What Criteria To Consider
Consider these factors when hunting for the perfect dresser for your space:
Dresser Size
Before you get your heart set on a specific dresser, you'll want to take note of the manufacturer's dimensions for the product to ensure it'll fit well in the room and not cause it to be too cramped. Some picks are relatively short and wide, while others are more vertical by design, so consider which would work better for your space and items. If you plan on purchasing two dressers for you and your significant other, ensure that you have room for both of them, whether you're utilizing them side by side or just generally in the same area.
Finally, pay attention to the number of drawers (and the size of each one) to ensure the dresser provides enough storage space for all of your stuff — the drawers may all be the same dimensions or they can vary to keep different-sized clothing items better organized.
Material & Assembly
The majority of dressers on Amazon are made from wood, though this can include solid wood (which is pricier but more durable in the long run) or more budget-friendly manufactured wood, such as MDF. You may come across dressers with sleek metal elements, or drawers made from fabric to keep the cost low. Just keep in mind that fabric drawers will be flimsier overall than solid materials.
All of the dressers on this list require some amount of assembly, however some are much easier to put together than others. Take this into consideration when purchasing.
Shop The Best Dressers For Couples
In a hurry? These are the best dressers for couples:
These reviewer-loved dressers are all excellent choices for couples — and since they cover a range of styles, sizes, and price points, you'll surely find the perfect pick for your bedroom among the bunch.
About The Recommender
As a writer for Bustle since 2019, Jenny White has spent countless hours researching products for the home — including a variety of furniture pieces like inflatable couches, coffee tables for sectionals, and bar carts — to determine the best of the best picks. Jenny has written for other publications like Romper and Elite Daily. And she holds a bachelor's degree from the University of Missouri School of Journalism.