The 11 Best Kitten Toys That Tap Into Their Instincts To Explore & Play
We only recommend products we love and that we think you will, too. We may receive a portion of sales from products purchased from this article, which was written by our Commerce team.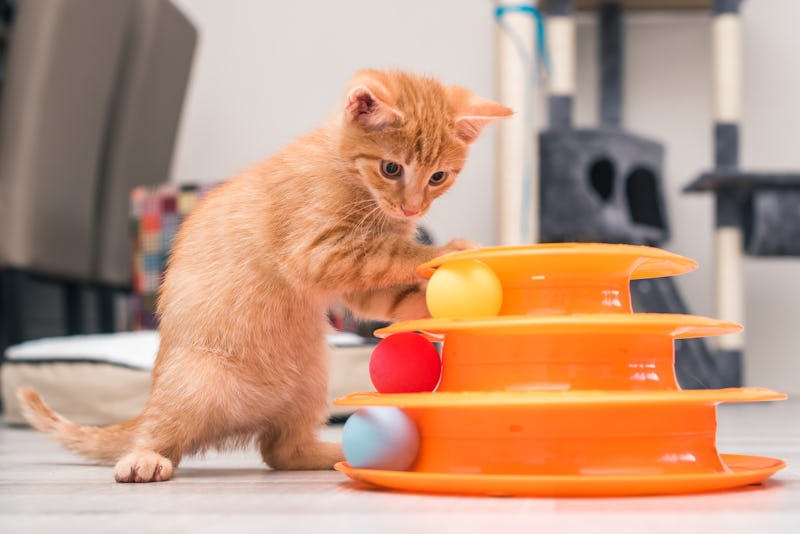 Jolanda Aalbers / Shutterstock
Kittens need to play, and making sure they have a variety of toys is a great way for them to explore and beat boredom. The best kitten toys harness your pet's natural instincts to chase, jump, scratch, and chew. Allowing your kitten to tap into these instincts in a safe way can help them grow into a happy, well-rounded cat — not to mention one who knows how to play with toys instead of human hands and feet. Since there is a wide selection of kitten toys available, it's important to figure out your kitten's idea of fun before you get shopping.
Choosing a kitten toy might take some trial and error, but thinking about your pet's motivations is a good starting point. While some kittens are content to swat at a ball or hunt after a toy that looks or moves like prey, others might prefer something they can sink their claws or teeth into. Toys that squeak or crinkle, or those that light up or reflect light, can help catch their attention. Alternatively, toys with treats or catnip can entice food-motivated felines to play.
As you shop, you should also consider how much dedicated playtime you can provide your kitten. Some toys can keep your kitten busy all on their own, while others require you to maneuver them — either way, be sure to supervise your cat while they play to prevent accidents. Additionally, look for toys that are made without small parts which your kitten might choke on or ingest. Also opt for toys that can withstand long bouts of rough play without falling apart, or ones that are budget-friendly enough to easily swap out when they start to show signs of wear and tear.
Get ready for some epic kitten chases and dive rolls — here are some of the best cat toys you can get your little one on Amazon.