The 6 Best Nontoxic Baking Sheets, According To Food Experts
Worry-free pans that are nonstick and easy to clean.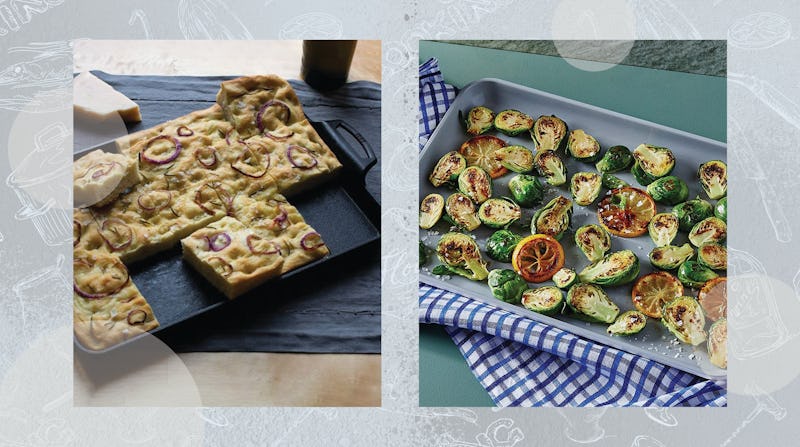 Bustle/Amazon
We may receive a portion of sales if you purchase a product through a link in this article.
When you're baking, the last thing you want to worry about is unwanted chemicals or metals leaching into your food. Fortunately, the best nontoxic baking sheets are free of things you might be looking to avoid like PFAS (such as PFOA) and PTFE, and are suited to the types of foods you bake the most often. To help you make an informed choice in bakeware, I've consulted with food experts to break down what to look for and what to avoid when shopping.
The Experts
Trevor Craig is a food expert and corporate director of technical training and consulting at Microbac Laboratories, one of the nation's largest independent testing providers.
Eric LeBlanc is the culinary director of Burtons Grill Red Heat Tavern. He's also been a finalist on ABC's The Taste and a winner on Cutthroat Kitchen and Rewrapped on the Food Network.
What Can Make Bakeware Toxic?
Trevor Craig, director of technical training and consulting at Microbac Laboratories, admits that calling something "toxic" is a broad statement, but you can think of it as "anything that is consumed and linked to health concerns." Perfluorooctanoic acid (PFOA), part of the chemical group PFAS, was used in the nonstick coating of pans like Teflon (PTFE) until 2013, which has been phased out in most modern baking sheets, according to Craig. While some people choose to avoid Teflon, the American Cancer Society generally considers it to be safe.
You don't have to avoid all nonstick coatings; Craig reports, "Nonstick coatings are usually considered food safe," but adds that there's debate over long-term use and the risk of damaged coatings getting into food. Craig says he makes sure "not to use metal utensils (wooden or silicone only) on my trays."
What Is The Best Material For Baking Sheets?
When it comes to materials, Chef Eric LeBlanc likes to have a combination "to achieve different results in my baking." Learn more about baking sheet materials to find one that suits your needs:
Silicone is inherently nonstick without a chemical coating. It's microwave-, dishwasher-, and freezer-safe and oven-safe up to 428 degrees Fahrenheit — just look for products that are 100% food-grade silicone. These pans may need a firm surface underneath; a silicone baking mat offers the same easy release paired with a firmer pan. Use for: Sheet cakes, breads
Stainless steel is coating-free, safe for metal utensils, and dishwasher-safe. While it's affordable and durable, it may not heat as evenly as other options. You might also want to avoid using stainless steel if you have a sensitivity to nickel. Use for: Searing meats, baking with acidic ingredients
Aluminized steel is durable and corrosion-resistant, transfers heat uniformly, and is good at low to moderate heat. However, it's not recommended for acidic food, is hand wash-only, and requires using non-metal utensils. Use for: Baked goods, roasting
Ceramic bakeware is actually metal with a nonstick coating created from sand and silicon. It's easy to clean and great for conducting heat. It won't react with acidic ingredients, leave a metallic taste, or rust but requires non-metal utensils. Use for: Cookies, roasting
Baking stones are made from durable cordierite clay and can be a great option, especially for high temperatures. It can handle drastic temperature changes and is easy to clean. It's also heavy, can be pricier, and might can cause sticking. Use for: Pizza, bread, muffins, croissants, cookies
Cast iron is another solid choice for high heat, durability, and nonstick properties is uncoated cast iron. It can last for decades, however, it must be well cared for, including hand washing, drying, and seasoning. Use for: Baking cookies, a jelly roll, pizza, roasting
Whatever material you decide on, here are the best nontoxic baking sheets for your kitchen.
1. Expert Pick: A Nonstick Ceramic Baking Sheet
Pros:
Free of PTFE, PFOA, and PFAS
Uses a nonstick, mineral-based coating
Available in colors such as navy, cream, and terracotta
Cons:
Chef LeBlanc is a fan of this baking sheet from Caraway. It has a nontoxic ceramic coating that's free of PTFE, PFOA, and PFAS. Just be careful not to scratch the coating, and always use wooden or silicone utensils when baking. It can withstand a maximum heat of 550 degrees Fahrenheit, but Caraway recommends not using it in the broiler or microwave. The pan is naturally slick and requires less oil or butter when cooking, and requires minimal scrubbing to clean (hand washing is recommended). The pans are available in several stylish colors too.
A Helpful Review: "This non-toxic Caraway baking sheet is awesome, looks great, came well-packaged, has a booklet that clearly explains everything you need to know. The bolted-on handles are an interesting touch and helps you keep your oven mitts from accidentally curving over the edge and squishing your food. My only complaint about this pan is that it's not supposed to be used under the broiler."
Dimensions: 10 x 15 inches (also available in 18 x 13 inches) | Weight: 2 pounds | Material: Ceramic | Colors: 5
2. A Set Of 2 Stainless Steel Baking Sheets
Pros:
Dishwasher-safe
Rust-resistant
No nonstick coating
Cons:
Can warp at high temperatures, according to some reviewers
This set of two nontoxic baking sheets has no aluminum or other chemical coating and is made of sturdy and durable stainless steel. The pans have deep, 1.3-inch sides to keep your oven leak-free and rounded corners for an easy grip. The pans have a mirror finish, but the brand recommends using cooking spray or parchment paper on the pan to avoid sticking. Best of all, they're rust-resistant and dishwasher-safe. Note that some reviewers reported that they may warp with higher temperatures and then return to their shape when cooled.
A Helpful Review: "I threw out my aluminum baking sheets and replaced them with the TeamFar stainless steel baking sheet. The food tastes better, cooks more evenly, and the pan is sturdy and easy to clean. Will only use this baking sheet from now on."
Dimensions: 20 x 14 x 1.3 inches | Weight: 4.84 pounds (for both pans) | Material: Stainless Steel | Colors: 1
3. A Baking Stone That Can Withstand High Temperatures
Pros:
Made with a heat spiral that warms the stone fast and stores heat in the center
Can withstand up to 2,000 degrees Fahrenheit
Pizza, bread, and cookies get an even, steady bake
Can be used with metal tools
No nonstick coating
Cons:
Give your pizza, bread, or cookies an even bake with this nontoxic baking stone. It's made of cordierite clay that's extremely durable and thermal shock resistant with a heat spiral at the bottom to quickly heat the stone and store that heat in the center. There are feet on the underside for grip, which allows you to place it on tables or counters when you take it out of the oven. According to the brand, the stone can withstand up to 2,000 degrees Fahrenheit and can even work for ready-made frozen pizzas. There's no coating, but reviewers warn that some foods can stain the stone and recommend using parchment paper when baking. Reviewers also report that the recommended hand cleaning is a breeze. Plus, you get some tips, tricks, and recipes with your purchase to optimize cooking with the stone.
A Helpful Review: "We use this pizza stone to cook pizza on a weekly basis. It heats up well, and maintains heat, cooks up puffy, crispy crust like a dream. It easily handles a large pizza. It does stain if you do not use parchment, as we did not the first time, but used corn meal. I prefer the ease of parchment for transfer from a lipless cookie sheet to the stone and back on again. Just fyi, we use the pre-cook method for our crust around 4 mins, then slide out of the oven, add sauce and toppings, then back in for another 8 mins. Our favorite method is the grill when it's warm enough."
Dimensions: 16 x 14 inches | Weight: 13.5 pounds | Material: Cordierite Stone | Colors: 1
4. A Cast Iron Baking Sheet
Pros:
Two handles for easy lifting
Seasoned with natural vegetable oil
Great heat retention
Long-lasting
No nonstick coating
Cons:
This cast iron baking sheet can last you a long time if you care for it properly. It's uncoated and comes seasoned with natural vegetable oil — all you need to do is hand wash, use the right cleaning brush, dry promptly, and rub a light layer of oil onto the surface. The pan can take high heat and has great heat retention, so it's a great choice for roasting vegetables. Cast iron is durable and this pan comes with two handles for easy lifting, but it also weighs 7.5 pounds (without food), so keep that in mind when taking it in and out of the oven.
A Helpful Review: "This has become my go to baking sheet- well to be honest, I have two and will be picking up a third. For roasted asparagus, cauliflower, broccoli, carrots, Brussels sprouts and potatoes- the depth of taste and even cooking can't be beat! I'll never go back to aluminum and/or nonstick!"
Dimensions: 10.81 x 19 x 1.5 inches | Weight: 7.5 pounds | Material: Cast Iron | Colors: 1
5. A 4-Piece Set Of Nonstick Silicone Bakeware
Pros:
Dishwasher-safe
Available in three colors
Includes a cake pan and a small, medium, and large baking pan
Four pieces for $50
No nonstick coating
Cons:
Must be held with two hands
This four-piece set of nontoxic bakeware is made of 100% food-grade silicone that's oven-, fridge-, freezer-, and dishwasher-safe. The silicone is uncoated, stain-resistant, and easy to clean, and food releases easily from its surface. It's safe to heat up to 446 degrees Fahrenheit, just don't place it on direct heat. Also note, although these silicone pans have a metal reinforced frame, they can sag or feel a little flimsy when they have food on them, so make sure to use two hands when carrying them or place them over a metal baking sheet for support. In this set, you get a small, medium, and large baking pan, plus one cake pan; eight- and 31-piece sets are also available.
A Helpful Review: "Love this set. So affordable and I was ruining recipes with my old burned and blackened nordic ware from my grandma so this set was perfect for my new baking hobby and just general food prep. The silicone is way easier to clean. My only thing so far is I put the trays on a metal baking sheet since these are flimsy and you can't grab them out of the oven with one hand so that's it so far."
Dimensions: 11 x 17 x 1.75 inches, 10 x 15 x 1.75 inches, 9 x 13 x 2 inches, 11 x 17 x 0.75 inches (according to a reviewer) | Weight: Individual weights not specified | Material: Silicone | Colors: 3
6. A Set Of 2 Aluminized Steel Baking Sheets That Come With A Cooling Rack
Pros:
Sturdy handles with angled edges for easier carrying
Includes a cooling rack
Nonstick coating is PFOA-free and ceramic-reinforced
Cons:
Metal utensils will scratch the surface
While it's PFOA-free, it does contain PTFE
These two nontoxic baking sheets and cooling rack are made of commercial-grade aluminized steel that's warp-resistant and coated with a PFOA-free, ceramic-reinforced, nonstick coating. Because it has that coating, it's important to use silicone or wooden tools to prevent scratching and aluminum leaching into your food. The aluminized steel transfers heat uniformly and you'll get an even bake for cookies or biscuits. Avoid using cooking spray on the baking surface and hand wash the pans, according to the brand. The sheets have handles with angled edges for easier carrying that are oven-safe to 450 degrees Fahrenheit.
A Helpful Review: "These cookie pans are far heftier than those $10 pans you can pick up in the grocery store. That said, they cook beautifully. I just made some biscuits this morning, and they were all perfectly and evenly baked. The pan didn't warp in oven, and they released from the pan without issue. I'd show you, but they've already been eaten! I did a quick hand wash on this and everything came off with no sign of discoloration that I've seen in cheaper pans. Absolutely worth the expense imo."
Dimensions: 14.37 x 2.36 x 19.49 inches (pans), 12 x 17 inches (cooling rack) | Weight: Individual weights not specified | Material: Aluminized Steel | Colors: 1
Also Nice: A Set Of 3 Nonstick Silicone Baking Mats
Pros:
Over 5,000 reviews and an overall 4.8-star rating
Eco-friendly
Durable and flexible
Safe for the oven, microwave, dishwasher, and freezer
No nonstick coating
Cons:
Some reviewers report the mats can stain and retain odors
If you're looking for an eco-friendly PFOA-free surface for any baking sheet, then a silicone baking mat is a great option. Craig reports, "I often use them because they are nonstick and they come in lots of shapes for baking." This three-pack is made of silicone fiberglass that's 0.75 millimeters thick with a grippy underside, so food releases easily and the mat won't slide around your baking sheet. When you're done, just rinse in water or place them in the dishwasher (this won't affect the nonstick properties). They can withstand temperatures up to 480 degrees Fahrenheit, but Craig warns that they can melt if exposed to high heats.
A Helpful Review: "Game changer! I've been using aluminum foil and spray oil daily to bake my cauliflower pizza crust and other vegetables and proteins. The oil gets everywhere and even worse it's toxic especially with use of aluminum. I've been trying to make my household and kitchen products less toxic and find alternatives and this is one of the best purchases!"
Dimensions: 16.5 x 11.625 inches | Weight: 0.22 pounds | Material: Silicone | Colors: 1
Also Consider: A Set Of Dishwasher-Safe Glass Baking Dishes
Pros:
Over 11,000 reviews and an overall 4.7-star rating
Safe for the dishwasher, refrigerator, microwave, oven, and freezer
Includes large handles and BPA-free plastic lids
No nonstick coating
Cons:
Can't handle large temperature shifts like metal
Some users report the lids don't fit tightly
Although not a baking sheet, this glass baking dish set is another great option. Glass is uncoated and won't absorb or release smells, flavors, or stains. It's not a great heat conductor, but it distributes the heat evenly and once it's hot, will stay warm for longer outside the oven. This can be good for casseroles or braised dishes that will be served right to the table, but it's best to avoid broiling or shifting from the oven to the direct heat of a stovetop.
It's also safe for the dishwasher, refrigerator, microwave, oven, and freezer. This set includes two baking dishes with large handles that make it easy to take them in and out of the oven. It comes with BPA-free plastic lids, however, some reviewers reported that the lid doesn't fit tightly.
A Helpful Review: "Love the handles on the ends. Cooks great in oven. Only con is the lid. I could not get the lid to close all the way and seal with food inside. I scrapped all the food off of the inside of the glass and still one end of the lid would not seal so I ended up using foil over dish to store in fridge. This was disappointing because I really wanted this product due to the inclusion of a lid but I will keep it because I like the size and will just use without the lid."
Dimensions: 13 x 9 inches, 8 x 8 inches and two 1-cup dishes | Weight: Individual weights not specified | Material: Glass | Colors: N/A
Study referenced:
Halperin, K.M., Kuligowski, J. (1992). Stainless steel cookware as a significant source of nickel, chromium, and iron. Archives of Environmental Contamination and Toxicology. https://pubmed.ncbi.nlm.nih.gov/1514841/
Experts interviewed:
Trevor Craig, food expert and Corporate Director of Technical Training & Consulting at Microbac Laboratories
Eric LeBlanc, Culinary Director of Burtons Grill Red Heat Tavern