The Best Peloton Seat Cushions, Tested & Reviewed
Yes, the Peloton saddle is uncomfortable. No, you're not alone.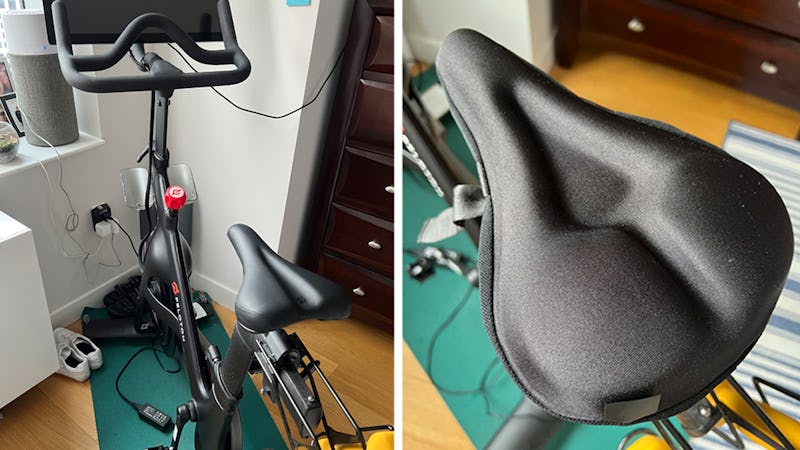 Amy Biggart
We may receive a portion of sales if you purchase a product through a link in this article.
It is a truth universally acknowledged that the Peloton bike seat is very uncomfortable. Even Peloton makes jokes about it. So if your butt is feeling sore after a 20-minute ride, you're not alone. I've felt this firsthand during Peloton classes and solo rides. And while many cycling instructors, including one I spoke with for this article, will tell you that saddle pain tends to lessen with a few weeks of regular spin riding, it's normal to want a little extra cushioning in the meanwhile. To save you from wasting your money, I wanted to get to the bottom of this (pun absolutely intended), and figure out which bike seat cushion is the best for Peloton bikes.
The Expert
Emily Booth has been teaching indoor cycling for 25 years, and is currently a Master Educator for Stages Indoor Cycling as well as the Master Indoor Cycling Instructor for Life Time. She is all about both indoor and outdoor riding, an ultradistance runner with multiple LT 100 run finishes and a two-time Ironman Triathlon finisher.
In the quest for a more comfortable spin ride, I think no solution should be left untried. So I tested out the internet's favorite bike seat cushions for Peloton bikes, below.
What to know before shopping for a Peloton seat cushion
It's completely normal to find a new spin bike uncomfortable. Emily Booth, Master Cycling Instructor at Life Time, says, "In my experience saddle discomfort is the number one complaint from new riders. So, yes, it is extremely common to hear this complaint. However, if one can get through two to three rides in a week, with a proper bike setup, it typically improves and ceases to be an issue."
In fact, Booth warns, "A wobbly, squishy cushion, no matter how much it may initially make a hard seat soft, can actually make things worse." She advises against them when teaching, in part because "A super soft seat cushion can actually contribute to instability in the position of the pelvis and [cause] friction that can lead to chafing." Her recommendation instead? Make sure your bike seat is positioned correctly and if you're still feeling pain, invest in a pair of padded bike shorts. I've included a great pair of those below, as well as more of her tips for how to ride more comfortably at the bottom of this article.
Peloton Seat Cushions, Tested & Ranked
1. Overall Best ($): Zacro Gel Bike Seat Cushion
2. Peloton's Recommendation ($): Schwinn Cruiser Gel Seat Cover
3. Most Secure, But Very Firm ($): Cevapro Soft Silicone Padded Bike Seat Cover
4. Popular, But Expensive ($$): Domain Cycling Gel Bike Seat Cushion
5. For A Wider Saddle ($): Bikeroo Padded Gel Bike Seat Cover
Also, Great ($$): BALEAF 4D Padded Bike Shorts
1. The Overall Best
Also Available: Walmart, $20
What We Like:
Features a secondary strap for an extra secure fit
Comfortable, ergonomic seat
Budget-friendly price point
Quick-drying material
35,000+ Amazon reviews
What We Don't Like:
The Zacro bike seat cushion is one of the most recommended bike seat covers and has over 35,000 reviews on Amazon, so it was not surprising that this seat scored the highest in my testing too.
This seat has a rare second strap that ties the front of the seat cushion in place along with a drawstring in the back, which translated into a super secure fit while riding on it. I also think this seat cushion has one of the best ergonomic designs of all the ones I tested, and it was also the most comfortable. You can see the contouring pictured above but because the design tapers at the front, it is still super easy to get in and out of the saddle. This is especially important since it is one of the thickest seat cushions on this list.
I was also impressed at how fast this material dried, which you'll appreciate if you really work up a sweat during your Peloton sessions.
Quick Dry Score: 4/5 | Comfort Score: 4/5 | Secure Fit Score: 4/5 | Overall Score: 12/15
The Zacro gel bike seat cushion pictured on a Peloton bike. On the left is an overhead view of the seat cushion that shows the contoured ergonomic design. On the right is a picture of the strap at the front that helps keep this seat cushion from shifting.
Dimensions: 11.25 x 8 x 1.5 inches | Thickness: 1.5 inches | Material: Silicone, Sponge, and Lycra® fabric cover
2. Peloton's Reccomendation
What We Like:
Secure fit
Wider design
Recommended by Peloton
What We Don't Like:
Thin cushion, only marginally more comfortable
A quick look at Peloton's support content will point you in the direction of their recommendation: the Schwinn's Cruiser Gel Seat Cushion. So of course, this made my list. On initial impressions, this seat cushion felt dense and heavy to me, in a way that I assumed would translate into better padding. But, after trying this one, I found it a little lacking. It fits and stays on the saddle well and is wider than most of the other cushions on this list. If you find the Peloton saddle narrow, this could make it a good choice for you. However, it takes a bit longer to dry, and I didn't love the thin and flat design of this cushion. It's one of the thinnest options here, and it feels flexible and flat to the touch. While many Peloton riders in the review section use this seat cushion and really like it, I think the cushion above is a better investment.
Quick Dry Score: 2/5 | Comfort Score: 2/5 | Secure Fit Score: 4/5 | Overall Score: 8/15
Dimensions: 10.5 x 9 x 0.875 inches | Thickness: 0.875 inches | Material: 100% gel pad, Spandex kevlar and PVC cover
3. The Most Secure, But Very Firm
What We Like:
Its hook-and-loop strap that's super secure
Thicker padding
What We Don't Like:
The design makes it a little difficult to get on and off the saddle
Very firm, not as comfortable as other options
At first glance, the Cevapro Soft Silicone Bike Seat Cushion was my favorite. It has a thick padded design, mesh details, and a really nice elastic strap that I could tell would keep it secure. It's made of a firm memory foam and gel padding that really won't budge while you ride. While I initially liked how firm the material feels, after riding with this seat cushion I felt differently. The thick and firm foam, coupled with a less tapered design at the front of the cushion, made it a little difficult to get on and off the saddle while riding. I also think the mesh detailing is so pressed up against the material of the Peloton saddle, you won't see many benefits in terms of breathability. Since this seat cushion initially came up as a a cushion with the "best ventilation" on another roundup, I was disappointed that it didn't live up to this hype.
Quick Dry Score: 1/5 | Comfort Score: 1.5/5 | Secure Fit Score: 5/5 | Overall Score: 7.5/15
The Cevapro bike seat cushion was my favorite upon first impressions. But after testing it, this seat cushion is a little too thick and not tapered enough to make it easy to get in and out of the saddle. Pictured left is an overhead shot of the seat cushion, and pictured right you can see a secure strap that holds this in place.
Dimensions: 11 x 7 x 1.5 inches | Thickness: 1.5 inches | Material: Memory foam and gel padding, Lycra® fabric
4. Popular, But Expensive
What We Like:
Secure fit
4,800+ reviews and 4.3-average star rating on Amazon
Often comes highly recommended
What We Don't Like:
Not as comfortable as other options
More expensive than other options
Dries slowly
In all of my initial research, Domain's Cycling Gel Bike Seat Cushion appeared many times and even came recommended by a friend of mine. But, because of its high price tag, I had high expectations. This seat cushion is made with a silicone gel and Lycra® cover that reminded me a lot of the Schwinn seat cushion above. Considering this is twice the price, I was hoping it would feel incredible while riding. I didn't notice much of a difference in comfort with this seat cushion as compared to the standard Peloton saddle, perhaps because this is the thinnest seat cushion I tested. If you're looking for a minimalist design, this may be a good pick for you, but I'd be hard-pressed to justify the extra $20 cost for this seat cushion when compared to the similar one from Schwinn. It also was the slowest drying seat cushion, which may impact sweaty riders or houses with multiple Peloton users.
Quick Dry Score: 1/5 | Comfort Score: 2/5 | Secure Fit Score: 4/5 | Overall Score: 7/15
Pictured here, three shots of the Domain Cycling Gel Bike Seat Cushion. On the left, an overhead shot of the cushion on the Peloton bike saddle. Center, a picture of the seat cushion from behind. To the right, the seat cushion fits snugly and securely around the Peloton saddle.
Dimensions: 10.5 x 7.5 x 0.75 inches | Thickness: 0.75 inches | Material: Silicone gel and a Lycra® cover
5. For A Wider Saddle
Also Available: Walmart, $25
What We Like:
Widest design by a long shot
Reasonably comfortable
Dries well
What We Don't Like:
Not very secure; this will slip on the Peloton saddle
The Bikeroo Bike Seat Cushion is on this list for a specific reason: It is incredibly popular amongst Peloton riders who have swapped out Peloton's saddle for a wider saddle. For this reason, this seat cushion won't work well on the standard Peloton saddle that comes with your bike, but seemed important to test and include. Peloton's saddle is notoriously narrow, and a number of riders have chosen to take off Peloton's saddle and put this wider saddle on. If comfort and a wider seat is what you're after, this might be a solution to consider (and check your warranty before you do). I rode with this seat cushion on the standard Peloton saddle and it does shift. But given its popularity, I'd still recommend this to anyone who has opted to change out their saddle for more comfort.
Quick Dry Score: 3/5 | Comfort Score: 3/5 | Secure Fit Score: 0/5 | Overall score: 6/15
The Bikeroo bike seat cover is significantly wider than others on this list. It'll shift and move around on your standard Peloton saddle, but many reviewers who have swapped their saddle out for a wider design love this cushion for that.
Dimensions: 11.25 x 10.5 x 1.75 inches | Thickness: 1.75 inches | Material: Silicone gel and a Lycra® cover
6. Also, Great: Padded Bike Shorts
Also Available: Walmart, $28
If you're experiencing consistent discomfort on your bike, a pair of padded bike shorts can be a game changer. While I didn't test this pair personally, these shorts are popular amongst Peloton riders who are new to spin, or who can't seem to feel comfortable on their saddle. This pair has 5.1-inch inseam, has padding along the front panel to protect your Sitz bones, and is made of a moisture-wicking spandex-blend fabric that makes it perfect for spin classes. While your Peloton bike is probably indoors, these shorts also have UPF 50+ protection from harmful sun rays.
Available sizes: X-Small — 3X
Reviewer: "Absolutely love this product, I ordered it make the Peloton workouts more comfortable and it definitely works!"
How I Picked
After combing Reddit threads, reading through round-up after round-up, talking to fitness instructor, and reaching out to Peloton's support team myself, I came up with these five bike seat cushions, which are among the most well-loved ones you can find. I dove into Twitter threads and TikTok videos from Peloton riders searching for solutions to their uncomfortable saddles, and polled my own network of friends with Peloton bikes to see which brands and seat cushions were the fan favorites. These five seat cushions came up time and time again.
How I Tested
I tested each of the bike seat cushions on three primary factors: comfort, secure fit, and how quickly it dries. Within those categories I performed three tests. I rode the bike on the seat cushion and rated it on a 1 to 5 scale in terms of how much additional comfort it added to the original Peloton bike seat. I tested how easily each seat stayed on the bike during 1 minute of intense riding, getting out of and back into the saddle a few times to see how well the cushions stayed in place. Lastly, to test how quickly each seat would dry after a sweaty Peloton session, I timed how quickly each cushion dried after absorbing a tablespoon of water. I also tallied all three of these scores together to find an overall score for the seat cushion (these cushions are ordered from best to worst overall score).
Lastly, I did side-by-side comparisons of the quality, durability, and feel of each seat cushion in order to compare the overall materials.
FAQs
What are the dimensions of the Peloton bike saddle?
The Peloton sport saddle is the bike seat on both the Peloton Bike and the Peloton Bike+, and it measures 10.5 by 6.5 inches in size (length by width). While all of the products here were tested on the original Peloton bike, since both bikes have the same seat, these seat cushions will fit the same on whichever Peloton bike you have.
Do you need a seat cushion for the Peloton bike?
The Peloton saddle can be notoriously uncomfortable when you first start using it, and while many riders will tell you that it gets significantly more comfortable the more you ride, a seat cushion is also a popular solution to make the ride more comfortable. After testing many, my favorite is the Zacro Gel Bike Seat Cushion.
What do you do if your spin bike is uncomfortable?
I could give you my advice, but I'll let the master (literally), tell you. Emily Booth, Master Cycling Instructor at Life Time shares:
"There are several important things for new riders to consider before they allow saddle discomfort to prevent them from partaking in one of the most effective, adaptable, and enjoyable modes of cardio exercise.
Take the time to set up the bike properly, remembering that the height of the saddle should be set to the top of the hip. A seat that is too low or too high can create a lot of issues. Additionally, depending on individual factors, the height and fore/aft position of the handlebars must be considered. [Editor's note: For/aft position references the distance between the handlebars and the seat. More on this here.] Remember, the position of the pelvis is critical. If a rider is either cramped in (too close) or overextending to reach the handlebars, it will cause a shift in the position of the pelvis. When in doubt, seek the help of a qualified instructor or coach to check out your riding position.
Invest in a pair of padded shorts. There is a reason that cyclists wear padded shorts instead of riding on padded seats. Take a cue from the pros and buy a pair (or two!).
Just give it a little time! Remember, the bike seat was not meant to support the rider's entire body weight. Think of it more like a shelf than an easy chair. With proper positioning and the experience of a few sessions, most riders are able to find a more balanced position on the bike that not only enables them to pedal more efficiently but also to forget about the saddle and enjoy the ride."
More Ways To Improve Your Peloton Experience
Looking for the best riding experience on your Peloton? Check out this roundup of the best Peloton accessories, according to avid Peloton riders. And, in case you might need them, we've also reviewed the best Peloton shoes and the best bike mats for your Peloton.
About The Tester
Amy Biggart is a shopping researcher and product reviewer with five years of experience reviewing every product under the sun, from pillowcases for her acne-prone skin, to hypoallergenic earrings, to fitness platforms. She has logged hundreds of hours on spin and stationary bikes, including Peloton bikes.
Expert:
Emily Booth, Master Educator for Stages Indoor Cycling and Master Indoor Cycling Instructor for Life Time
This article was originally published on