Bustle Newsletter: June 8, 2022
On Demi Lovato's new pop punk album, the best LGBTQ+ books to read this month, and more.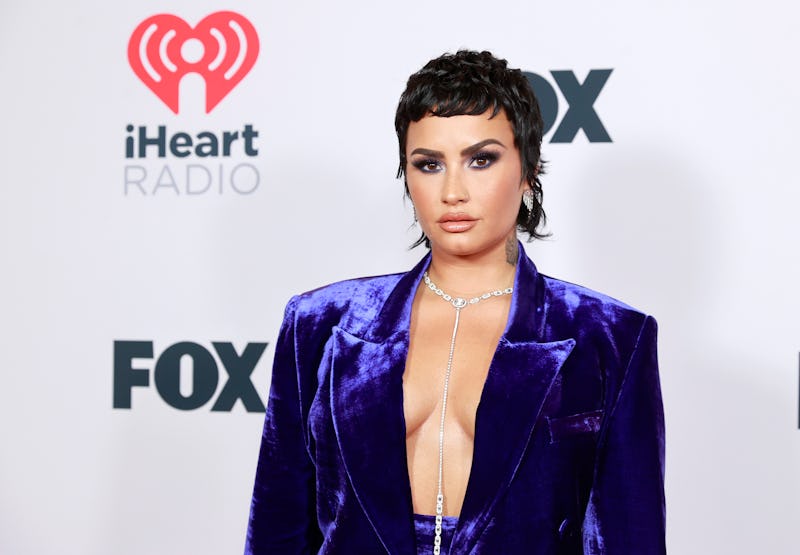 Emma McIntyre/Getty Images Entertainment/Getty Images
A version of this content appeared in Bustle's daily newsletter on June 8, 2022. If you like what you see, sign up to receive it in your inbox right here.
Help! I Can't Finish During Sex & I'm Insecure About It.
Here's the thing, The Big Secret about sex: Pretty much all of us have certain ways that we come, writes Bustle sex columnist Sophia Benoit. And you're welcome to feel sad and/or frustrated by the fact that P-in-V sex does not get you over the edge. "But I'm inviting you (begging you) to try to let go of the feeling of shame or inadequacy or insecurity about it." And here's the other thing: A good sex partner will not care, not one iota. Read More
The Latest
Your iPhone Lock Screen Is Getting A Major Makeover
Along with the ability to (finally!) edit and unsend your iMessages, Apple's upcoming iOS 16 update will now allow you to customize your iPhone lock screens with fonts, colors, widgets, and multiple — yes, multiple — wallpapers. Think: a live animation of the current weather while you're stuck inside WFH or a dreamy pic of Harry Styles staring at you before you drift off to sleep. Read more
Short Hair Summer Is Here
From flapper finger waves and baby buns to the super chic J.O.B. (jaw-length bob), the possibilities for short hair are endless. Grab your headbands and barrettes, and mentally prep for a zig-zag part — here are 17 versatile short hairstyles for any aesthetic, occasion, and hair type. Read more
Must Reads
50 LGBTQ+ Books To Read Now & Always
In honor of Pride Month, dig into these memoirs, novels, and essays, which represent the last 300 years of queer literature (with particular attention to 21st century releases). From Ace to Zami, it's exactly what you need on your reading list. Read More
Leslie Sansone's At-Home Walking Workouts Are My New Obsession
Can 30 minutes of marching in place be fun? That's what Bustle writer Carolyn Steber ventured to find out when she tried Leslie Sansone's Fast Walking 30 Minutes video, a workout that has nearly 100 million views. "What I wasn't prepared for was Sansone's peppy encouragement, '80s-style arm raises and grapevines, or her gaggle of enthusiastic backup exercisers decked out in matching tops and red shoes," writes Steber. "Something about the whole thing felt so cozy and happy." Read more
Everything To Know About Demi Lovato's 8th Studio Album, Holy Fvck
Fourteen months after releasing Dancing With the Devil, Demi Lovato announced their eighth studio album, Holy Fvck, is coming this year. "Never have I been more sure of myself and my music, and this record speaks that for itself," Demi said in a statement. Here's everything we know about the album and their upcoming 32-date tour. Read more.
Astrology
Here's Your Daily Horoscope
Getting back to balance. Read More
More Good Stuff