Little Moons' Mochi Ball Advent Calendar Has A Willy Wonka Twist
Plus, 11 other edible treats to help you count down to Christmas.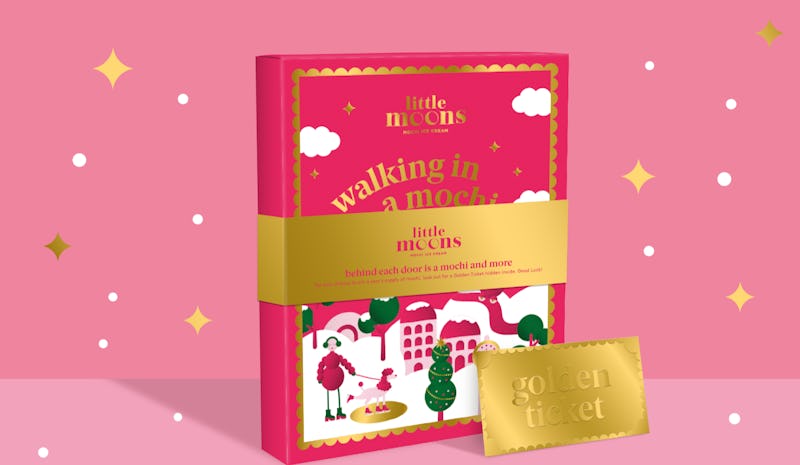 Little Moons
We may receive a portion of sales if you purchase a product through a link in this article.
December is known as a month to indulge and enjoy all of the many delights the season has to offer. Luckily for those who love a little surprise alongside their traditional festive fare, edible advent calendars will make your countdown to Christmas extra delicious.
The run up to Dec. 25 is often packed with yuletide events including Christmas work dos and family parties — all of which can come with a lot of good food. Although, if you'd like to treat yourself ahead of the big day itself, why not invest in one of the many extra special advent calendars that are currently available to add to your basket in 2022?
The demand for luxury advent calendars appears to have skyrocketed in recent years, with boozy offerings, beauty-focused options, and many more creative calendars rising in popularity. For any foodies out there, counting down the days until Father Christmas arrives with an array of stunning snacks sounds ideal, and this year's edible advent offerings are packed full of cheese, gin, popcorn, coffee, mince pies, and plenty of other tasty treats.
With all these delicious options so readily available, deciding on which scrumptious advent calendar to invest in might prove to be quite the challenge. If you're hoping to feast your way through December in style, you can find some of the very best food and drink advent calendars to buy in the UK, below.
Bustle product reviews and recommendations are written and conducted by writers and editors with expertise in their fields. You can learn more about our standards here. We may receive a portion of sales if you purchase a product through a link in this article.
Remember to order your calendar sooner rather than later because as we all know, time flies when you're snacking.
This article was originally published on