15 Game Of Thrones Kings Landing Filming Locations You Can Visit IRL
Start mapping out your trip to Croatia and Spain.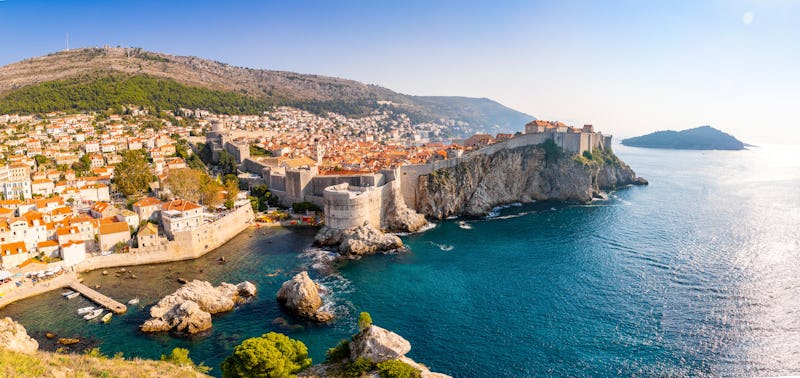 ShutterStock
The tagline for HBO's Game of Thrones was "winter is coming," but that's certainly not the case for the upcoming prequel show House of the Dragon. The new series takes place 300 years in the past and covers the history of House Targaryen, the ancestors of Daenerys and Jon Snow. The original Game of Thrones filmed in Northern Ireland and Spain as it hopped between The North and other parts of Westeros, but it appears that the prequel will largely focus on King's Landing in the South and its civil war with House Velaryon (a new addition to the GoT universe) across the water on Driftmark Island.
According to Entertainment Weekly, the production team chose to end their tenancy at their Belfast, North Ireland studio, and most of the House of the Dragon series was filmed in Warner Bros.' Leavesden Studios in Watford, a city just outside of London. For the cliffside areas outside of King's Landing that look across the sea to House Velaryon, the series filmed at several new UK destinations, which include Holywell Bay in Cornwall, Kynance Cove, and Hartland Quay in Devon, per The Daily Express. For scenes at Velaryon's castle, they filmed at Saint Michael's Mount in Cornwall.
Of course, the team returned to most of the original filming locations for the exteriors of King's Landing. Much of the Southern capital was shot in Spain, Morocco, and various places in Dubrovnik, Croatia. Full of castles, classical architecture, and seaside vistas, these cities are absolutely perfect backdrops for kings and queens. Not only are they gorgeous locations, they're full of history, and there are plenty of companies that continue to offer Game of Thrones tours in the areas. For those missing the old GoT, here are all of the King's Landing filming locations you can visit IRL.
This article was originally published on