The Gothic Home Decor Trend, Explained
It's all about drama and making a statement.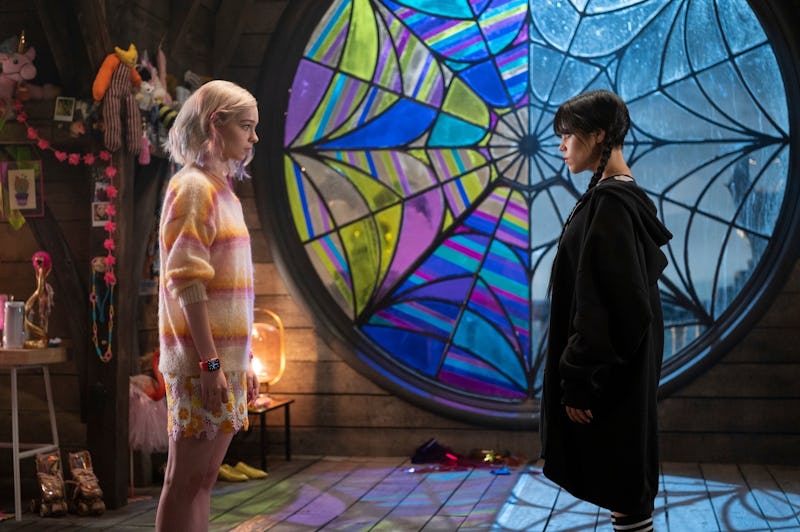 Vlad Cioplea/Netflix
We may receive a portion of sales if you purchase a product through a link in this article.
So, you've already watched all of Wednesday... twice. You've memorized Jenna Ortega's Rave'N dance and are feeling inspired to add more black pieces to your wardrobe, but perhaps you're looking for even more ways to incorporate the dark and gloomy aesthetic of the Netflix hit into your life. To do so, consider gothic home decor as an ode to your inner Nevermode Academy student and rid yourself of any preconceived notions about the home look.
Your home should be a place that is functional while still reflecting your likes, and there are plenty of aesthetics to pull inspiration from when curating your space. Maximalism is perfect for the person who loves to mix patterns, shabby chic is ideal for the person who loves pink and frills, and cluttercore is a great option for the hot messes at heart. For the all-black-wearing, eyeliner aficionado, Halloween-all-year-round individual, gothic home decor might be the right avenue to take when sprucing up a house or apartment.
Here's everything you need to know about the trending home decor aesthetic, according to Etsy's trend expert Dayna Isom Johnson.
What Is Gothic Home Decor?
Gothic home decor takes pieces from all aspects of goth culture to put together a space. "Everything from Victorian-style furniture to rich fabrics to creepy creature motifs and moody colorways," Johnson tells Bustle. Items like velvet pillows, vintage accent pieces like brass candle holders, and black or dark-colored furniture are good bases to start with. The old-fashioned typewriter and antique-looking floor rug in Wednesday's otherwise all-black room in the show is a great example of this.
How To Implement Gothic Home Decor
If you're new to the aesthetic, you might be a bit hesitant to dive into it for fear of leaning a little too Halloween. Thankfully, Johnson says there are plenty of ways to avoid anything that looks too tacky — it's all about being thoughtful with the pieces you choose. "Skip the kitschy-looking skulls and bats and instead opt for more elevated goth pieces that complement the space's existing decor," she says. "Intentional additions — like a black candle or a snake-studded throw — make a statement without feeling Halloween-like." Other choices like black furniture, ornate mirrors, and dramatic drapery give the gothic feel without looking like a cheesy haunted house.
If you aren't ready to commit to a fully-fledged gothic look in your home, you can start out small. Despite the aesthetic being all about "drama and making a bold statement," Johnson says getting art, coasters, or kitchen items that match the dark look is a great way to try out goth decor before deciding if you want to go all out.
Source
Dayna Isom Johnson, Etsy Trend Expert