How To Ask Someone To Pay You Back Without Being Awkward
Banish "No worries if not!" from your vocab.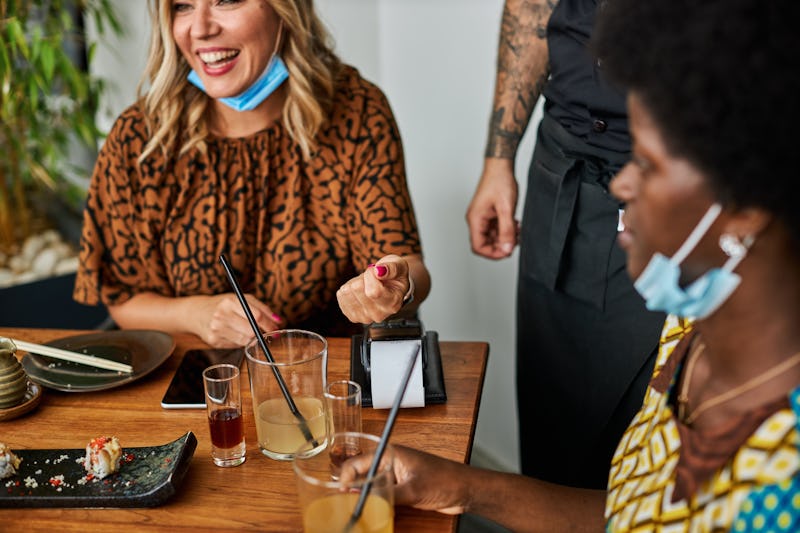 vgajic/E+/Getty Images
Jamie, 29, is one of those responsible people who always hits up the ATM before going out — she doesn't mind covering her friends when they're out someplace that only takes cash. But she finds reminding friends to pay her back so "mentally taxing," she'll only follow up a Venmo request once before giving up on getting paid back entirely. "I wish I had the balls to look someone in the eye and ask to be reimbursed but it's just too uncomfortable to me. Making things awkward is literally not worth the money to me," she says.
Navigating money and friends can be complicated. Whether it's a pal who forgot their wallet at brunch, or a roommate who is short on rent, you don't want to say "no" to someone you care about when they ask you to spot them, but you also want them to pay you back on time. A 2018 survey of 9,000 U.S. adults from Zelle, an app where you can send and receive money, found that 28% of women will wait until someone sends them money for their portion of the bill rather than asking them to pay them back. The end result? 86% of women reported not being paid back after covering a shared expense, such as concert tickets or a meal for friends, with 16% of women saying or this happens "all the time." Sound familiar?
Ella, 30, feels that financial favors should not only be considered gifts, but also resentment-free offerings. "If there's a history of one-way lending with this person, or a chance it might ruin our friendship if they aren't able to pay me back, I won't offer to help in the first place," she tells Bustle. "I realize that might sound cold, but it's important to have boundaries when you're mixing friends or family with money," she says.
"Lending money can put strain on a friendship," Kathleen Grace, C.F.P., managing director at United Capital's Boca Raton, FL branch, tells Bustle. "But if you are like most of us, we sometimes feel compelled to help a friend in need." She says that if you are considering loaning a friend money, first have the mindset that you may never see it again. "In other words, consider it a gift," Grace says. "This way, you will not be too upset should you never get all or a portion of the money back."
But what about when that one-time Venmo request is just sitting in someone's inbox? Here, money experts explain how to remind someone to pay you without making things weird.
This article was originally published on