The 3 Most Compatible Matches For Life Path 1s
The leader needs their supporter.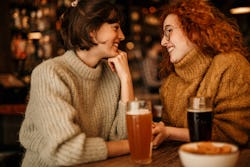 Studio4/E+/Getty Images
In numerology, your life path number, which is determined by your birthday, can say a lot about why your personality is the way it is, what you're destined to do in this lifetime, and even what kind of partner matches you best. When you're a life path 1, you're a highly driven leader who takes charge and is always up for discovering new things. You have big ideas, even bigger goals and you'll stop at nothing to achieve them all. You're also known for your independence. Because of this, it takes a special kind of person to catch your interest and keep it, and there are three life path numbers that are most compatible with life path 1.
As Katie Fink, spiritual mentor and founder of MindBodySoulMarket, tells Bustle, life path 1 is the sign of potential. "It symbolizes ideas, leadership, and an ambition to be the best at everything they do," she says. "They are independent and express their individuality with ease — truly born to lead with their own uniqueness."
Unsurprisingly, these natural-born leaders tend to take on more of a dominant role in relationships. According to Fink, the best love matches for life path 1s would be individuals who are content being a little more on the submissive side.
"They also need to feel appreciated, heard and valued, while having space for autonomy," Fink says. It's important for life path 1s to find a partner who's just as independent as them, understands their priorities in life, and can help them find balance between work and fun.