The 3 Most Compatible Matches For Life Path 8s
These resourceful leaders need someone to support their many aspirations.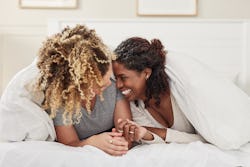 LumiNola/E+/Getty Images
Numerology is all about figuring out the energies that surround you. Through calculating your life path number, you can get a new perspective into your motivations and find your soul's purpose. The dynamic energies of numbers can also give you an idea of your chemistry with others. In numerology, if you're a life path 8, you're highly motivated by success and power, so finding compatible matches who are supportive and independent is important to your growth.
People with a life path 8 are recognized for their high ambition. They're very persuasive and disciplined, which makes them extremely powerful leaders and effective business people. Life path 8 is all about acknowledging their inner power and learning how to use it fairly. Deeper than that, life path 8 is a journey about finding a balance between the natural and supernatural world — aligning themselves with their soul's mission and their earthly ambitions.
"Life path number 8 signifies an intense, resourceful person who always manages to control the outcome," Ryan Hart, a numerologist and spiritual author, tells Bustle. That's why it's important for life path 8s to make connections with people who are able to be supportive of their lofty goals but also remind them of the importance of spiritual maintenance. "A match for life path 8 would need to be independent enough to go their own way, but with a willingness to compromise," explains Hart.
Curious to find out what matches mesh well with this life path? Keep reading to reveal the life path numbers most compatible with life path 8.