12 Signs Someone Sees A Future With You
Experts share the clues to look out for.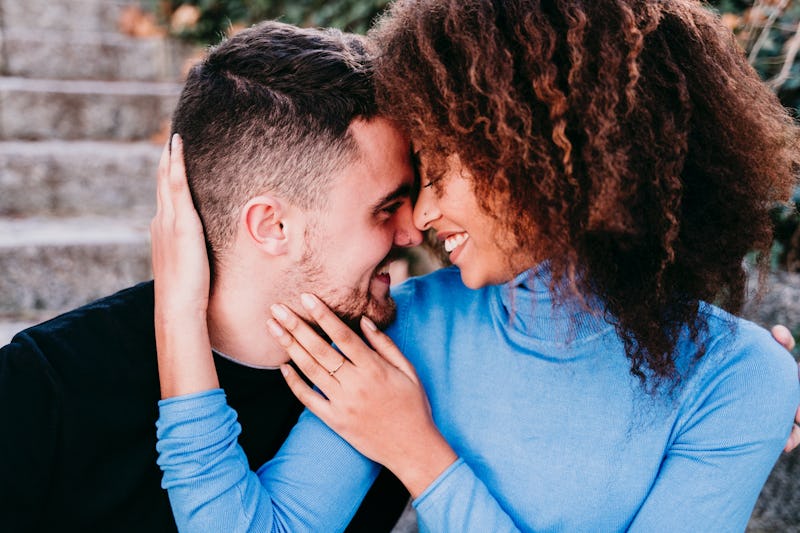 Westend61/Westend61/Getty Images
No doubt, dating would be much easier if everyone were more open and honest with their feelings from the very beginning. For example, when someone says you're awesome, it'd be helpful to know whether they're just saying that to butter you up or they really think you're something special. Unless you're intuitive or just have mind-reading abilities, knowing if someone likes you and sees a potential future with you is no easy task. Fortunately, dating and relationship experts say there are certain signs you can look out for, from their body language to their reactions to your bucket list items.
"After spending time with someone, even just for five minutes or an hour, a connection or spark is usually lit when making eye contact or conversation," relationship expert and marriage attorney, Vikki Ziegler, tells Bustle. "Sometimes one person may notice a special or unique quality and acknowledge it with a, 'Wow, that's awesome,' or 'I like what you're saying.' Other times, a person may give other compliments — anything from 'You have a really great smile' to 'I like your take on life.'"
According to Ziegler, these are just some of the more obvious signs that someone notices unique qualities in you. So how else will you know if someone sees you as someone special when you first meet? Here are some signs dating and relationship experts say to look out for.
Experts
Vikki Ziegler, relationship expert and marriage attorney
Cindee Bartholomew, relationship expert and author
Coree Schmitz, professional matchmaker at Tawkify
Alyssa Bunn, professional matchmaker at Tawkify
Kimia Mansoor, professional matchmaker at Tawkify
Sophy Singer, professional matchmaker at Tawkify
Stephanie Churma, spiritual relationship coach and owner of The Good Love Company
Kimberly Hershenson, marriage therapist
Rori Sassoon, relationship expert and co-owner of matchmaking agency Platinum Poire
Kimberly Panganiban, LMFT, relationship therapist
Dr. Carla Marie Manly, clinical psychologist and author of upcoming book, Date Smart
Ana De La Cruz, LMFT, couples therapist
Studies:
HALL, J. E. F. F. R. E. Y. A. (2017). Humor in romantic relationships: A meta-analysis. Personal Relationships, 24(2), 306–322. https://doi.org/10.1111/pere.12183
This article was originally published on