The 6 Best Budget Air Purifiers You Can Buy On Amazon
We only recommend products we love and that we think you will, too. We may receive a portion of sales from products purchased from this article, which was written by our Commerce team.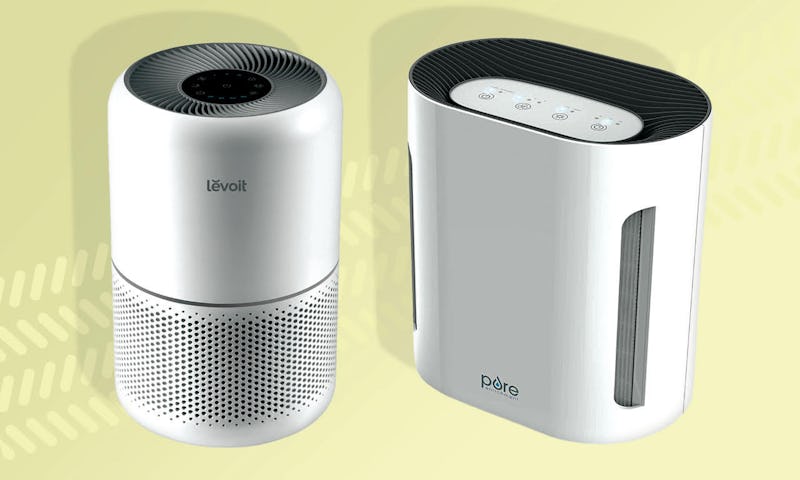 Bustle / Amazon
While you'd have to shell out several hundred dollars for many of the top air purifiers on the market, it's definitely possible to spend less on a device that works to remove unwanted smoke, dust, and pollen particles from the air in your home or office. The best budget air purifiers may not perform on the same scale as their more expensive counterparts, but they're still an effective way to reduce allergies and odors.
Before purchasing an air purifier, the first thing you'll want to think about is the size of your space in comparison with the recommended coverage area for each model. It's unlikely that you'll find an air purifier that will be effective in a large open-plan space for under $100, but you can certainly find a quality air purifier for an office, bedroom, or other enclosed room. And don't forget to factor in the height of your room — you'll need an air purifier that can cover more space if you have very high ceilings.
You should also think about whether the size of the air purifier itself matters to you. Some models are small and subtle enough to fit easily on a desktop or counter, but larger and more conspicuous models may be more secure on the ground.
Efficiency is another thing to consider. The Clean Air Delivery Rate (CADR) indicates how efficiently each air purifier can process air at its highest speed — a higher CADR indicates a more efficient device.
Finally, take a look at the noise level for each air purifier, as some are louder than others. They can range from 15 to 75 decibels (dB) — the lower the noise level, in decibels, the quieter the machine. If you're a light sleeper and you plan to run it at night, you may want to opt for a quieter air purifier.
While more research is needed for us to fully understand the long-term benefits of using an indoor filtration system or air purifier, many users have reported positive results with the following models in their own homes, citing less severe allergies, a reduction in odors, and more. Here are the best air purifiers that you can snag for $100 and under on Amazon.
Studies referenced:
Vijayan, V. K., Paramesh, H., Salvi, S. S., & Dalal, A. A. (2015). Enhancing indoor air quality - The air filter advantage. Lung India : official organ of Indian Chest Society, https://www.ncbi.nlm.nih.gov/pmc/articles/PMC4587002/
This article was originally published on